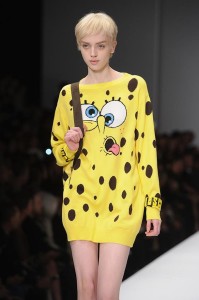 From Fashion Week September 2014, Spongbob Squarepants inspired dress by Jeremy Scott
Moschino creative director Jeremy Scott is one of the most cheeky fashion designers in Couture, and his entrée into the fragrance world will be equally irreverent. If you don't know him, he is a designer that uses pop culture icons like Sponge Bob Squarepants as inspiration for his recent ready-to-wear collections.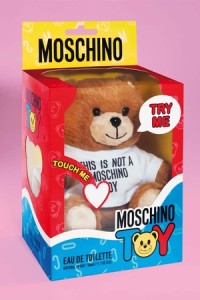 Moschino Toy Eau De Toilette looks like a teddybear
For his first fragrance Mr. Scott has created a a teddy bear flacon, named the Fragrance Toy — and then packaged "the bear in a carton that looks very similar to what one would see on the shelves of Toys 'R' Us. According to WWD: Scott said the bear is both an homage to the teddy-bear dress that Franco Moschino designed in the late Eighties, and Scott's own "love affair" with teddy bears in his work. "I'd never seen a stuffed animal perfume bottle before — and I felt like I was then obliged to do it,". Scott wanted to make a statement that fragrance can be fun, not just moody, artistic or sexy.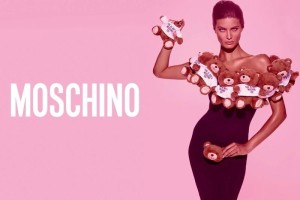 Steven Meisel ad campaign featuring Isabeli Fontana (the bear lost its head!!!)
"In fact, since Scott first posted images of the bottle and ad campaign on his Instagram account Nov. 9, the fragrance has sold out on the site and garnered thousands of "likes" from Scott's and Moschino's followers. The designer described Toy , which he sees as unisex, as "a little bit woodsy, and at the same time there's something techno about it." Top notes include bergamot, mandarin and cardamom, with a heart of lavender, violet petals and hawthorn, and a drydown of sandalwood, vanilla, mountain tree moss and acacia. It will cost approximately $120 when it arrives in the US. Toy officially launches today at Harrods. Steven Meisel shot the ad campaign, which pictures Isabeli Fontana in a teddy-bear-trimmed dress that Scott designed as a tribute to the Moschino original. Meisel also shot a television commercial for the scent, featuring Fontana.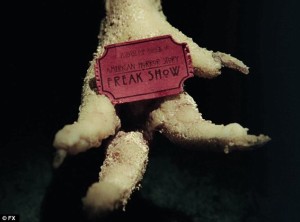 The Moschino Toy bottle creeps me out… see above
It's a little creepy, don't you think? Taking off the head of the cute bear to spray. Like something on American Horror Story- Freak Show. Also, the concept that perfume is "fun" seems familiar to me and maybe to our readers… hello smell bent.
Via WWD
Michelyn Camen, Editor in Chief