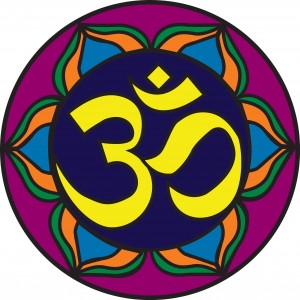 I am a lover of incense fragrances but as the weather turns warmer I find that I have trouble wearing my favorite like Heeley Cardinal or Comme Des Garcons Avignon because they just feel too much. As a result the incense fragrances start to rotate to the back of my wardrobe as Memorial Day and the start of summer approach. So I'm always on the lookout for a resinous fragrance that I can keep at the front of my wardrobe even in the heat of August. During my trip to Esxence 2011 I think I found that summertime incense, Miller et Bertaux Om.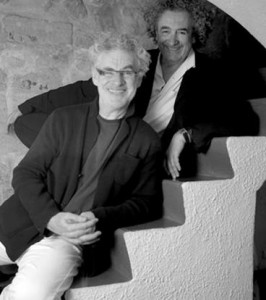 When I visited with Roberto Drago of Kaon at Esxence he took me through the entire Miller et Bertaux line. I had previously tried A Quiet Morning and Spiritus/Land and I liked them fine particularly the spicy mélange that was A Quiet Morning. Sig. Drago took me through the line from the first fragrances and I was waiting for one to find my sweet spot. It wasn't until we got to the most recent release, Om, that my passion was sparked. It was inspired by a trip to Ubud where Miller et Bertaux experienced the sound of Tibetan bells. Tibetan bells and singing bowls are used to give a focal point to meditative prayer. Om the fragrance is a fragrance which uses a number of resinous and spicy notes to create a fragrant focus.
Om opens on the sweet depth of myrrh which is joined by carnation and patchouli. Carnation adds its clove-like character as contrast to the myrrh and patchouli spans the distance between the two. Om transitions to a hot pepper heart and it is kept unusually light so you have to reach out to find it. The base is an arid frankincense sweetened by a touch of vanilla. As you read through that note list there are some of the heaviest hitters in all of perfumery. Through some sleight of hand Om never feels heavy it feels light. I've worn Om during a couple of unusually warm days recently and I was surprised at how easily it wore on my skin.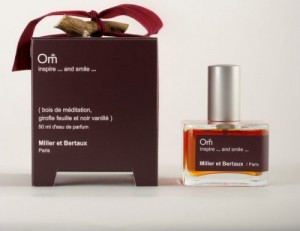 Miller et Bertaux Om has average longevity and below average sillage.
I am thrilled that when I look at the weather report and am confronted with an incense craving but a forecast for 90 degrees I can reach for Miller et Bertaux Om and allow my fragrance to center myself throughout the day.
Disclosure: This review was based on a sample provided by Kaon at Esxence 2011.
–