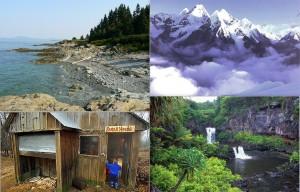 At the Sniffapalooza Fall Ball 2010 one of the highlights is the Emerging Perfumer's Lunch on Sunday. This year was especially strong as we saw a number of amazing artisanal perfumers present their latest compositions. One perfumer who I had been reading quite a bit about but had not had the opportunity to try her fragrances was Anne McClain and her MCMC Fragrances.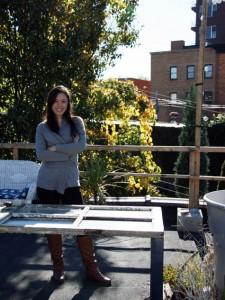 Anne McClain was a natural perfumer and aromatherapist before deciding to head to Grasse, France to study the techniques around modern perfumery. In 2009 she returned to her apartment in Brooklyn and began creating her own fragrances under the MCMC Fragrances label.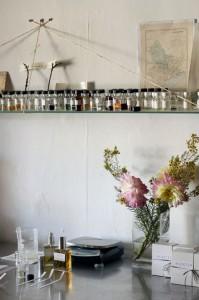 To date she has released six fragrances. Four; Noble, Maine, Maui and Hunter make up "The Stories Collection" which are inspired by an actual event in Ms. McClain's life. Two additional releases, Humanity and Garden, show Ms. McClain's philanthropic side as the proceeds of these fragrances go towards supporting causes she believes in. Humanity had been used in a fountain which was placed in Brooklyn's McGolrick Park over the Summer and early Fall of 2010.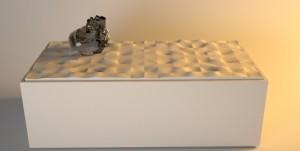 There is a lovely positive energy to Ms. McClain and it shines brightly within all of her fragrances.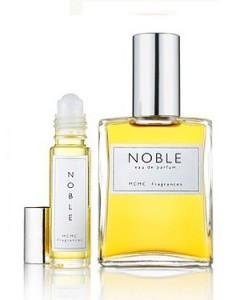 Noble, according to her website, was her first fragrance upon returning to Brooklyn from Grasse and it was meant to be a "symbol of time spent….in the spiritual country of Nepal". Noble is as simple as a good fragrance gets as it only has two exquisitely chosen notes, a deep indolic jasmine matched with an earthy grassy vetiver. It opens with the sweet and dirty dichotomy of jasmine, which is enhanced early on by the grassiness of vetiver, before the vetiver takes the lead and the remnants of the jasmine offer sweet contrast to the smoky vetiver.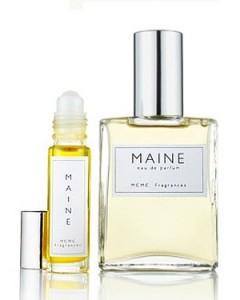 Maine fooled me, based on the name I was expecting a pine tree fragrance. But, like me, Ms. McClain has found the coast of Maine to be where the best fragrant evocation of Maine is to be found. Maine is meant to re-create "a day spent on the island of North Haven, falling in love". The early development of Maine is that sea spray smell of the waves crashing on the sea weed laden rocks and the mix of ozonic and damp green create a very memorable few minutes to start. A clary sage note carries you to an almost achingly delicate rose which symbolizes love's beginning just as Maine, the fragrance, comes to a close.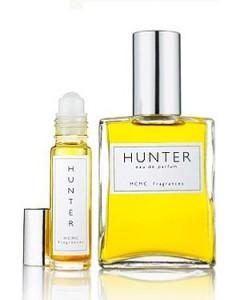 Hunter is the fragrance that easily could have been called Maine and I wouldn't have blinked because the pine trees I thought I'd find in Maine are front and center in Hunter. Hunter is named after a friend of that name who built maple sugar cabins in Vermont. Hunter must have been a smoker because the fragrance named after him opens with tobacco sweet and slightly narcotic in aspect. Then the pine comes in and it is very strong carrying an almost camphor-like note along with it. This early moment tiptoes right up to the edge of being "too much" but Ms. McClain makes a wise choice as vanilla comes along to temper what surely would have been an overwhelming woodiness. In her description on her website she suggests Hunter is "best if worn with a flannel shirt" and I agree that it is a great choice for the fall and the crisp cool days therein.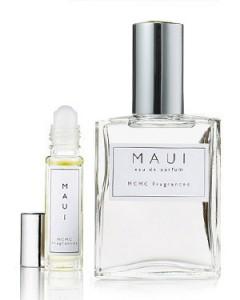 Her most recent addition to The Stories Collection is Maui and if I was thrown by what I expected from Maine and Hunter based on their names, Maui completely lives up to expectations based on its name. The only real surprise happens in the first moments of Maui's development as it is ginger and anise that lead the way but hard on the heels of that spicy opening comes the floral quality I expected. Tuberose and frangipani give a lush tropical floral aspect and they are slowly bolstered by a light woody bamboo. I felt like I was enjoying anise flavored ginger snaps in a backyard garden in Maui surrounded by a bamboo fence, until I opened my eyes and found myself at my desk.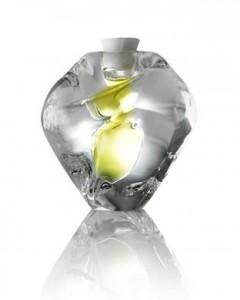 Humanity was released in January of 2010 and 100% of the proceeds from its sale will go to fund The Humanity Project. Humanity is easily the lightest and most delicate of Ms. McClain's compositions, which likely befits something that would be in a fountain on a daily basis. Here the opening is a green tea accord paired with a watery lotus. This has the effect of making Humanity feel very Japanese in architecture and if Ms. McClain chose cedar as the wood to finish this off she could have easily called it Kyoto. Thankfully she chose sandalwood and the creaminess of this keeps Humanity from being quite as austere as it could have been and instead adds some needed depth.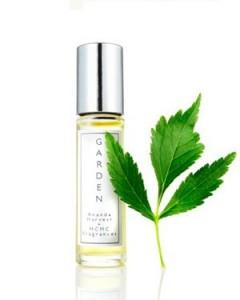 The last fragrance in the MCMC stable is Garden and it is my favorite of these first six offerings. Half of the proceeds from Garden goes to the Ananda Harvest which teaches people how to farm, strengthen the local food movement, and to give back to the community. Garden is a chamber piece of citrus and herbs which intertwine and enhance each other to create an unforgettable melody on my skin. A zesty lemon opens it up and it is amplified with bitter orange to keep the citrus on the more astringent side of the equation. The herbal part of the quartet arrive in lavender and red thyme. The lavender adds its unique mix of herbal and floral character but it is the red thyme which is the linchpin of Garden. It acts as the interstitial note which is always there taking the bitter citrus and bridging it to the lavender and without it Garden would never fully come together to make the beautiful music it does on my skin.
All of the MCMC Fragrances have below average longevity and sillage which is not unexpected in fragrances that are made of 85% organic ingredients.
Ms. McClain wants her fragrances to tell a story and while each successfully evokes the place she wants, when taken as a whole, they also tell the ongoing story of a perfumer honing and perfecting her craft, in Brooklyn.
Disclosure: This review was based on samples obtained at Sniffapalooza Fall Ball 2010.
Photo Credits:
Picture of Anne McClain's Workspace and of Anne McClain from DesignSponge.com via Jewels of New York.
-Mark Behnke, Managing Editor