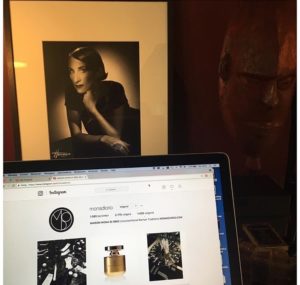 Framed Photo of Mona Di Orio via Instagram
Earlier last week, Editor-in-Chief Michelyn Camen announced the two new upcoming collaborative releases of Maison Mona Di Orio in-house perfumer Fredrik Dalman and Creative Director Jeroen Oude Sogtoen, Suède de Suède and Dõjima. These fragrances, part of The Monogram Collection – seek to perpetuate Mona's adventurous olfactory inquisitiveness and keep her innovative spirit alive (there can be only one Mona – on this we all agree. She continues to inspire.). Jeroen Oude Sogtoen's desire is to create highly unique-yet-pleasurably-wearable perfumes. So many of Mona's perfumes were/are visionary: no one had ever smelt anything like them before.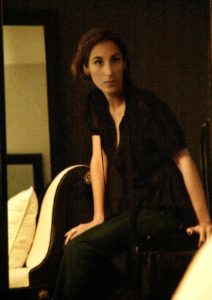 The late Mona di Orio (photo by Ludovic di Orio) RIP July 19, 1969 -December 11, 2011
We passionate perfumistas consider Mona di Orio's fragrances classics, and, for many of us – a sort of Gold Standard. We may forget that it is equally important to share the perfume's sphere of influence with a larger public. Glorious perfume need not be a museum piece; it merits being enjoyed and applied by a public who may benefit from a better understanding of what they are experiencing, and a bit more knowledge surrounding their fragrances.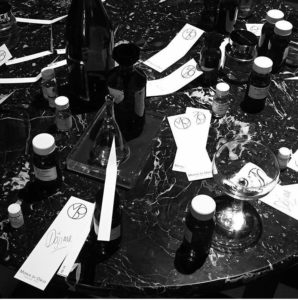 At the Amsterdam Boutique Dojima and its ingredients via @monadiorio instagram
Jeroen has been making on-site enlightenment his mission. In the new Amsterdam boutique, he hosts events where shoppers may sniff key materials vital to a perfume alongside the perfume itself; they are encouraged to step aside, be patient, have a glass of wine – and then discuss, evaluate, imagine. Smell the development upon their skin.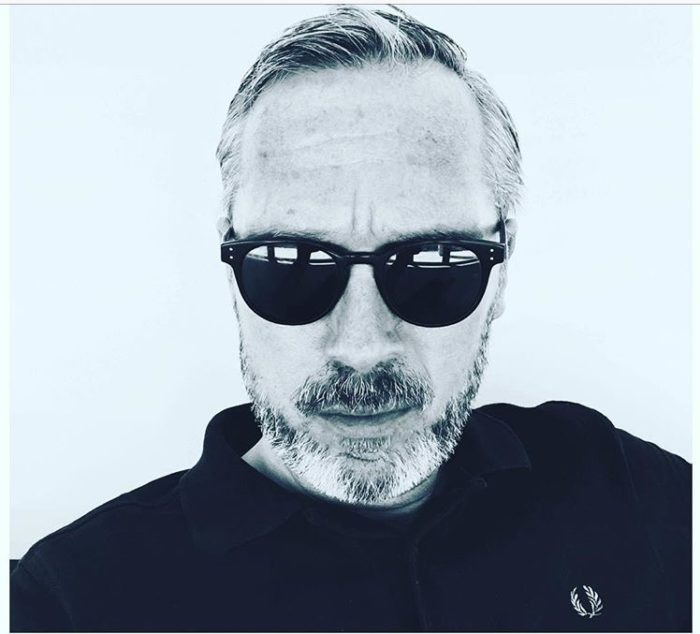 Jeroen Oude Sogtoen, ​ via instagram
He believes in risk-taking, not creative compromise. His goal: accessible beauty which is unlike the work of his contemporaries.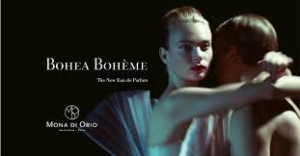 I feel both grateful and privileged to have received hand-labeled samples of Suède de Suède and Dõjima a few days ago. I've long been an admirer of Mona Di Orio's perfumes and have amassed nearly all of them over the years (when I confessed this to Jeroen recently, he was surprised). When Fredrik Dalman's Bohea Bohème was released, I profess to blind purchasing it (sans sniff) because it sounded appealing and I was extremely curious. I was delighted when I smelt it (those among us who've practiced the 'blind buy' – whether occasionally or regularly – know how disappointing the results can be), and have eagerly anticipated what would follow on its heels…
Fredrik Dalman working at his Atelier (photo via Michelyn's interview with Fredrik Dalman)
Being ever the nosy (sic) parker, I contacted Fredrik with a deluge of inquiries which he answered in such a spontaneously obliging and good-natured manner, bless him. I wanted to know how he constructed his suede accord (Clever, that: "Suede of Sweden" en français); his rice powder accord; what was the nature of his collaboration with Jeroen exactly – a brief? A concept shared? What?
"Dear Ida,
Wonderful to meet you. Oh, I'm excited as well; I've never been to Boston myself, but I'm happy that something of me now has at least, hah. Thank you so much, Bohea is packed with little surprises, many of which will take time to develop fully. I'm hoping that the fragrance will have some hidden olfactory paths for you yet to take. The scent of both suede and rice is really quite complex, and since the aim with these two new creations was to look to the future and provide a more focused experience for the wearer, it was really my quest and challenge to create a fragrance with a clear olfactory core. Keeping it comprehensive without losing the natural complexity of the source of inspiration. A really fun and interesting journey."
Saffron Spice and Rock Hyrax Namibia collage by MC
Fredrik's thoughts about the creation of Suède de Suède: "Many people putting their nose in a pair of new suede gloves would just say "well it smells like suede", well yes, you would be right, but what is it really suede smells like? Is there a natural fruity note in there? Yes. Is there a warm spicy background like in all products originating from animals? Yes. Is there a slightly powdery floral volume filling your nose? Well yes there is. How about aromatics? Hmm… well, yes. This goes on and on. One of favourite olfactory families to work with when doing suede or leather notes is saffron, it's convenient because it's a family containing scents that tick all of the boxes above. If you almost base your accord on molecules from this family and then push certain notes in these materials towards a more suede like appearance you're on your way. One of the more important things to push would obviously be the animalic note, I've used rock hyrax or hyraceum in this case. Providing a very good and cruelty free replacement for the more traditional castoreum."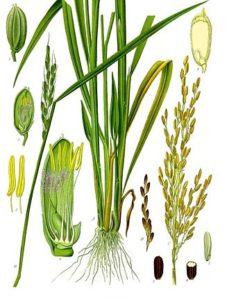 Clary sage via wikipedia
The composing of Dõjima: "Clary sage provides both a beautiful almost leafy aromatic note and great lift with its fruity apricot facets. Subtle hints of jasmine give volume. Oh, how the scent of cooked rice makes me feel good. It's like a warm blanket around your nostrils. Something of warm milk, whiffs of jasmine, powdery orris, creamy woods, a speckle of dry spice. All this is a single little grain of rice, isn't nature amazing. I've used a stunning quality of orris that is codistilled with cedar wood, merging the two in a true olfactory hallelujah moment, this provides heart to the rice note while also providing a bridge for the creamy Indian sandalwood in the base. I've been lucky enough to get hold of some Nutmeg absolute. Much less of a top note then its corresponding oil, but it makes up for it in the heart where it provides sensational warmth. To further accentuate the milky note I'm using a combination of materials by my own design, but those have to remain a secret."
The creative collaboration: "Jeroen and I work in a creative symbiosis. We discuss a million ideas together every day, not only related to odour but to everything creative and inspirational, really. It's in these discussions we tend to stumble over something we both find fascinating. In this case it ended up being suede and rice. Who knows what we'll do next (well, I do, hah). I truly hope that you will enjoy these fragrances as much as I do. With all the very best, Fredrik"
And so, on to the crux of the matter: the perfumes themselves.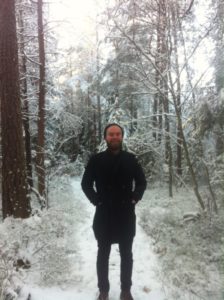 Fredrik Dalman grew up in Sweden (photo via Fredrik)
Suède de Suède: Fredrik's / Jeroen's name for this perfume is a play on words: Suede of Sweden. That tickles me in all sorts of places. Perfumer Dalman may reside in Amsterdam at present, but he grew up in central Sweden in the venerable old university town of Uppsala and also Örebro, close to the vast cool Lake Vänern. One is never far from natural beauty in Sweden regardless of where you find yourself; this fosters a love of nature and a varied palette of aromas and tastes native to the region. In this milieu our perfumer shares olfactory memory – the complexity of a specific suede accord, classic perfume materials which traditionally evoke a leather note – as well drawing upon childhood cultural references. Thus, it becomes a more intimate experience.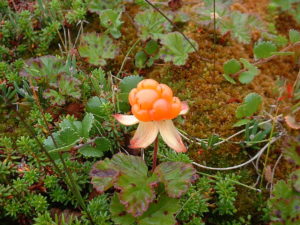 Cloudberry via wikipedia
Cloudberry has to be conjured and then constructed: while its oil is famous for multiple health benefits, it is not an actual perfume absolute. Cloudberries flourish in alpine and arctic climes (also parts of the British Isles, Canada, Alaska, and Newfoundland). Their flavor is described as being very tart, juicy, with a tar-like aspect (phenolic); it is prized in candies, jams, liqueurs and baked goods. Visually, cloudberry resembles the raspberry or blackberry, only amber-hued.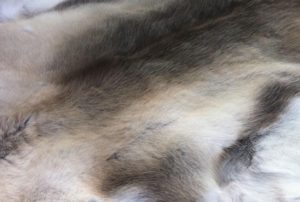 Our perfumer's secrets must be respected. Sweden adores its strawberries – but the leaf is very different from the fruit. Strawberry leaf exists as a natural absolute: earthy, watery, with violet leaf and roman chamomile undertones, cocoa whispers in the drydown. You can see for yourself as the magick unfolds: fruity/leathery aspects provided by saffron, osmanthus, cloudberry's juicy/tarry contribution and strawberry leaf. Patchouli, castoreum, hyraceum (aka African stone tincture) embellish our reindeer pelt, endow it with that furry underbelly so dear to my heart. Sweden's ample forests, elicited by cedar; Sichuan pepper is a powerhouse of lemony bittersweet camphoraceous verdancy. So much going on at one time – and all of it seamless. Pepper adds a spicy lift while it complements so many other facets of the perfume as a whole.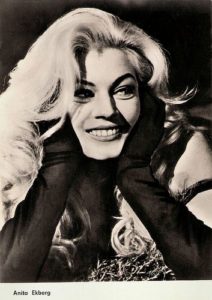 Photo: Anita Ekberg publicity still for Boccaccio '70 (Federico Fellini, 1962).
Mona Di Orio Suède de Suède is not one to be rushed into bed: she wants to be wooed. She desires to unfold and reveal herself to you over time, in her time. The longer you wear her, the more you love her and the better she becomes. Her longevity is marvelous. She initially beguiles you with that peppery amuse-gueule, a whetting of appetite – and the teasingly tart berry accord – before you're invited to stroke her. She makes absolutely certain that you will want to. Resistance is futile; just yield, why don't you? There is no merit in holding out, because she is going to slither gracefully upon your skin for hours to come – and that's the way you'll prefer it. If you, like myself – enjoy being cloaked in supple leather with a subtle 'tousled' inference – then I heartily recommend sampling Suède de Suède. Notes: Cloudberry, Sichuan pepper, suède accord, cedarwood, osmanthus, strawberry leaf, castoreum, patchouli and precious musks.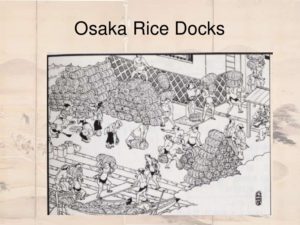 Rice feeds the world – more precisely, 50% of the world's population. It's thousands of years old. In Jeroen and Fredrik's recent aromatic brainchild Dõjima, we hearken back to Osaka, 1697 B.C. – and the Samurai's founding of the Dõjima Rice Exchange. Fredrik's fondness for that "warm blanket" aspect of rice is readily apparent; he's composed an olfactory love paean to it, in which the perfumer's sleight of hand reveals itself as a tranquil, sotto voce intonation. Fredrik's rice is a mysterious single grain composed of spice, herb, rhizome, resin, wood, and both vegetal and art essence musks (among whatever else is our perfumer's prerogative!). (I recall that, five years ago in Milan – there was a workshop being given (in Italian) regarding 'surprises in perfumery': one such vivid example was a basmati rice absolute, which smelled NOTHING like our perceptions – it was so green. That eye-opening moment burned a hole in my brain and served as a caution: not everything smells as you imagine.)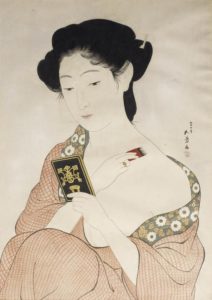 Clary sage produces an element of surprise, with deeper fragrant notes redolent of hay, green tea, tobacco. It's elated to set up house with creamy companions such as obliging ambrette, that multi-tasker (whose sweet, nutty, musky-floral scent profile shares common aspects with it) – jasmine and orris, full-bodied warm labdanum (just a pinch!), and velvety Indian sandalwood. Matches made in heaven, surely. Nutmeg absolute is utilized as a diffusively warm heart note, as Fredrik mentioned previously. I can only imagine the possibilities of orris/cedar in co-distillation; woody, powdery tones which marry with The Secret Rice Powder Accord.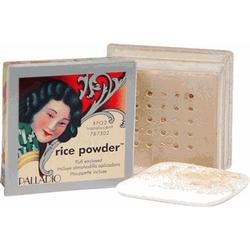 Dõjima opened with a pronounced green-tinged woodiness – not as I had imagined rice to be. I needed to be more patient, because over time the perfume began to take many turns. It felt musky, delicately floral; then there was more warmth, a milky sort of texture replaced by a creamier one (neither of which was particularly sweet). If savory creamy is a flavor, then this is precisely what I smelt, and it was tenacious; it lingered for hours. I was aware of it the next morning – softer than before, but it hadn't budged an inch.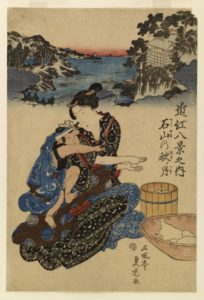 Mother and child preparing rice cakes
Such a stalwart character in such a tiny grain of rice. This perfume had strength of character, tenacity…but also tenderness. The kind of tenderness upon which our existence depends.Notes: Rice Accord, nutmeg absolue, ambrette, jasmin, orris, clary sage absolute, labdanum CO2, sandalwood and precious musks.
Samples so generously provided by Maison Mona Di Orio; thank you! Opinions are my own.
—Ida Meister, Sr. Editor
Co-Art Direction: Ida and Michelyn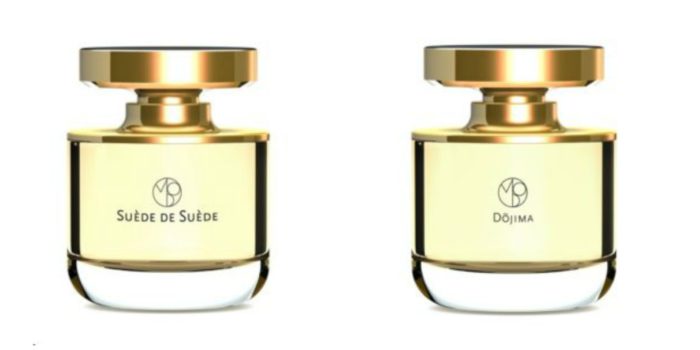 Thanks to Maison Mona Di Orio, we have two avant premier 75 ml bottles of Suède de Suède or Dõjima (debuting mid or late July) for one registered reader worldwide. Don't know how to register click here because if you don't your comment won't count. To be eligible, please share with us what appeals to you about these two reviews, what you learned about the creative process behind each perfume, where you live and which you would like to win. If you have a favorite Mona Di Orio perfume please share them with us!!! Draw closes 6/29/2017
Follow us @cafleurebon and @monadiorio on Instagram
We announce the winners only on our site and on our Facebook page, so Like Cafleurebon and use our RSS feed…or your dream prize will be just spilled perfume.