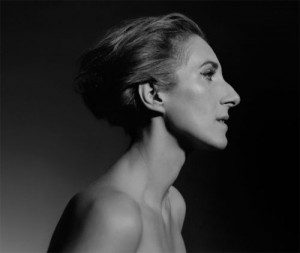 Mona di Orio
"Nature is an inexhaustible source of inspiration… The imagination and the experience of the perfumer is able to make exceptional the fragrance of a flower or anything else and above all unique and timeless…"Mona di Orio, CaFleurebon Interview August 23, 2011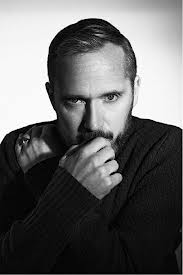 Jeroen Oude Sogtoen
Mona di Orio, the beloved perfumer whose fragrances have captured so many of our hearts passed away in 2011, but thanks to the hard work and dedication of her partner Jeroen Oude Sogtoen her olfactory legacy continues. To celebrate the 10 year anniversary of Maison Mona di Orio, Jeroen and his team have created three collections, all celebrating Mona Di Orio's signature style of chiaroscuro and her desire to contribute to the Art of Perfumery.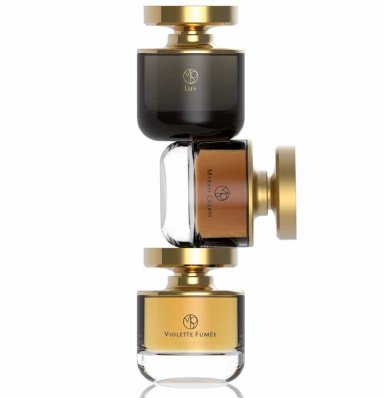 "When we began, Jeroen Oude Sogtoen, (my partner), to speak a couple of years ago about how we would like our perfume bottle, we had in our mind a certain shape, an elegant flacon, timeless, both female and male, very chic and unique. The box is also important, because it protects in a lovely way, the perfume from the the lights which could accelerate the aging of the perfume itself". Mona di Orio, CaFleurebon Interview August 23, 2011
A new signature oval flacon was designed in collaboration with the renowned Ateliers Dinand in Paris, creator of iconic classics for Balmain, Yves St. Laurent and Madame Rochas.
With Mona's distinctive style in mind, the perfumes of Maison Mona Di Orio will consist of three collections: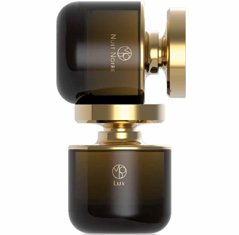 Signature Collection (Created by Mona di Orio)
Ten years after the first launch, the iconic classics Lux and Nuit Noire will be re-launched with the original formulas, in precious black translucent oval flacons.
Created as Mona's personal secret passion. Lux is a study on light with precious raw materials that harmoniously develop in her signature olfactory chiaroscuro style. Lux Notes: Sicilian lemon, litsea cubeba, bigarade petitgrain, Haitian vetiver, Mysore cedarwood, sandalwood, musk, amber, Siamese benzoin, Bourbon vanilla. 75 ml / $195
Nuit Noire elicits the steaming sensuality of a dark, sultry night in North Africa, exotic, spicy, and animalic. Nuit Noire Notes: Orange flower, cardamom, ginger, orange, frankincense, cinnamon, tuberose, sandalwood, clove, cedarwood, amber, leather, musk, tonka 75ml//$195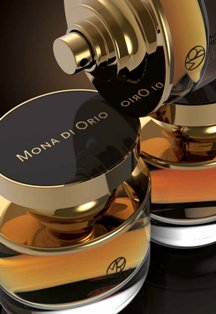 Les Nombres d'Or Collection (Created by Mona di Orio)
By the end of September Oudh Osmanthus and Violette Fumée will be available in new packaging. Maison de Mona Di Orio decided to rename Oud into Oudh Osmanthus (same formula as Oud) to help people understand that it is oud with a wonderful combination of osmanthus and other ingredients. Step by step this collection will be renewed. Oudh Osmanthus 75 ml/$395USD and Violette Fumée 75 ml/$245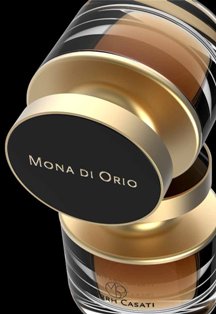 The Monogram Collection: The Monogram Collection continues the signature spirit and foundation of Maison Mona di Orio Atelier, led by Jeroen Oude Sogtoen, and invites contemporary noses to create new fragrances with the fundamentals of Mona's iconic Chiaroscuro style and oeuvre. Each scented story is dedicated to Maison traditions. A quest for a new dimension, a tribute to Light & Dark. There remains a distinct focus on craft and quality. Raw materials are carefully selected and controlled by Accords et Parfum in Cabris.
Myrrh Casati-Created by Melanie Leroux
Inspired by Marchesa Casati, the legendary patron of the arts and muse of eccentricity, known for her extravagant dark fashion and lavish fetes replete with exotic animals,gilded servants, and an infectious waft of incense and mystery that surrounded her. Myrrh Casati Notes: Peruvian red berries, pink pepper, Guatemalan cardamom, saffron, licorice, Siamese,benzoin, myrrh and incense from Somalia, Indonesian patchouli, Indian cypriol, nagarmotha, guaiac wood from Paraguay. 75ml/ $195
"A good perfume will surprise before touching the heart deeply, slowly it will give you its soul as it evolves and reveals its final notes. Perfume, like poetry, must stimulate and create passion instantly"- Mona di Orio
via Jeroen Oude Sogtoen with excerpts from CaFleureBon interview with Mona di Orio
The new collections will debut at Pitti Fragranze September 12-14, 2014
–Michelyn Camen, Editor in Chief