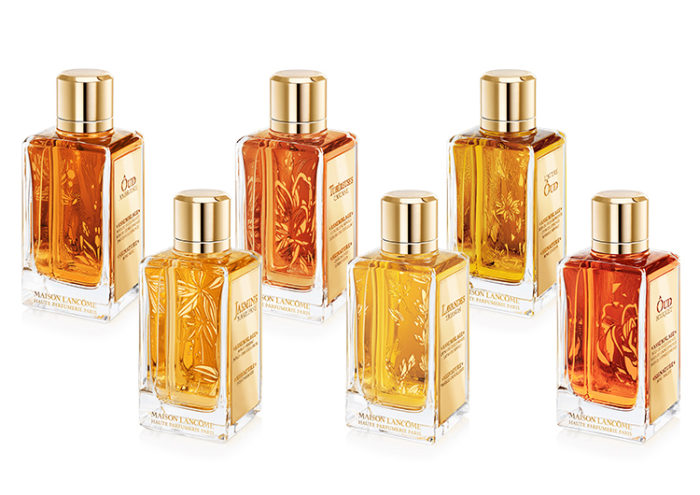 Maison Lancôme Grand Cru Fragrances photo via Lancôme
I'll be candid, dear readers: I have significant issues with telling anyone what they should or shouldn't do. It's a complex Talmudic/ Buddhist issue that surely borders on the excessive – so I'd rather suggest that you might enjoy these. Maison Lancôme has jumped upon the exclusivity bandwagon with their own line of Grand Cru fragrances created by well-known and beloved perfumers. I confess to blind-buying them – not always a prudent practice, but it worked out in this case.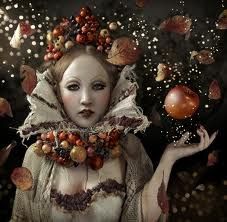 Kirsty Mitchell from Wonderland Series©
Each of these perfumes skews towards the gourmand in the loveliest manner possible – by utilizing premium quality components in the capable hands of perfumers with proven expertise. They are also a brilliant example of an "Ida Meisterism": "those which do well dabbed, not sprayed" – unless one approves of Murder By Sillage, which I do not. When in doubt…DECANT. Nevertheless, they are presented in gorgeous, opulent heavy vaporisateur flacons: each one boasts a hefty 3.4 oz: clearly perfect for sharing, since each bottle will last an eternity.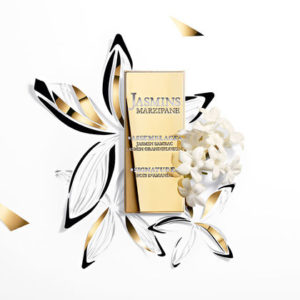 Lancome Grand Cru JASMINS MARZIPANE photo Lancôme
Jasmins Marzipane (Dominique Ropion): The master knows his subject, and M. Ropion has taken fruity, luscious jasmin sambac and combined it with one of my growling animalic favorites – jasmine grandiflorum. Harnessed to a melodious woody base kissed by musk and the faintest breath of almond, Jasmins Marzipane is one of the softest, most lyrical and undemanding perfumes I have experienced in a while.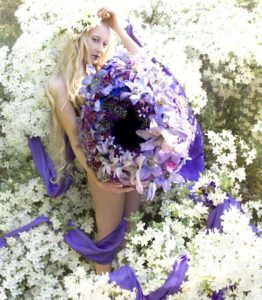 The Lullaby of May from the Wonderland series by Kirsty Mitchell©
Its tenderness possesses excellent longevity underscored by a light-hearted delicacy which feels welcome in every setting. Its winsome charm is irresistible, fairly impossible NOT to enjoy. Wear it for yourself, your colleagues, intimate détentes; it glows in all seasons. This perfume recalls a saying from my childhood: "So the bride is too beautiful. Some fault!" Of the three perfumes, this one can be sprayed with a measure of impunity, just don't understimate it. Notes: jasmin sambac, jasmine grandiflorum, almond wood, vanille Bourbon, sandalwood, musk, cashmere wood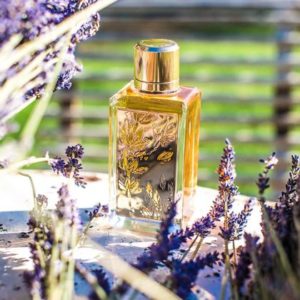 Lavandes Trianon via Lancôme©
Lavandes Trianon (Olivier Gillotin and Shyamala Maisondieu): This is a marvelous comfort scent, but it's sophisticated: imagine two fine lavenders showcasing diverse aspects of their visages woven into a burnt caramel crème brûlée.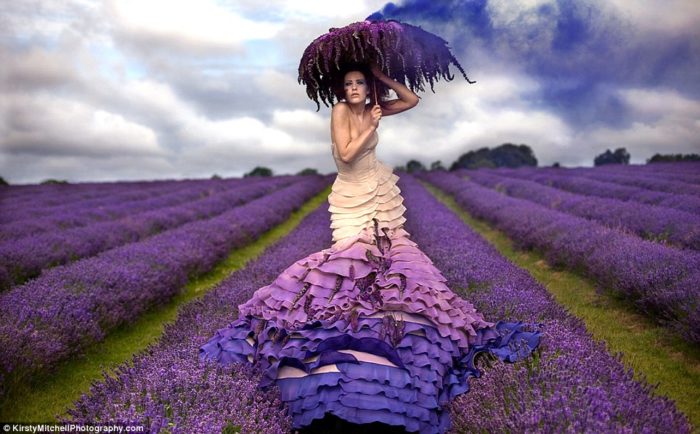 The Lavender Princess | by Kirsty Mitchell ©
Ooooooh is the operative word here; I've yet to hear a disparaging word while wearing Lavandes Trianon. Its versatility is its greatest asset: another surefire perfume which is enchanting and never cloys. That can be a very tall order indeed for a floral gourmand, but due to the herbal aspect of lavender one needn't fret about it becoming too sweet. Lovers, co-workers, neighbors, perfect strangers – all take note of its allure. It's one fabulous blind buy. I've sent a lot of decants around to people with wildly differing tastes; they all loved it. This is clearly one to try, again working in all four seasons. One spritz or dab, and you're in Provence; it's that easy. Notes: lavande fine essence and lavande absolue from La Drôme region of Provence, vanille cristallisée, milk, Madagascar vanilla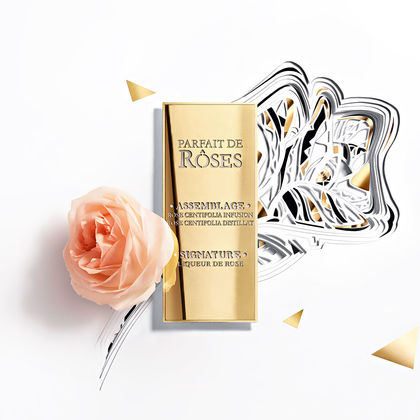 photo via Lancôme
Parfait de Rôses (Nathalie Lorson): You HAVE to venerate roses – it's a Revelry in Rose. If not, then walk away now…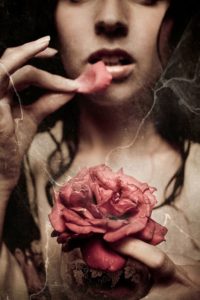 Kirsty Mitchell Self Portrait ©
That said, WHAT a rose! Centifolia and more centifolia enraptured with pink pepper. Its initial sparkle is deepened by mouthwatering rose liqueur. Labdanum-vanillic basenotes anchor these ecstatic roses; Tolu balsam simply ups the ante. Parfait de Rôses is a decant-only: I spritzed it at first, and it staunchly refused to slink into the background. It was too much of a beloved creature clinging rapturously – if ardently – around the newlywed's neck: when I decanted it, it was absolutely divine. One must beware of being nibbled, however…or sipped. Too delectable for words. Notes: rosa centifolia distillate, rosa centifolia infusion, pink pepper, rose liqueur, ciste labdanum,vanilla absolute, tolu balsam
Disclaimer: I blind-purchased these perfumes. My nose is not for sale 😉
– Ida Meister, Senior Editor
Art Direction: Michelyn Camen, Editor-in-Chief. I chose the photography of Kirsty Mitchell from her Wonderland series; she is one of my favorite photographers. You can read about Wonderland here. These images are not associated with Lancôme.
Thanks to the amazing generosity of Ida, there is a reader's choice of a 4ml decant poured with love, from her collection of the three Maison Lancôme Grand Cru Fragrances: Lavandes Trianon, Jasmins Marzipane or Parfait de Rôses for one registered reader in the USA only. You must be Registered so click here To be eligible please leave a comment with what you liked about Ida's reviews, which one you would choose. Draw closes 8/9/2017
You can learn more about Maison Lancôme Grand Cru Fragrances on their site here
There is no Spilled Perfume
We announce our winners on our site and on our Facebook page, so be sure to like CaFleureBon and follow our RSS feed