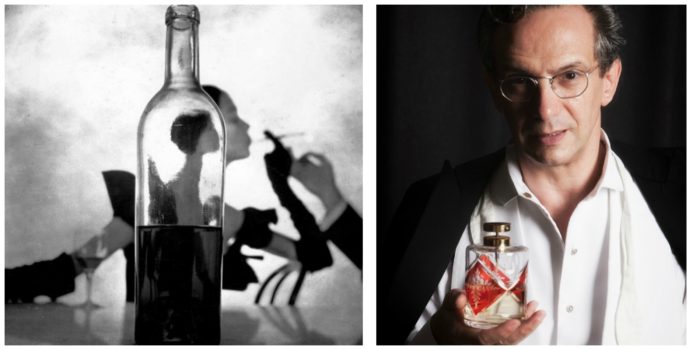 Irving Penn Girl Behind the Bottle and Fabio Luisi Photo: Barbara Luisi © BALU Photography
"Smell and sound both bypass the intellect and go right to the part of the brain where memories live…" – Fabio Luisi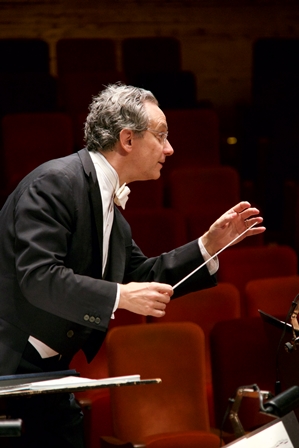 Maestro Luisi Conducting
Opera and Classical music lovers will need no introduction to Maestro Fabio Luisi, the Grammy award winning professional musician and conductor who has held residencies in many international concert halls and opera houses, including the Metropolitan Opera, the Vienna Symphony, the Zurich Opera, and more. While music is the art for which he is best known, the Maestro is also passionate about perfumery.
For years he practiced his craft by creating perfumes for friends and in 2013 opened the artisan perfume house, FL Parfums, offering his fragrant creations to audiences around the world. Today it is my pleasure and privilege to talk with Maestro Luisi and find out a little about what goes on "Behind the Bottle at FL Parfums".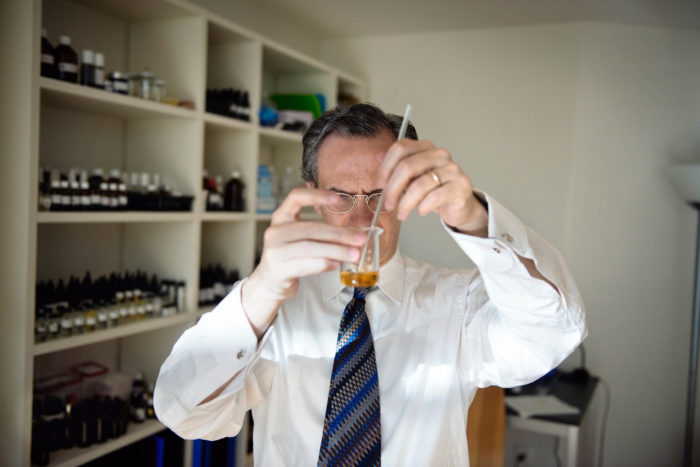 Maestro creating perfume Barbara Luisi © BALU Photography
Gail Gross: Maestro, I love so many of the offerings from FL Parfums and am especially drawn to your new J'Ose Eau de Parfum. Considering your very busy performance schedule, how do you find time to create these beautiful fragrances and maintain your own artisan perfumery?
Fabio Luisi: This is a real challenge, especially because I am traveling internationally and this brings me far from my lab, which is currently in Zurich. In the time I am in Zurich I can work on my ideas and formulas, but not being there is really hard. Nevertheless I have always with me my "exercise box" with 40 different raw substances (natural and synthetic) which I "study" every day. And I develop, based on my olfactory memory, new ideas and new formulas that I am going to verify later in my lab.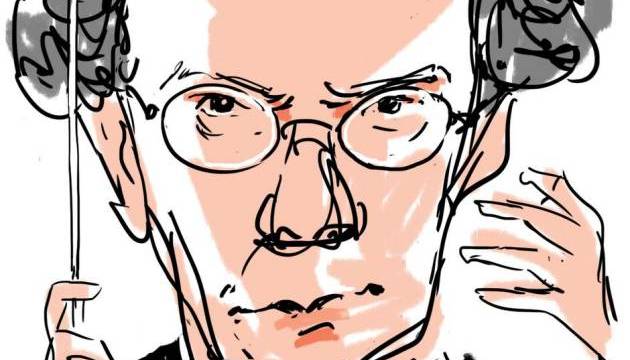 Illustration of Maestro Fabio Luisi
Musical references and specific orchestral works inspire your fragrances. Could you tell us a little about this?
FL: I have created two scents, in my first years of "trying", inspired by Claude Debussy's music: "Jeux de Vagues" and "Jeux du Vent", directly inspired by Debussy's Symphonic Poem "La Mer". I am still working on them and therefore I am not offering them for sale – yet.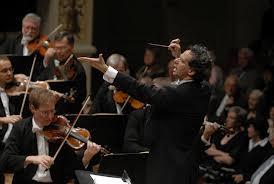 Do you find any parallels between conducting music and creating perfume?
FL: There is a similarity between the work of a conductor and that of a perfumer: in the art of mixing sounds or mixing scents you aim to find the right balance, sort of "creating" something where none of the single components is necessarily over-dominant, but they all "melt" together giving life to a new sound or smell.
Who were your most influential teachers and mentors – in music and perfumery?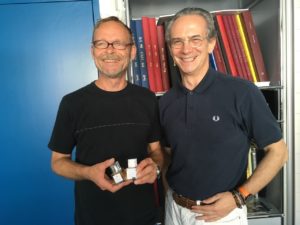 Andy Tauer and Fabio Luisi
FL: In music I had some amazing teachers, like Aldo Ciccolini (an Italian pianist who lived in Paris) and Milan Horvat (my only conducting teacher). I like to think that Maestro Wolfgang Sawallisch was my mentor when he invited me to conduct at the Bavarian State Opera in Munich for the first time in 1989. He was one of my role models, as a conductor and generally as a musician and as a man in service of the music. In perfumery Thierry Wasser gave me some great advice and introduced me to Ron Winnegrad, who taught me how to smell (among many other things) and who is a great teacher and human being indeed. I also met recently Andy Tauer in Zurich, he is an astonishing guy and like me a self-taught perfumer with ideas which are definitely out of the box. A great inspiration to me!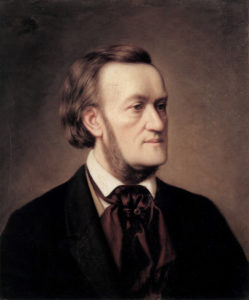 Richard Wagner by Caesar Willich ca 1862
Aldo Ciccolini's recordings of the piano music of Erik Satie and Rossini's whimsical Peches de Villanese (Sins of my Old Age) remain some of my favorites. I can imagine a fragrance by that name just for me. On your beautiful website I see that, in addition to natural and mixed media perfumes, you also offer a "bespoke" fragrance service. Here is a fanciful question: If you could go back in time and create a bespoke fragrance for Gioachino Rossini or perhaps Richard Wagner, what would the fragrance be like?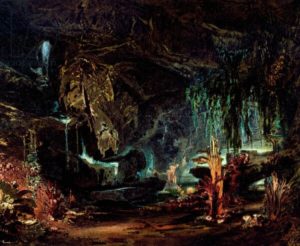 Cave of Venus (Max Bruckner) Tannhauser. Richard Wagner
FL: Richard Wagner would have definitely loved musk-based perfumes. I would suggest him a perfume with some musk, oakmoss and civet as base notes, with no or very little citrus on top – better lavender and rosmarin, I guess – and just some earthy modifiers in the middle, a hint of patchouli maybe. For Rossini I think about an oriental floral with a nice and decent bergamot opening.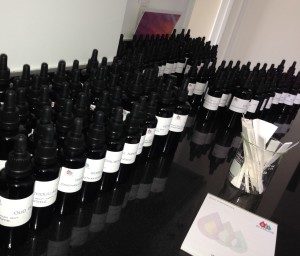 Maestro's Essential Oils Barbara Luisi © BALU Photography
I understand that you are certified in aromatherapy. Does aromatherapy figure into your perfume making? Are your natural perfumes ever purposefully therapeutic as well as artistic?
FL: My interest in aromatherapy was based on the necessity to dig deeper into the essential oils' world. What I have learned about essential oils helps me in the understanding of their molecular components, why they smell like they smell why they have certain effect on the human body – and mind. I don't do aromatherapy-based perfumery, but aromatherapy helps me, especially by bespoke perfumes, to understand why customers react differently to different smells.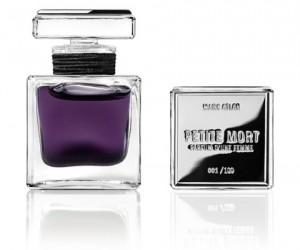 Petite Mort (Parfum D' Une Femme) -Bertrand Duchaufour and Kilian Hennessy for Marc Atlan
Over the years what have been the most memorable perfumes you have worn and /or the most unforgettable musical performances you have experienced?
FL: One of the most amazing perfumes I have worn is without any doubt "Petite Mort" by Bertrand Duchaufour for Marc Atlan. It is not at all a perfume made to satisfy the mainstream's taste (which is imho a plus for a perfume today), but it is something which in my opinion makes clear what a perfume should be: an idea, a state of mind, the olfactory core of a human story. It is not a perfume you can wear every day – it is even not a perfume which necessarily needs to be worn, but it is a masterwork.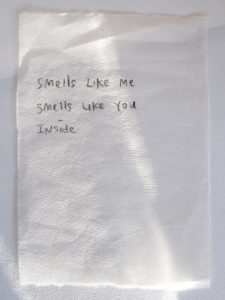 'carnal script, page 31' by ellen jong (2011) copyright © ellen jong for petite mort™©
I also like it because it brings us to the essence of smell: human smell as a communication tool – we forgot that this sense, the sense of smell, was essential to our specie to survive and reproduce. I strongly believe that on a subliminal basis it still is.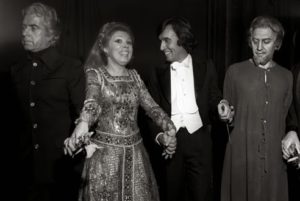 Giorgio Strehler, Mirella Freni, Piero Cappuccilli after Simon Boccanegra at La Scala in 1971
I have experienced many beautiful musical performances. One of the most impressive I still remember happened when I was 19 years old and I was at La Scala theatre in Milano and I attended a performance of Verdi's "Simone Boccanegra" with Claudio Abbado conducting and Giorgio Strehler as director. It was a huge emotional experience for me to see and hear the sounds and lights of my hometown, Genoa (Verdi's "Simone Boccanegra" is about Genoa's history in the 14th Century) on a theatre's stage. That was memorable.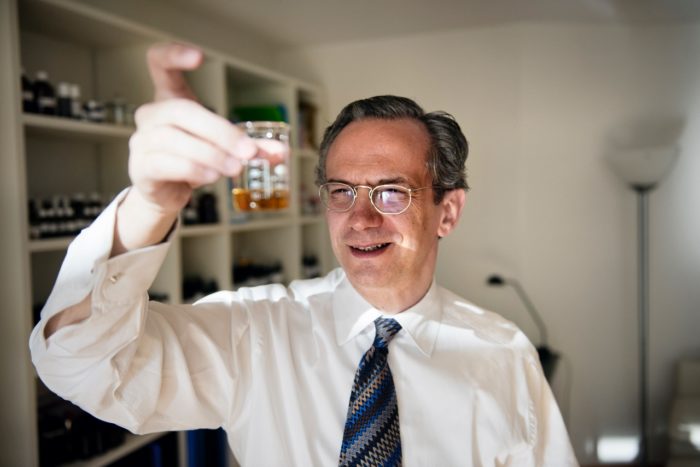 Fabio Luisi creating perfume Barbara Luisi © BALU Photography
Are there any new fragrances on the horizon for FL Parfums in the 2017/2018 season? Can you tell us about them?
FL:This year I have developed three new perfumes, "J'Ose", "La Troisième Rose" and "Vetiver Soleil", which I am kind of proud of. "J'Ose" is a sort of oriental chypre, a bit "dark" and "dirty", with strong animalic notes. "La Troisième Rose" is the lightest one of my three roses (the other ones being "Rose du Jardin" and "Rève de Roses"), a soliflore, fresh and a bit musky, and "Vetiver Soleil" a bright, a bit rough and earthy Vetiver. In addition to that I have been "working" again on my very first perfume "Éclectique N. 2" (I created it in 2013) and I have substituted some synthetics with naturals, and, although the personality has remained the same, or got even stronger, I could achieve more profundity and the improvement was amazing.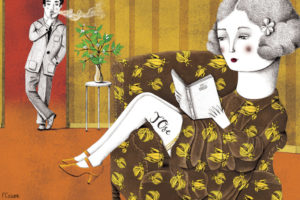 Illustrator Francesca Cosanti
FL Parfums J'Ose Review by Gail Gross
My latest love is the Eau de Parfum J'Ose, created by the Maestro in 2016/17. J'Ose, as the name suggests, is a daring fragrance, at once audacious, seductive and mysterious. The opening is fresh with bright citrus and nuances of herbs, spices and perhaps narcissus. But the initial persona of innocence is merely a fleeting cover for the extreme sensuality that lies at the heart of J'Ose. The dark seductive nature of this new perfume reminds me of something near and dear to my heart – my vintage bottle of that fragrant bombshell, Tabu, created by Jean Carles for the House of Dana in 1932. With J'Ose, Maestro Luisi, by way of a buoyant, fresh rose, jasmine and modern musks, has given a 21st century facelift to the fragrant image of the much loved and admired "parfum de puta". In addition to rose I perceive facets of oakmoss and impressions of civet, benzoin and various woods. As J'Ose dries down it once again reveals a modern twist, a light touch of patchouli and airy amber finished with a breath of clove and musk. Robust and long lived; J'Ose is an ebullient neo-romantic fragrance for lovers of the vintage and the modern alike. Notes: Jasmine, rose and patchouli.
Disclaimer: I would also like to thank Maestro Luisi and FL Parfums for samples of J'Ose and many other beautiful FL Parfums fragrances. My opinions are my own.
Gail Gross – Senior Editor
Art Direction: Michelyn Camen, Editor-in-Chief. Fabio Luisi is a member of The Natural Perfumer's Guild. All photos were shared with us by Maestro Luisi; I used illustrations created for him from his site. Other images are credited accordingly.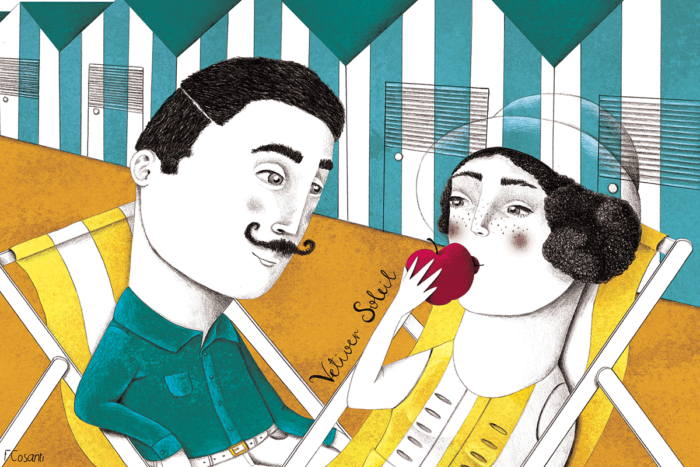 Vetiver Soliel illustration by Francesca Cosanti for FL Parfums
Through the generosity Maestro Fabio Luisi and FL Parfums we have a draw for one of the following: 30ml J'Ose Eau de Parfum, "La Troisième Rose" or "Vetiver Soleil"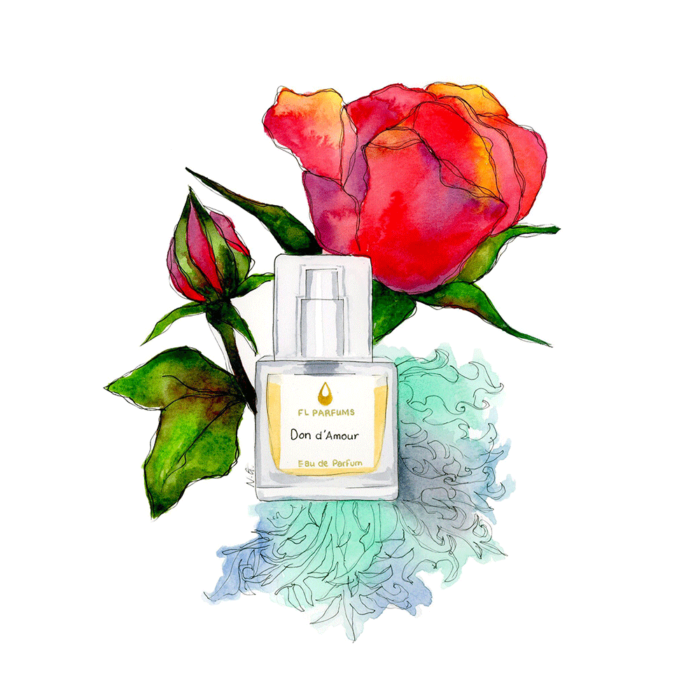 Illustration of Don d'Amour by Nafia Guljar for FL Parfums
alternatively you can choose a natural perfume Don D'Amour
The draw is open to one registered reader anywhere in the world. There is only one Please be sure to register or your entry will not count. To be eligible please leave a comment about what you found fascinating about Gail's interview with Maestro Fabio Luisi's career as conductor and as a perfumer, where you live and which fragrance you would like to win and a quote you will remember. Draw ends 10/17/2017
We announce the winners only on our site and on our Facebook page, so like Cafleurebon and use our RSS feed…or your dream prize will be just spilled perfume.