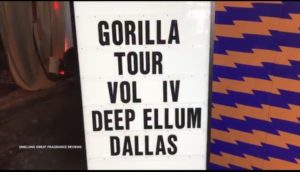 Photo by Sebastian©
Is perfume art? That is a question often asked in the industry. How can fragrance, which cannot be touched or seen, tell a story? On October 23rd perfume lovers and journalists attended Gorilla Tour IV in Dallas, which did just that. Fourteen fragrances were presented as installations that chronicle the sensory memories of Simon Constantine, Lush's head perfumer and Dallas born artist Hal Samples.This year's theme centered on "Home" and what it meant to each of them, the smells and the power of relationships.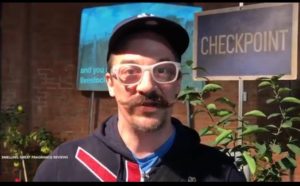 Hal Simons of Gorilla Perfumes Photo by Sebastian©
Sebastian Jara, Ida Meister and Lauryn Beer represented CaFleureBon at the Exhibition. Part 1, compiled by Sebastian Jara, is a virtual tour featuring Gorilla Fragrances Hal Samples who leads us through each "home".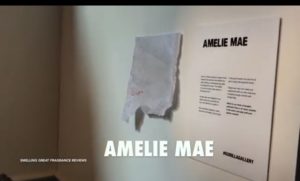 Amelie Mae was created for Simon Constantine's daughter
These perfumes and their gallery environs are Simon and Hal's personal narratives which honor people and places dear to them – including the Road to Damascus, a fragrance created for Simon's daughter Amelie Mae, the plight of the Homeless and the heartland of America –Michelyn Camen, Editor-in-Chief
With personal thanks to Sue Busto of Lush for her kind assistance. After watching this video, what resonated with you? What is "Home" ?