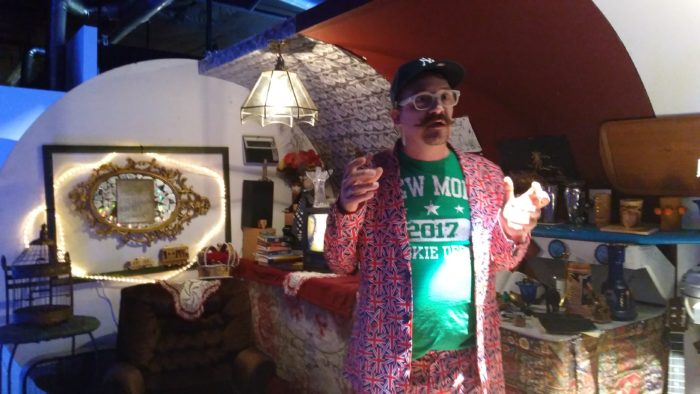 Hal Samples of LUSH Gorilla Perfumes
Fourteen fragrances were presented as "installations" that chronicle the sensory memories of Simon Constantine, Lush's head perfumer and Dallas born artist Hal Samples. This year's theme centered on "Home" and what it meant to the olfactive artists and documentarians of the human experience. Sebastian Jara, Ida Meister and Lauryn Beer represented CaFleureBon. We have watched Sebastian's brilliant comprehensive youtube video and now Senior Editors Ida Meister and Lauryn Beer review each of the14 fragrances (Lush Gorilla IV Fragrance Installation which runs through 11/7/17 in Dallas ).-Michelyn Camen, Editor-in-Chief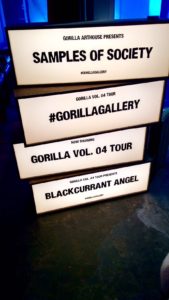 Home comes in many forms, many smells. On a brilliantly blue Dallas evening on October 23rd, Lush Cosmetics Creative Buying Director Simon Constantine teamed with artist Hal Samples, who was in attendance, to examine in fragrance and multimedia: what is home? The result was Gorilla Vol. 04, a kaleidoscopic installation of sensory memories, ranging from the literal smells of a grandmother's living room to more abstract fragrances of self-esteem and surgical mesh.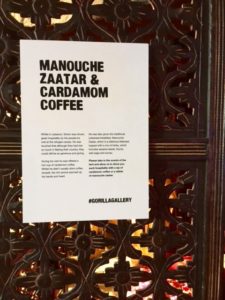 From his travels, Constantine's first stop was a Lebanese tent where he was offered Coffee and Cardamom. This perfume's savory-sweet spices are accentuated by dusty cocoa sweetness and harmonized with rose. Manouche Za'atar, with dried, piquant herbs, represented the pita-and-oil that was served in his host's home.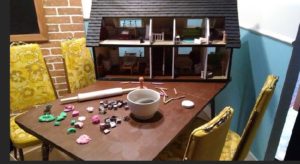 Amelie Mae Installation
Thinking of his own home, Constantine recreated the smells of breakfast, benzoin, vanilla and cocoa standing in for oven-warm sweets. Home also meant family, including the playdough and berry smells beloved by his daughter Amelie Mae. Her eponymous perfume is a playful, wearable, fruity-floral confection with grown-up notes of lavender and ylang ylang.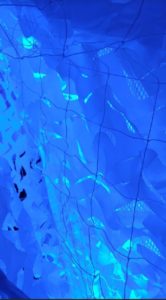 "Each perfume is like an album," said Samples, who drew inspiration from both his own life and the men who populate his documentary Something for Nothing. Complications from an operation, and Samples' long convalescence, were the source of "Iammesh", a metallic animalic that conjures both surgical instruments and human skin.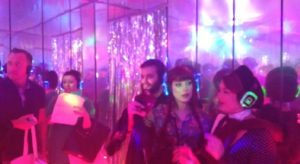 Samples celebrates the return of his mojo with "Self-Esteem Machine", set in a private, tinseled disco where the music is played for one (on headphones) — a citrusy, fizzy, papery fragrance that shouts "I'm baaaacckk!"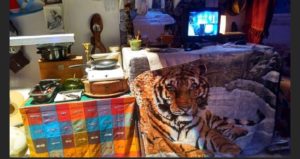 The most poignant part of the exhibition was Samples' painstaking recreation of a forgotten water tower that was converted into a home by Tachowa Covington, a formerly homeless man and artist of the everyday, who turned discarded objects into poetic slices of beauty.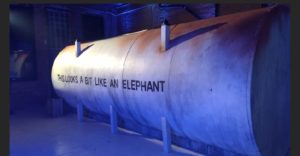 Tank Battle represents that water drum's exterior, with smells of humanity and outdoors (represented by labdanum, clove and patchouli). Tachowa's fanatastic interior is encapsulated in Rentless, an alternately jazzy and loamy collection of aromas – patchouli, labdanum, citrus and tonka — and was my favourite scent from the gallery.
— Lauryn Beer, Senior Editor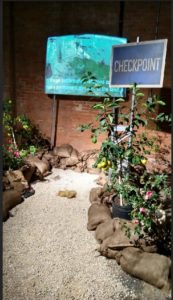 Simon Constantine's's global search for fine aromatics led him to war-torn Damascus where he spoke at length with refugees. "The Road From Damascus" is a gravel path strewn with roses and forsaken intimate items conveying the fingerprints of the uprooted. A perfume full of hope in spite of adversity's visage: effusive roses ally their fruity muskiness with bigarade and limpid violet leaf – tenacious, glorious, concentrated. Beauty endures in the face of horror, if only by the drop (sold at the Gallery).
I'm Home reflects Simon's personal sense of home and comfort. An old stove stands in the corner; upon one burner, a covered saucepan – lift its lid, and benzoin, vanilla and cocoa, a caramel nuance dusted with a soupçon of cinnamon fill your nostrils. Thoroughly gourmand and cosy I'm Home will be available online and in all shops across North America.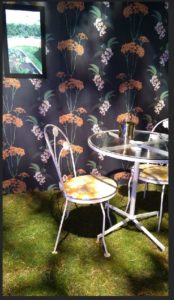 Secret Garden isn't Frances Hodgson Burnett's tale; it's Simon Constantine's ongoing endeavor in permaculture right in his back garden – shaped like the Millenium Falcon, of all things. We discern immortelle immediately as it rears its maple-syrupy head, complicit with a peachy osmanthus aspect, celery, vestiges of mint, crushed tomato leaf, a dash of dill and warm myrrh in the base. Fertility, humidity, promise: these three elements pervade Secret Garden, (to be sold solely at the Gallery).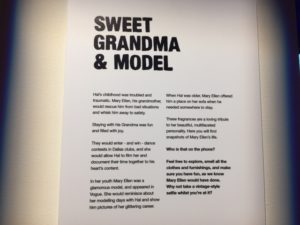 Sweet Grandma and Model: In Hal's fond memory, throughout hard times and sweet – grandma Mary Ellen was his safe harbor and his best friend: life of the party and reliable all at once. This is as intimate as it gets: rose and jasmine interwoven with rosewood reflect a mature woman – there are mothballs in there as well. It's a time capsule which embodies her warmth and practicality, a no-nonsense dame.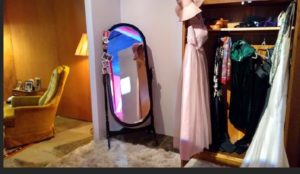 Mary Ellen was a looker and a Model before she was a grandmother: her allure peers out of her wardrobe of glam gowns ready for the wearing, accompanied by a full-length mirror emblazoned with photographs taken in her salad days and a Polaroid camera for your own selfies in sepia tint. Model is a carnation-intense perfume that reeks of the high life – spicy with a woody base – redolent of the glamourous 40s and 50s.(neither Sweet Grandma nor Model are available for sale).
How we are seen or unseen is the leitmotiv for Hal and wife Janine; the homeless/rentless are engaged in Hal's films about them entitled Samples of Society. Hal's Blackcurrant Angel is such a fragrance: a woody, fruit-laden scent which had to include hints of "bubblegum, urine, booze". Gaiacwood leans against a ripe cassis note (often perceived as urinaceous in absolute) which in turn brushes up against a leathery osmanthus, tempering sweetness; I wouldn't be surprised if a kiss of patchouli was present for good dirty measure. Blackcurrant Angel will be available at the Gallery.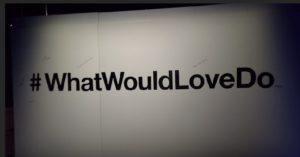 Janine has a mission: to let folk know that they are not alone, to which end she leaves written messages on windshields, anywhere she hopes they will be found, intending that the unsung heroes will find them and glean comfort and realize that they matter. What Would Love Do? envisioned as blank wall – closes the exhibit on an uplifting note, a clear mood-elevator with tangerine, benzoin and lavender. Lively, balsamic, herbal, tender: this perfume-as-tonic will be available online and in all shops across North America.
-Ida Meister, Sr. Editor
All Photos© CaFleureBon
Like a bittersweet parting with old friends, the Gorilla Gallery exhibition left newly-minted memories — of lives that happened to other people but who were generous to share with us -Lauryn Beer
Thanks to our friends at Lush/Gorilla we have a sample bag of select Volume 04 perfumes for a registered reader in the U.S. or U.K. Please be sure to register. To be eligible please let us know what appeals to you about Ida's and Lauryn's reviews, which appeals to you, a memory from home and where you live. Draw closes November 1, 2017
We announce the winners only on our site and on our Facebook page, so like Cafleurebon and use our RSS feed…or your dream prize will be just spilled perfume.