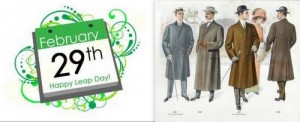 Every four years a strange thing happens. We have an extra day in the month of February. Why, you ask? It seems it takes our planet 365 and ¼ days to revolve around the sun; so every four years we HAVE to do something with that extra day, right? Well, today IS that day. On a day such as this, I usually like to look back at other Leap Days and remember where I was, what I was doing and with whom. This year, I thought it would be fun to look back at some very interesting perfumes that have "gone the way of the dodo", as it were. Oh, they are still available (here and there) but now that they are "lost" (no longer in production) and from decades ago. They command some rather exorbitant prices (online) and some require extensive searching. Long lost perfumes were not always rare or, in their time, considered all that special. Makes one wonder what we will be calling "long lost" in 2024 doesn't it? Here are some of my favorites…
Jean-Marc Sinan's V.O. (Version Originale) was released in 1984 by (then) fashion designer Jean Marc Sinan. He later went into hotel and resort designing. A very mysterious man scent is held in this unique bottle. This has that classic aroma of men's scents from this era, yet its composition is infinitely more elegant. Spicy and richly earthy, with just enough flowers to give it depth and beauty, this dries oriental (sandal, tonka, cedar and musk) and slightly animalic on the skin. A clean clear lemon note keeps this from getting too heavy. V.O. is a beautifully balanced and never brutish, yet it has a primordial sexiness to it. I imagine the man on the Dos Equis commercial (the most interesting man in the world) smelling something like this: intriguing and raw while epitomizing class, yet always remaining approachable and down-to-earth. Sillage: very good. Longevity: great.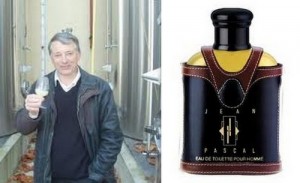 Jean Pascal Pour Homme was also released in the eighties with none of the "over the top" decadence that defined that era. An aromatic fougere that opens clean and green is rounded out by a soft spiciness and has a perfect blend of warm herbaceous lavender and thick heady jasmine. This scent is utterly amazing, not only in its uniqueness (at the time of its release) but in how it wears and in the fact it smells just as good (if not better) than many niche offerings of today. REAL evernia prunasti (oak moss) shines in this, along with ambergris, a divine musk (neither "white" nor urine like) and soft woods. There is a delicate sweetness that pervades here, but it never overpowers you. It only adds class without falling into that "classic/barber shop" category, like so many eighties masculine scents can. Sillage: excellent. Longevity: Outstanding! (12 hours+)
Crabtree & Evelyn for Men was, in fact, their first men's fragrance and was also launched in 1984. Judging from the only pictures I could find it was released in an after shave splash only. When a dear friend told me about this, I was amazed I had never heard of it, since I am a big fan of that House. He sent me some of this, and I must say it's worth searching out. Everything about CT&E for Men is poised and refined. From the well-balanced citric opening to the lovely springtime heart of soft blossoms, teasingly light spices and greens to the ultimate dry down of woods, vetiver and resins this scent encapsulates the "put together" guy who wears his scent…and not the other way around. This scent is the equivalent of a clean crisp white dress shirt, something every well groomed man should own. Sillage: close. Longevity: above average.
Scott McClintock (by Jessica McClintock) is the only male scent that this company has ever made. Released in 1993, it has been rumored (but I cannot confirm) that it was made as a tribute for her brother, and best friend, Scott. This begins with a brilliant bergamot that is not too bitter or too citric. It provides an intense green that is bright and vital. Amber, the thick sweet golden kind, and lavender dominate the first half of this scent and give an oriental powdery edge to a unique (almost fruity) masculine scent. The thickly musky dry down adds a heavy dose of sensuality to a whisper of vanilla and sheer patchouli. They only made one men's fragrance, true, but they sure did it right! Sillage: good. Longevity: very good.
Alexander McQueen's KINGDOM was not all that well received in its day. Today, a 1.6 ounce bottle of the EDT that sold (after it was discontinued) in grey-market emporia for approximately forty U.S. dollars is fetching prices closer to $200 (more, if new in its box) now. What made Kingdom so sought after, in part, was the suicide death of the designer in February of 2010, shortly after the death of his mother. Kingdom turned the traditional "olfactive pyramid" on its head and added notes like cumin and ginger into the mix. McQueen was famous for his extremely extravagant designs and Kingdom is like one of his dresses brought to life in a fragrant form. A bright opening of citruses is quickly eclipsed by spices, both skanky and sweet, and a wonderful floral chorus of rose, jasmine and neroli. The simple dry down of pungent myrrh resin and smooth sweet vanilla gives oriental a whole new depth. Many can't take the cumin note (often compared to sweaty armpits) here. I find it fascinating and innovative. This MAY have been marketed to women, but I love wearing it! Sillage: great. Longevity: very good.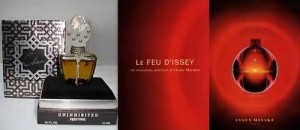 HONORABLE MENTIONS: The last two scents I, personally, have never smelled; however, I think they deserve to be mentioned here. Uninhibited (by Cher) was released in 1987. Cher is one of those performers who always did what she wanted-when and HOW she wanted. Uninhibited was the epitome of a loud, obnoxious and uncompromising floral aldehyde perfume. A top of citruses and sparkling aldehydes gives way to dry sweet heliotrope, rich ylang, rose, jasmine and geranium PLUS tobacco! The dry down was a mélange of woods, vetiver and vanilla. "Bottled, but not contained" was an excellent tag line for this scent. Like Cher herself, this scent is polarizing: you either absolutely love it or totally hate it. Judging from the prices on eBay ($325 for ¼ ounce of pure parfum!), I am guessing this was really "something"!. La Feu d'Issey was the "anti-flanker" of Miyake's L'Eau. Instead of a simple clean aquatic floral, this went for warm herbs & spices, milky flowers and sticky sweetness along with bitter greens and fruits on a base elegant woods, vanilla and musk. Much ballyhooed and sorely missed by many, this one is a must sniff for me…
These reviews were based on decants and samples from my collection. The honorable mentions are from trusted parfumistas' reviews and comments from those that I know in the community. Remember, long lost does NOT mean extinct…just discontinued and (usually) rare and/or expensive.
– John Reasinger, Weekly Contributor