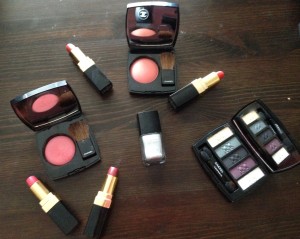 Spring CHANEL 2015 L'Intemporal de Chanel eye shadow palette, Rouge Coco Lipsticks and Joue Contraste Blushes
I haven't posted beauty reviews for way too long. Between all of the new perfume releases from Milan, a lingering flu and the cold weather, (I wore a winter coat two days ago) spring makeup just hasn't been on my radar. I am a CHANEL Beauty fan girl as so I am going to review new Spring L'Intemporal de Chanel eye shadow palette, Rouge Coco Lipsticks and Joue Contraste Blushes in separate posts.
I love a smoky eye and colours that are richly pigmented and buildable. I was disappointed with the Spring 2015 Eye Shadow Quadras In Tisse Paris and Fantaisie , reviewed in January, after loving the Fall Tisse Quadras (Tisse Rhapsodie was added a month or so ago, it is not on Chanel.com and it didn't fare much better).
L'Intemporal de Chanel Limited Edition Eyeshadow Palette: If you were not a fan of the baked shadow colors, these five powder eye shadows are a nice change. They are more intense in the compact than on the eye. There are two formulations, satin and shimmer. CHANEL adds a special touch with embossing "le chaine", the iconic braided leather chain used on the 2.55 handbag.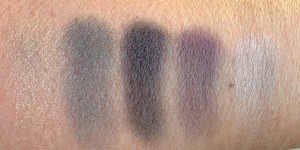 Left to Right: 1, 2, 3, 4 and 5 swatched dry, with Mac 239 eyeshader brushes no primer
L'Intemporal de Chanel 1: This is a soft butter yellow color with a tiny bit of golden frost more frosted than shimmery. As you can see on my arm (Nars Barcelona, Diorskin StarFluid 40 or MAC NC40-42) you can barely notice it. It is more apparent on the eye but soft and no sparkles. There is no fall out and wore well throughout the day.
L'Intemporal de Chanel 2. CHANEL describes this grey green satin shadow with a murky undertone as "Brilliant Green". This is not my favorite color in the palette, as it applied a bit blotchy. I so wanted to love #2. It also seemed to just blend into the other colors without any personality.
L'Intemporal de Chanel 3: Black: it takes applying this wet to achieve a true black satin, I would describe this satin shade as darkest anthracite. If you are looking for a true black, try Urban Decay, Mac or Viseart
L'Intemporal de Chanel 4: Satin smoky Plum, with a warm undertone can be intensified by wearing primer or applying wet. It needs a few applications because it is sheerer on the eye than on the arm.
L'Intemporal de Chanel 5: Silvery white, with a hint of frost, you must have quite a few dupes.
There was no fallout from any of the eyeshadows
As always with Chanel, the Compact is beautiful, the presentation sublime and is expensive, priced at $80.
Swatched over primer , two applications using MAC 239 eyeshader brush
If you are afraid of wearing smoky eyes, I would recommend L'Intemporal de Chanel eyeshadow palette for beginners or for those who want a less intense look. The colors blend well into each other, the texture is soft and you really can't mess up.
Disclosure: Product provided by CHANEL, opinions my own. All photos are my own, taken with my iPhone 5 no filters
–Michelyn Camen, Editor in Chief