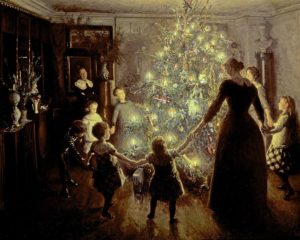 Silent Night Painting by Viggo Johansen
Some people have visions of sugarplums (or new iPhones) dance through their heads; we dream of Christmas trees decorated with beautiful perfume bottles as ornaments. Nothing would be more breathtaking than flacons shimmering and glistening like a star from on high.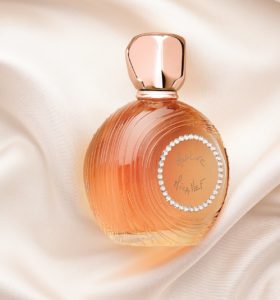 Mon Parfum Crystal M.Micallef
Golden Glow: Every Christmas tree needs glowing, bright, sparkling lights. We love M. Micallef for their beautiful perfume bottles so choosing one is difficult. We would gladly create scented garlands with all of them, but a current favorite is M. Micallef Mon Parfum Crystal (2013) with its rose gold stoppered and pink Swarovsksi crystal studded flacon. Martine Micallef, Geoffrey Nejman and Jean-Claude Astier composed a new twist on the signature Mon Parfum, accentuated the rose, dripping toffee on the dewy petals to ramp up the vanilla facet of the original. Notes: Cinnamon, pink berries, Bulgarian Rose, Madagascar vanilla absolute, toffee, amber, musk.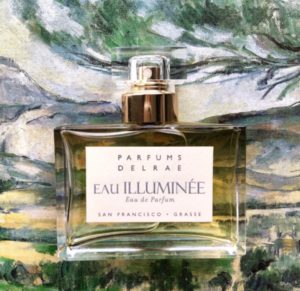 Parfums Delrae Eau Illuminee courtsey of Parfums DelRae
Let there be light: The joyous and uplifting Parfums Delrae Eau Illuminee (2002) by Creative Director DelRae Roth and maître perfumer Michel Roudnitska is a modern classic and the flacon is elegant in its simplicity and sophistication. Eau Illuminee opens with bergamot, but the luminous quality is not from the citrus rather the the aromatic perfection of basil, lavender and an icy iris. Oakmoss and labdanum adds refinement to Eau Illuminnee's radiance which brings to our minds sunlight dancing on dewy fern leaves. It is hard to believe that this ode to light was created 15 years ago. Notes: Bergamot, basil, French lavender, wild aromatic herbs, vanilla, tonka bean, and orris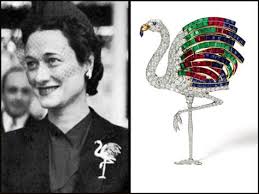 Wallis Simpson and her Cartier Flamingo Brooch inspired Deco Diamonds
Dazzle: For a touch of vintage Christmas glamour, adorn your scent tree with Dawn Spencer Hurwitz of DSH perfumes Deco Diamonds (2015) from her Brilliant Collection, collaboration with the Denver Art Musuem. This "brilliant white" floral, inspired by the Duchess of Windsor's diamond brooch, the many facets of Deco Diamonds blaze with white-hot brilliance that explode with aldehydes and set against an "animalic chypre backdrop".
Deco Diamonds by DSH Perfumes
This is a big perfume and even if you have the smallest of Christmas trees, it's a perfect way to "bling" in the holidays. Notes: neroli, peach, galbanum, aldehydes, jasmine sambac, gardenia, tuberose, honeysuckle absolute, oakmoss, sandalwood, civet, and ambergris.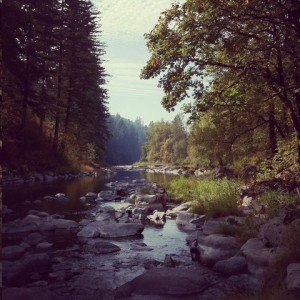 Pacific Northwest Mountain and Forest Heather Siellaf©
The Tree: Artisan perfumer Laurie Erickson captures every facet of deep, evergreen forest in Sonoma Scent Studio Pacific Forest (2015), an all-natural perfume; it isTammy's favorite of her entire body of work. Pacific Forest is a riff on 2012's Forest Walk and opens with deep, rich hemlock spruce. Pacific Forest is absolutely superb, very distinctive, and Tammy has not experienced anything like it in any other fragrance. Notes: Fir balsam, hemlock spruce absolute, clove bud absolute, western red cedar, Virginia cedar, Texas cedar, pine, New Caledonia sandalwood absolute, frankincense, labdanum, oakmoss absolute, oakwood CO2, patchouli, earthy notes, natural heliotrope isolate, natural violet ionone isolate, benzoin absolute, cocoa absolute, vanilla.
We wish you a wonderful Christmas with beautiful perfume bottles filled with wonderful scents tucked under your tree.
Disclosure: From our own collections or sent as samples
Tammy Schuster, Senior Contributor and Michelyn Camen, Editor-in-Chief
Art Direction: Michelyn Camen.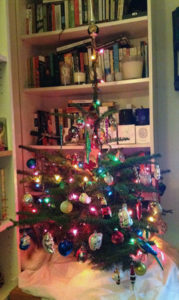 In Memorium Tama Blough: a photo of one of her Christmas trees she named Henry
Merry Christmas and for our beautiful perfume bottles draw open to three registered readers. PLEASE NOTE THAT THE LOG-IN TO REGISTER FOR OUR SITE IS RIGHT BELOW OUR AWARDS ON THE UPPER RIGHT
Worldwide: Merci M.Micallef for 100 ml of M.Micallef Mon Crystal Parfum
Worldwide: With gratitude to Dawn for 10 ml of DSH Perfumes Deco Diamonds Voile de Parfum Pulse roller
USA: From the lovely DelRae Roth of Parfums Delrae 50 ml of Eau Illuminee
Please leave a comment telling us what you liked most about Tammy's and Michelyn's perfume choices for adorning a Christmas tree, where you live and which you would like to win. Which beautiful perfume bottles would you like to wake up to Christmas morning? Draw closes 12/26/217
We announce the winners only on our site and on our Facebook page, so like Çafleurebon and use our blog feed…or your dream prize will be just spilled perfume.