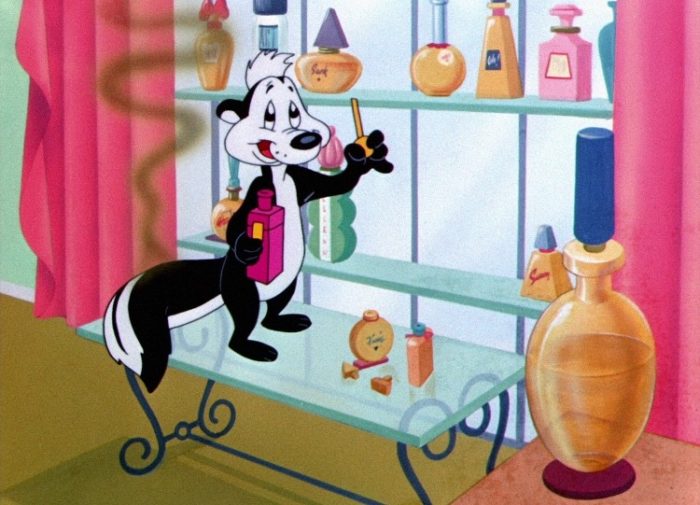 Pepe le Pew's Favorite Perfumes
The word "cheap" has been popping up a lot lately in fragrance reviews and related comments. It doesn't seem to matter if the offending fragrance is a celebrity scent, a designer perfume, an artisan offering or an expensive niche fragrance. The word "cheap" has been liberally applied to scents in every perfume genre – across the board – no matter the cost of materials, formulation, packaging or promotion.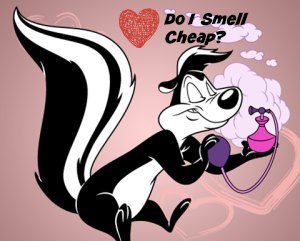 Ees thees a cheap perfume ma cherie
So what does "cheap" really mean in relation to a perfume? As a fragrance journalist I fancy myself a wordsmith and am well aware that the understanding of a phrase often turns on the gradations of meaning inherent in a single word. The terms "cheap" and "synthetic" and to some extent the words "common" and "linear" might start out as expressions of subjective opinion, but with repeated use, often evolve into descriptors. I personally feel that vague labels and subjective judgments like "cheap" and "expensive" tend to limit our horizons instead of broaden them.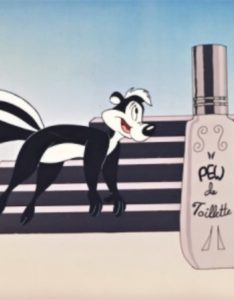 Pew de Toilette is $400 for 30 ml (ha)
Does "cheap" mean anything at all as a description of fragrance? To help understand the word "cheap" in regard to perfume, ÇaFleureBon engaged the assistance of three accomplished perfumers, fragrance artists who have brought us many of our favorite scents and who work with perfumes and perfume materials on a daily basis.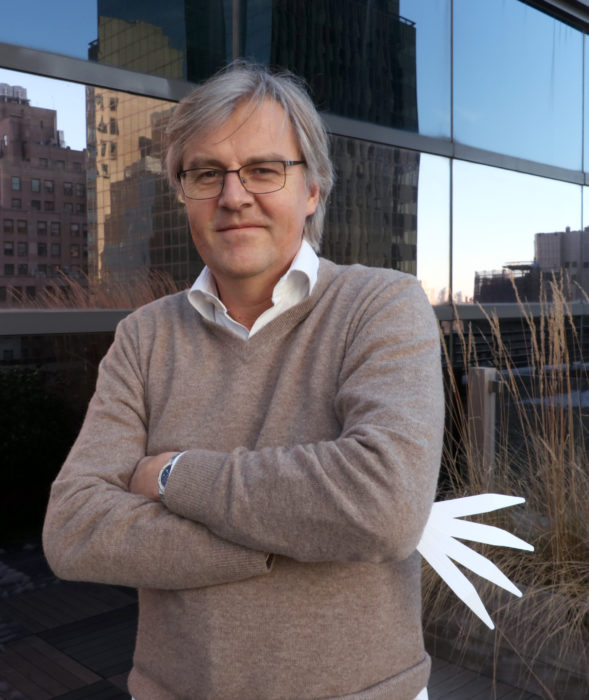 Senior Perfumer Frank Voelkl of Firmenich (photo February 2017)
FRANK VOELKL, Senior Perfumer for Firmenich has created a host of exciting and iconic fragrances. Frank is the perfumer behind many Le Labo creations including: Santal 33, Iris 39, Musc 25 (Los Angeles), Benjoin 19, (Moscow) Baie Rose 26, (Chicago) Ylang 49, and Limette 37 (San Francisco),THÉ NOIR 29, as well as for the highly acclaimed Nomenclature line, which uses a high percentage of proprietary "neo-synthetics".
Frank Voelkl: "Even though I'm not a huge fan of market research, in some cases it helps us understand consumer's perceptions and behaviors. Interestingly we have found in our consumer research that the attribute "cheap" is often used in conjunction with "heavy/sickening", "aggressive/harsh" and "artificial/chemical… Often cheap fragrances are very strong and overpowering… I believe "cheap" is an expression to describe low quality rather than being an olfactive descriptor.
…Over-exposure can [also] create this impression. For example the use of gourmand notes has been very popular in the past few years and it seems that we might have reached a level of saturation. So I can very well imagine that some of these gourmand fragrances in the market today might be perceived "cheap" smelling in a few years from now if gourmand is no longer in trend/fashionable…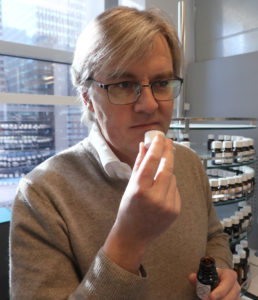 Senior Perfumer Frank Voelkl of Firmenich (photo February 2017)
After all, it is all about quality and how consumers define quality. I do think that consumers clearly have a sense of quality and have an understanding of "quality inside the bottle…comparable to fashion and even food, [quality] is defined by the choice of ingredients as much as the composition of the ingredients…using the "right" ingredients is not a guarantee for a good quality, expensive smelling fragrance. The art lies a lot within the creative composition and consumers understand that.
[There is a] myth that anything synthetic is bad and cheap and anything natural is good, high quality and expensive. A blend of Molecules (synthetics) with naturals can be perceived as much more "expensive" than a poorly blended composition of naturals only, not using any synthetic ingredients. By the way some of the Molecules we use are, in fact, way more expensive than some naturals. I'm particularly excited to work on the Nomenclature brand where Molecules are featured as the star ingredient and "dressed up" with naturals."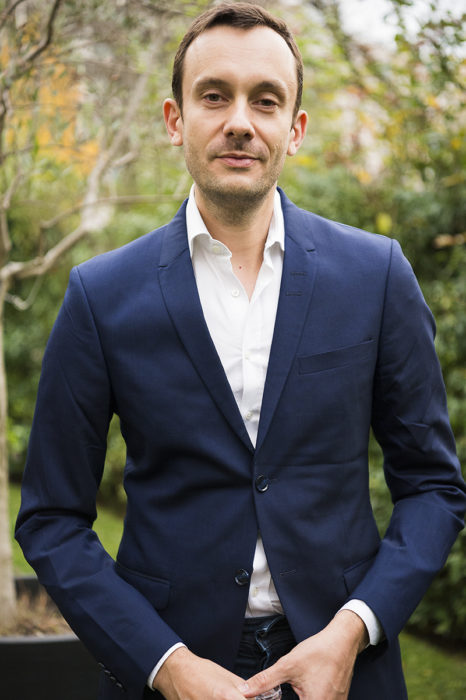 Pierre-Constantin Guéros of Symrise
PIERRE-CONSTANTIN GUÉROS, Perfumer for Symrise, has literally traveled the world for fragrance! He has lived and worked in Paris, Munich, New York and Dubai. Pierre's international experiences have contributed to the creation of many beautiful fragrances, among them the 2016 Fragrance Foundation Finalist for Perfumer Extraordinaire Carolina Herrera Oud Couture. The beautiful Parfums Quartana Venetian Belladonna (2016) is another example of his fragrant art.
Does "cheap" mean anything at all as a description of fragrance?
Pierre-Constantin Guéros: "It does. But has nothing do with any synthetic or natural raw materials, but more with the category of products the fragrances are used in.
1. Raw materials used in other categories than Fine Fragrance – For example, Lemon top notes in fine fragrances get a "cheap" comment, even with Lemon Oil S-fumatrice from Calabria in Italy, because the lemon scent is very popular in floor cleaners and technical products in general. Mint is another good example. It is used in Oral Care. Pine the same.
2. Accords used in other categories than Fine Fragrance – A Cool Water structure or Giorgio is used since decades in a lot of technical products. That is how DIHYDROMYRCENOL or ORANGE FLOWER sweet got this "perceived cheap impression", but for a perfumer it has no sense.
3. Depending on the market – The notion of "cheap" once again has for me nothing to do with natural or synthetic, as ORANGE can be perceived as "cheap" (but is natural) and AMBROXAN as luxurious.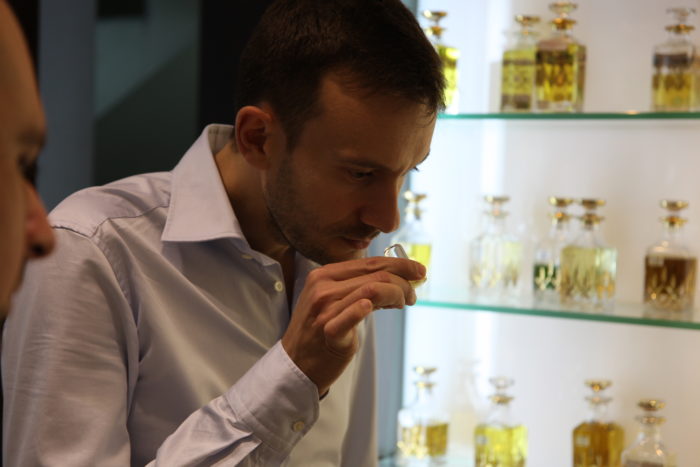 Pierre smelling attars in Dubai
But the notion of "cheap" depends very much on the market.
For example A FRUITY GREEN JASMINE (Full Type) is considered very cheap in the Middle East because a lot of cheap incense sticks smell like that. In Europe, especially in France, some overly fruity notes are considered cheap compared to the US.
4. Cost of a formula – And finally let's face it – for some cost reasons, you can not always use the same amount of rich raw materials and if you use, let's say too much BENZYL ACETATE (fresh fruity jasmine note but also banana like) or DIHYDROMYRCENOL, you have to be careful not smelling "cheap".
You need some technical skills to make a very inexpensive perfume smell very good and worth the money. So there is a lot of perfumer work behind inexpensive perfumes. As you cannot use Jasmine Absolute, you have to give the impression of Jasmine with 15$ raw materials. That is quite challenging. But there are some limits and some high-end raw materials you cannot replace. The volume of AMBROXAN, the facettes of OUD or NATURAL SANDALWOOD, the complexity of natural flower extract are still unique jewels you use when the budget allows and most of the time it shows in a formula."
Dora Baghriche of Firmenich (Photo: Nathalie de Lopez)
DORA BAGHRICHE is a Fine Fragrance Perfumer for Firmenich. She has created many works of fragrant art including Still Life (2011) and Still Life in Rio (2016) for Olfactive Studios, the stunning Caligna (2013 ) for L'Artisan Parfumeur and Amouage Op. VI with P. Négrin (2012 ). In her working journal, Dora not only records fragrance specifications, but also reconnects with her literary roots. Dora says "I write everything down, from descriptions to inspiration".
Dora Baghriche: "Here is what I say about cheap: Cheap is the lack of content and substance; over and above the raw materials we use, cheap is the lack of creative ideas, it is following without re-inventing. Of course we all consider an orris, a superb quality of jasmine or tuberose as being qualitative, but a fruity playful note, if used in a creative way, is not cheap neither. Quality is all about how we build a new aesthetic olfactive shape; it is the right choice of raw materials to express an idea, without any boundaries of cost or preconception of use.
Gourmands for example: I believe we can find nobility in edible, regressive notes. It is not a lack of quality or sophistication to be close to our primary food memories. Again, and this is true for every olfactive territory, it is how the perfumer see and treat a theme that will assure quality, how the perfumer unveils an emotion behind.
Start looking at perfumery as an art and it is all clear: cheap, like in every other art, is the absence of message. There are no rules, no routes to follow; only the ones that lead to emotions, and emotions can be everywhere. The difficult task for perfumers is to provoke them, and when we succeed the quality of our work is there. Most important, we should not forget that the notion of cheap is cultural (what is perceived as cheap in France will be surprisingly perceived as very qualitative and upscale in another part of the world!), and personal, linked to personal history and subjective associations. But I would say that no matter the reason behind, when a fragrance is perceived as cheap it means "poor in positive feelings". For me personally, cheap is, indeed, emotional platitude".
We've heard what these renowned perfumers have to say about "cheap perfume". What did you think of their answers? Now – what does "cheap perfume" mean to you? Let's talk about it!
—Gail Gross, Sr. Contributor