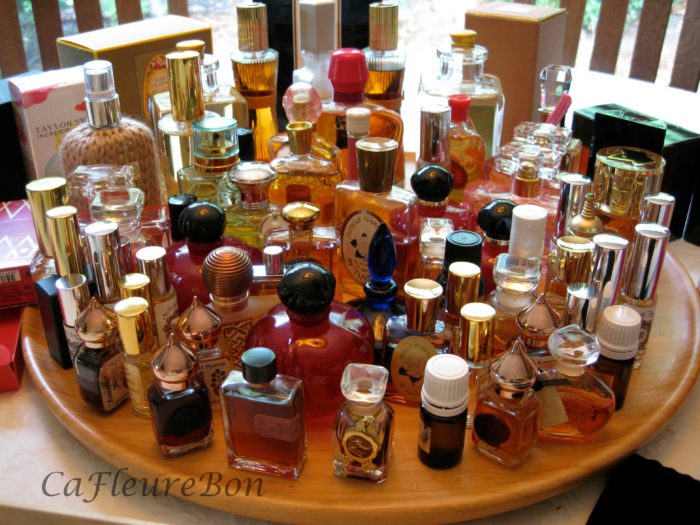 A photo of just a small selection of Gail's perfumes
Does the perfume you wear to work draw compliments or complaints? Are your scented products healing or hazardous? A few days ago I received a call from the producer of a local radio show asking me for my take on perfume in the workplace. Coincidentally, on the same day, Michelyn Camen, ÇaFleureBon Editor in Chief, was contacted by a writer for a French publication who had read two of Michelyn's 2010 posts, Perfume…the New Second Hand Smoke?(her op-ed piece on March 23 when CaFleureBon was only 2 days old) and Purview: Our Fragrant Future is at Stake – Five Perfumers Speak Out. For me, as a lover of fragrance and a perfume reviewer with multiple food and drug allergies (and chemical sensitivities) the phone calls signaled a resurrection and escalation of the controversy that Michelyn has been addressing for years.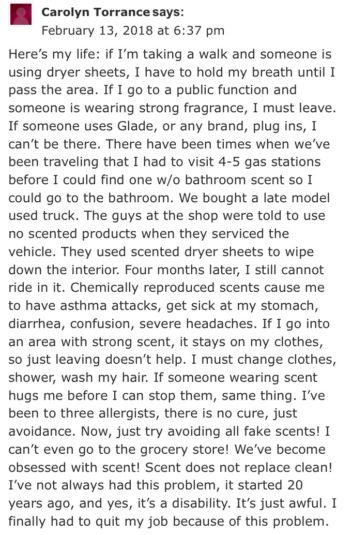 This comment was recently left by a highly allergic person who came across Michelyn's 2010 article
Today fragrance in the workplace seems more topical and contested than ever before, especially in the English (as a first language) speaking world. I found that my response to this issue vacillated between my love of perfumes (evidenced by my large fragrance collection) and my personal understanding of and compassion for those who suffer from MCS (Multiple Chemical Sensitivity).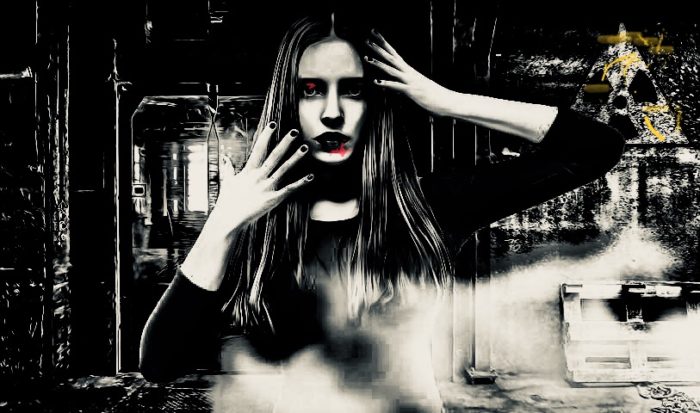 via pixby.com apped by Gail
So what is MCS? According to Anne Steinman of the University of Melbourne, Australia, "MCS is a serious and potentially disabling disease that is widespread and increasing in the US…People with MCS are like human canaries. They react earlier and more severely to chemical pollutants, even at low levels." Even though the symptoms of MCS are very real and can be life threatening, it has yet to be recognized as an illness by the American Medical Association. MCS is often dismissed as "psychosomatic" or attributed to "anxiety disorders". For those who suffer from these sensitivities (myself included) it matters little if the problems originate as physical, emotional or neurological reactions. Upon exposure to off-gassing from construction materials, office equipment and supplies, or to the scents of personal products including perfumes – people with true MCS can suffer a variety of symptoms ranging from a vague feeling of discomfort, dizziness and nausea to asthma and even anaphylaxis. From my own experience I know that MCS is nothing to sniff at and I have to admit that it really makes me angry when people relegate my very real issues with latex paint to an overactive imagination.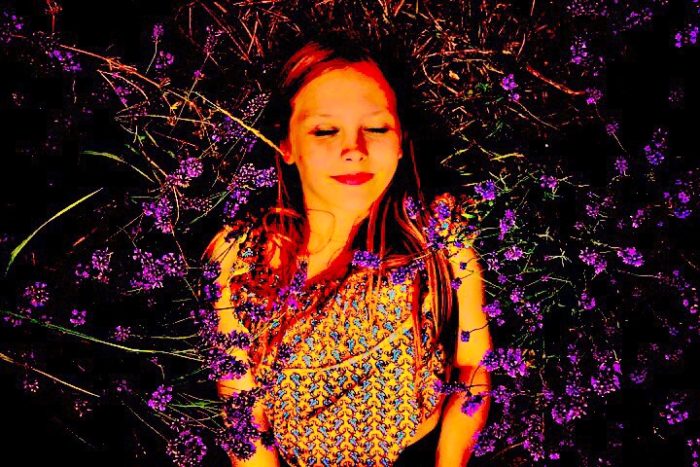 Photo from pixby.com apped by Gail
MCS aside – we know that scent can heal as well as possibly harm.Sr. Editor Ida Meister, in her Perfume Plume award-winning article for ÇaFleureBon, Scent and Healing: The Transformative Power of Perfume documents the healing power of fragrance in her practice as a registered nurse. ÇaFleureBon Contributor Tammy Schuster commented in the same post about her experience with Solstice Scents Guardian while she was very sick and "all but comatose". It is important to remember that a specific scent (or food for that matter) might be toxic to one person and comforting and health giving to another. The fact that scent is linked to the limbic system could account for healing properties as well as for harmful effects.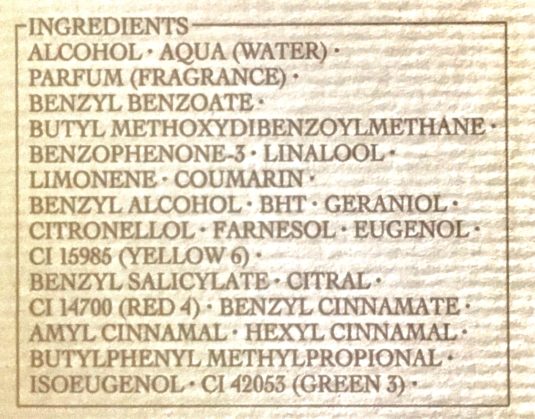 A label from Gail's perfume bottle (do you know what ALL these ingredients are?)
That being said, I am the first to admit that perfumes, and fragrance in the workplace can be especially problematic. Despite regulations designed to protect the allergic and the chemically sensitive, consumers still have little knowledge of what is in a fragrance and consequently which element is responsible for reactions. Ingredient lists on the back of perfume boxes often read something like this: Alcohol Denat., Acqua (water), Parfum (fragrance), limonene, citral, Eugenal, geraniol, etc. The formulas for the Parfum itself (the fragrance) remain proprietary. Even though the "secret" ingredients that define the perfume may have been certified safe by one means or another (often animal testing, but that's another story), the formulas or their individual components can still pose serious health problems for those with MCS.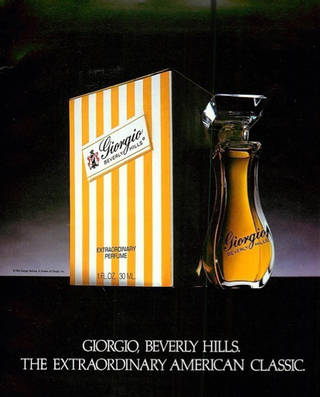 Giorgio Beverly Hills 1981 was banned in restaurants in NYC and elsewhere
When we think of perfume "censorship" and control, the 1980s ban of Georgio Beverly Hills by several restaurants comes immediately to mind. Styles in perfume have changed radically since YSL Opium and the other focused scent bombs of the 1970s and 80s. Many of today's popular fragrances are not only gender neutral, but vague and ambiguous as well – for want of a better description, they smell like "nothing" and recommended to wear as fragrance in the workplace. Fortunately for me I have several scented options that offer the complexity of great perfumes coupled with intimate sillage. As I work closely with students in my piano studio I find that extraits, skin scents, hair mists, body lotions and natural botanical solid perfumes will provide me pleasure while not distracting from the lesson. (see the Sherri Sebastian Provisions line for a wonderful selection of lightly scented personal and home care products.)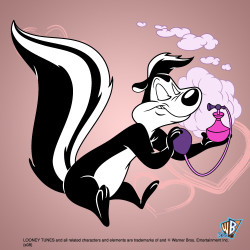 Pepe le pew eez he wearing too much of zee perfume for zee office
Just like we prefer not to be bombarded with other people's music, it is only reasonable to expect that fragrance in the workplace (especially an office or studio where you share your space with others), and that perfume not extend beyond our personal space. The mid twentieth century days of liberally dousing scent are gone, vanished with the Madmen and their second hand smoke. Unfortunately the use of perfume is now often equated with risks similar to those of tobacco. The use of fragrance in the work place has devolved into struggle for control over personal space and freedoms as well as a clash between junk science (carelessly designed studies funded and skewed by the payee) and bona fide research.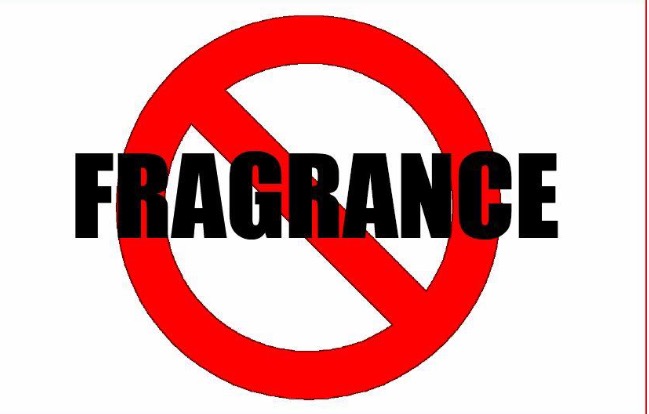 As "perfumistas" we are but a very small percentage of fragrance consumers. Nevertheless our opinions and preferences often dictate trends in perfumery.We would like to know what you think about fragrance in the workplace. Do you have or know someone with MCS? Should companies be more transparant about the aroma chemicals and natural ingredients in our perfume, personal care and other scented products?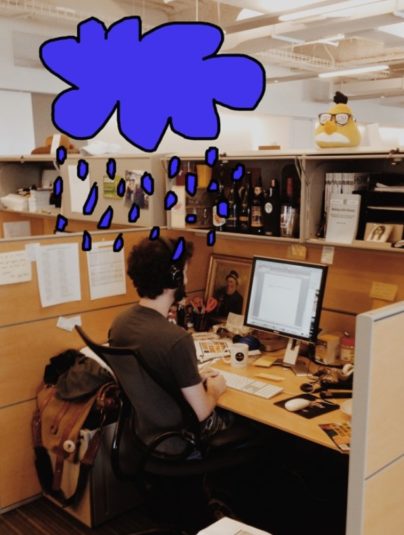 via FastCompany©
Not only a ban on fragrance in the workplace, but what are your thoughts about in schools,on airplanes, at concert venues and all enclosed spaces? Do you think it is possible that someday perfumery, an art that mankind has engaged in and enjoyed for millennia, will be banned and considered as dangerous second hand smoke? If you are a perfumer, please join in ! Let's talk about it.
Gail Gross – Senior Editor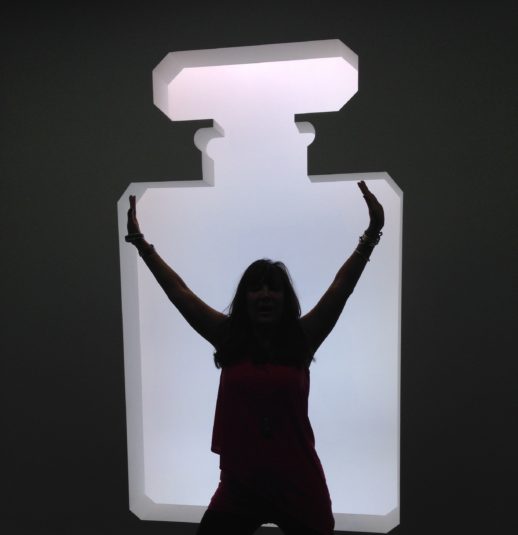 Michelyn in front of the CHANEL no 5 bottle at the exhibit May 5, 2015 (photo by perfumer Yann Vasnier)
Art Direction: Michelyn Camen – Editor in Chief ~Today is the birthday of CHANEL no 5, May 5, 1921, possibly the most iconic fragrance in the world. Imagine life and culture without it?