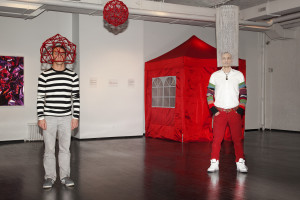 Enter Les Christophs pioneering world of ambient scent and you will find two visionaries building an olfactive world of fortitude, fantasy, and beauty. Christophe Laudamiel has joined forces with his partner of 10 years Christoph Hornetz to create Les Christophs, Iconosms his second "solo" show at the Dillon Gallery. I asked Mr. Laudamiel to describe the collaboration and to explain why it was called a "solo" show. He said, "Christoph and I have collaborated since 2003. So it is indeed a "solo" show. Some scents are only from one, some only from the other, some are created together, and the frontiers are very blurred. This is true for most scents we create." There are eleven scent sculptures with visual elements from other artists of various disciplines that contributed to a more layered and textured experience. Each scent sculpture has a label describing its scent and visual inspiration, one instructs the novice to close our eyes, relax, and breathe normally-no sniffing, and to breath into our skin (not coffee beans) to refresh, as the brain is learning a new language. The term "Iconosms" is the combination of the Ancient Greek words "Osmo" (scent) and "Icon" (picture) – the two elements that were the primary inspiration for each sculpture.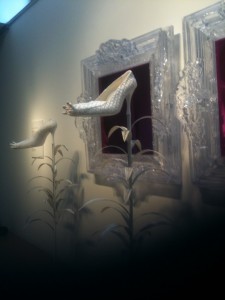 Lilies by Chiho Akama (shoes) and Self Portrait by Ultra Violet (mirrors)

The eleven scent sculptures were mostly inside tents, some scents flowed freely throughout the gallery, and there were some scents being pumped into structures that were not confined inside. Les Christophs compositions were incredibly grand at times, some were disturbing, and then others were charming and fantastical. In Fuller's Family: Fuller, Axel, & Buck, Buckminster Fuller inspired scented helmets that transported one to the past and future. Under the scented red helmet I was transported to the past, a warm and familiar smell reminded me of childhood. Under the white helmet I inhaled a cold, metallic and difficult to detect scent that was mysterious and indeed futuristic. Luxury Lilies and Narcissus was a hypnotic perfumed paradise of lilies and shoes that I found profoundly fantastical. Face Yourself encouraged us to create our own scent impressions so no formula was given. Before entering the tent there was an ornate framed mirror with the words "face yourself" on it. Inside the tent, I was immediately greeted and comforted by citrus, black berry, and an amazing floralcy. Among my favorites were scented tributes for Hemingway, Monroe, and The Chelsea Hotel.
Remembrance of Things Outrageous: The Chelsea Hotel
Les Christophs had a walking tour of the corridors and apartments of the infamous hotel with a former resident named Mr. Koumarek. During the walk they began to figuratively pull the smells out of the walls, "simmering red tomato sauce, weed, cognac…. Maybe whisky, old wood panels, fresh showers and clean linens….the truly animalistic notes are linked with the metallic iconic staircase." This was the only fragrance at the gallery that was presented in a bottle. Perhaps the artists want us to see this as a beautiful thing of the past too. We stood for a long time in front of the poignant bottle smelling the fragrance on a blotter, it felt ritualistic as we all breathed-in together, completely mesmerized by the brilliance of the formula. It was metallic but so round and smooth not harsh in any way. There was freshness. We all detected a joyful ganja note. The description pointed at the "spiritless investors" who robbed the Chelsea of its soul. Here, Les Christophs are the preservationists that saved it. Les Christophs write, "Mr. Koumarek's bottle symbolizes the need to protect the memory of this institution."
6-Some Memoir: Hemmingway in 6-Major
Some of sculptures bordered on kitsch. The story goes that Hemingway was challenged to write a story in only six words, so Les Christophs translated six notes into a scent, a tribute to Hemingway. It filled the tent with a pine, cedar, salty redolence that reminded me of the sea, piss and alcohol included. Inside the formula was handwritten on weathered paper in script and framed, with cigarette burns and all.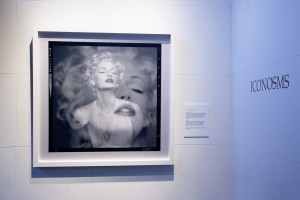 Volatile Marilyn #5 (Photo by Laurent Badessi)

At one point during the show I had to take off my coat; I laid it on a bench, and for days after it smelled of the beautiful delicate Butterfly Air, if it were a color it would be the palest pink. This was one of the fragrances that I tried to catch and never found in the space until I laid down my coat. Volatile Marilyn #5 is the first scent that greets you upon entering the gallery, however it was as I departed that this scent held my attention, which felt meaningful in some iconic way. As I left Marilyn behind, I got an aching feeling that all my scented impressions would vanish, no matter how good my notes were, but in fact the impressions have lingered, which is only a testament to the greatness of the work.
-Valerie Vitale, Contributing Editor