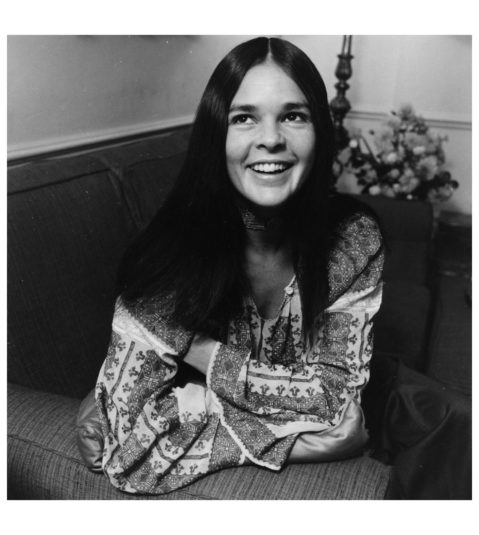 Ali MacGraw, 1969 Getty
Romantically puffy-sleeved with just the right amount of billow, the peasant blouse was one of the biggest fashion trends of the early 1970s, courtesy of Yves Saint Laurent and a legion of imitators. I had several in my closet, as did nearly every girl I knew. My especial favourite was a white muslin with apple green and pink silk embroidered flowers that was slightly translucent. At thirteen, it was the sexiest shirt I'd ever owned. Saint Laurent had transformed the gypsy top into an understatedly sensual garment, worn by a generation of girls wanting to be Ali MacGraw or Loulou de la Falaise.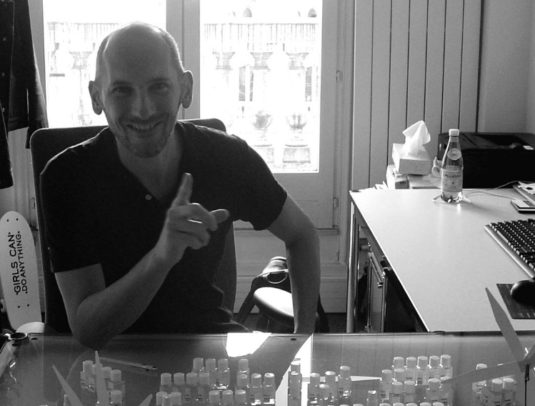 Quentin Bisch of Givaudan © Despina Veneti for CaFleureBon
As part of the Yves Saint Laurent Le Vestiaire des Parfums collection – odes to the iconic pieces Saint Laurent designed – Blouse, created by Givaudan perfumer Quentin Bisch, is imagined as an airy, vibrantly green rose scent without a thorn in sight. Yves Saint Laurent Blouse opens with contrast of crisp and cushion: a whoosh of soft pink rose rushing up against bright, stalky galbanum. The rose is downy yet lively; the galbanum as fresh and green as new plant shoots. The effect of the two together is outdoorsy but urban, like a rooftop garden party in lower Manhattan.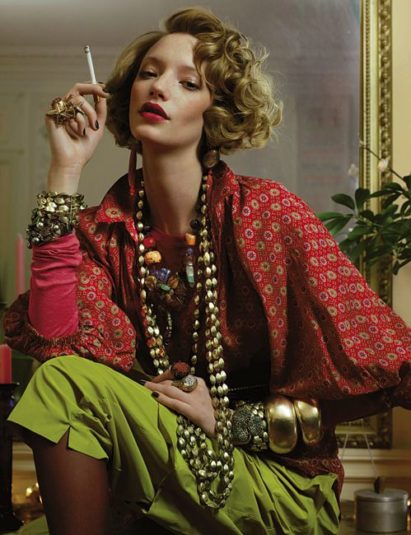 Loulou de la Falaise in a YSL peasant blouse, Vogue, 1970
Galbanum can be biting to the point of acidulousness if not tempered. Here, it calms down quickly as it tangles around the rose, helped along by pink peppercorn and cashmeran. Pink peppercorn is a note du jour in many perfumes, often filling in less well-thought out briefs with its easy, accessible blend of rosy, soapy spice. But here, it is used effectively accenting the two main notes by softening the galbanum and harmonizing with the rose. Then, bergamot, whose chipper sparkle usually fades after the top notes recede, finds a new role in the perfume's mid stages, broadening into a citric smile at Blouse's center that helps buoy the composition.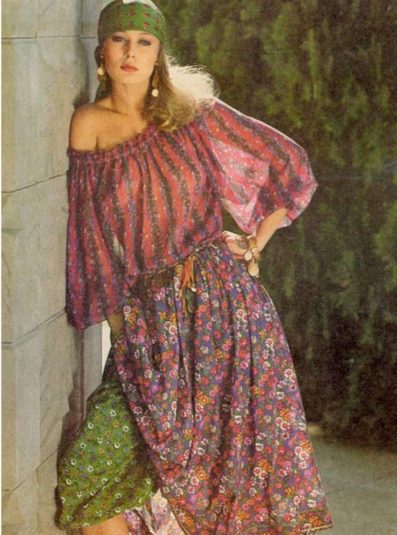 YSL Rive Gauche collection, 1977
The longer Yves Saint Laurent Blouse wears, it becomes more herbal and sweetens slightly, thanks to a healthy dose of angelica, whose smell always reminds me of an unopened magnolia bud. Cashmeran, which has something of the same soapy quality as pink pepper to my nose, comes out quite roundly in the middle. It doesn't quite bring the woody aspect it might be expected to add but acts rather as a smooth companion to the peppercorn and musk notes that flank the galbanum-rose theme.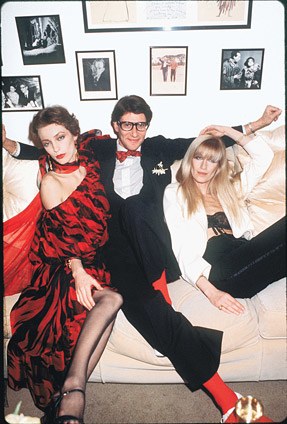 Yves Saint Laurent flanked by Loulou de la Falaise and Betty Catroux, 1978
As a name, Blouse might summon images of an impeccably crisp button-down – and there is a touch of that in the zingy vibrancy of green notes and bergamot that brings an echo of those assertive green perfumes that ruled the 70s but is also perfectly modern. But, with its musky, puffy rose heart and silky-sharp contrasts, Yves Saint Laurent Blouse has a gentle provocativeness that makes me long for that muslin heartbreaker.
Notes: Pink pepper, bergamot, galbanum, damask rose, angelica, white musk, cashmeran.
Disclaimer: Sample of Yves Saint Laurent Blouse kindly provided by the lovely Liz at Neiman Marcus, Washington, D.C. My opinions are my own.
– Lauryn Beer, Senior Editor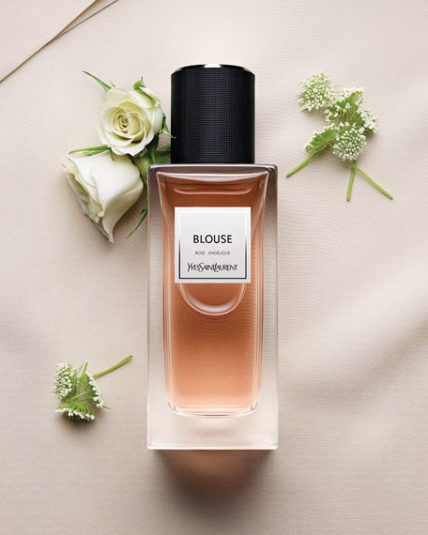 Yves Saint Laurent Blouse
Thanks to the generosity of Yves Saint Laurent at Neiman Marcus we have a 2ml sample of Yves Saint Laurent Blouse for one registered reader in Canada, U.S.and EU. To be eligible, please leave a comment saying what appealed to you about Blouse based on Lauryn's review, and if you have a favourite YSL perfume or fragrance by Quentin Bisch. Draw closes 10/23/2018.
We announce the winners only on our website so like Cafleurebon and use our blog feed … or your dream prize will be just spilled perfume.