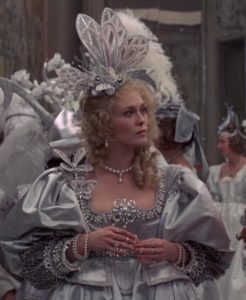 Faye Dunaway, The Three Musketeers, 1973
Towards the end of Richard Lester's The Three Musketeers is a magnificent white ball scene; pearl grey and ice blue satins encase jeweled bodices, rococo marquises glissade in a dignified pavanne, silver candlesticks gleam. At its midst, the treacherous Milady de Winter poises, diamonds in her hair, daggers in her eyes, the scent of frozen flowers drifting from her marble shoulders. She wears Le Labo Aldehyde 44.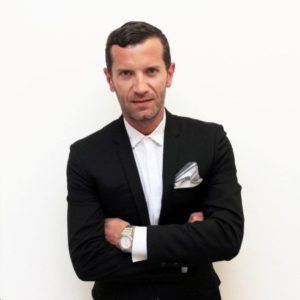 Image courtesy Yann Vasnier
Created by Senior Perfumer Yann Vasnier of Givaudan, the Le Labo Dallas City Exclusive Aldehyde 44 is an elegant, refractory floral with the chilly smell of diamonds.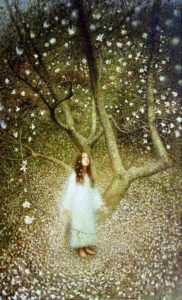 Painting by Alexandre Pavlenko,1974©
It is a pointillist perfume: tiny effervescent sparks bounce off the sweet freshness of white flowers, creating a bright floral fizz. If Chanel© 22 leaped off a bed of frozen white flowers, you would have Aldehyde 44.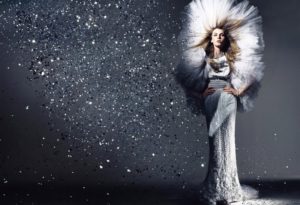 Angela Lindvall, photo by Richard Burbidge, Harper's Bazaar US December 2008©
Like its aldehydic cousins, Estee Lauder White Linen© and Chanel© 22, Aldehyde 44 is built around snowy florals – jasmine and tuberose – and, of course, aldehydes. Aldehydes are fascinating chemicals, capable of emitting facets of soap, citrus, rose petal, wax, and champagne, among other things. Here, the aldehydes hold onto their fizzy lightness with a lemony, almost metallic smell of a fresh-opened bottle of Taittinger.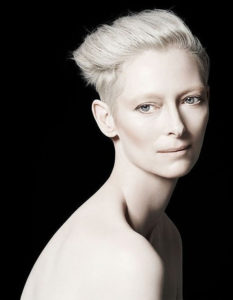 Tilda Swinton, photo by Francois Nars, 2015©
By omitting the warm rose and ylang ylang heart of Chanel© 22 and White Linen and replacing it with the boreal sweetness of narcissus, Aldehyde 44 maintains an airy yet arch beauty, at once lighthearted and knowing.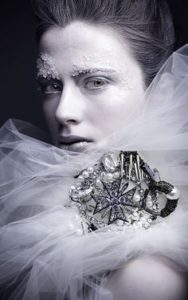 Snow Queen, photo by Vadim Sherbakov©
While the top is all hard sparkle, as the fragrance opens, however, Aldehyde 44 reveals she is not all white witch. A gentle, cottony vanilla is waiting with soft ambrette musk to swaddle those frosty top notes. And the flowers begin to melt. Buxom tuberose could easily lend Aldehyde 44 the same fleshiness ylang ylang gives Chanel© 22, but M. Vasnier opts for a greener, less buttery flower that blends easily with the breezy sweetness of young jasmine.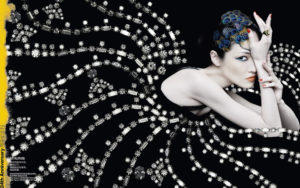 Photo by Wang Xiao for Harper's Bazaar China, December 2010©
In the middle stages, Aldehyde 44 becomes muskier, more vanillic. As a sandalwood-like note comes forward, the kinship with Chanel© 22 is most noticeable. But where Chanel© 22 veers smoky and voluptuous as time goes on, Aldehyde 44 continues to gleam with the cold scintillance of a marquise diamond. The effervescence of the opening never leaves, but hovers like a hummingbird over the floral-musk-vanilla accord. Narcissus becomes more pronounced now, adding a spring-like sweetness.
Raquel Zimmerman, photo by Sølve Sundsbø for Numéro 76©
The glittery smell of aldehydes dominates to the end, cushioned by vanilla and ambrette. As these soft notes smudge its hard edges in the dry-down, Aldehyde 44 becomes the fragrance of infinity mirrors: each glinting its reflection into its sisters as their hard light grows smaller and distant, their dazzle shrinking into tiny diamonds.
Notes: aldehydes, tuberose absolute, jasmine sambac, narcissus absolute, woods, vanilla and musk.
Disclaimer: Sample of Aldehyde 44 provided by Le Labo – many thanks. My opinions are my own.
– Lauryn Beer, Senior Editor
Editor's Note: Aldehyde 44 was discontinued in 2013 and happily returns. Samples are currently available as samples ($12/1.5 ml sprayer) and there is a discovery kit (11×1.5 ml/$120); bottles will be on sale as of September 1-September 30, 2017.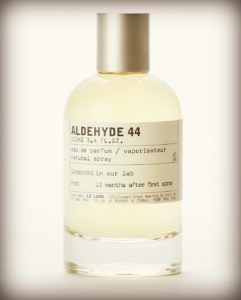 Le Labo Aldehyde 44 courtesy of Le Labo
Thanks to the generosity of our friends at Le Labo, we have 10ml of Aldehyde 44 for draw for one registered reader in the U.S., Canada or Europe. To be eligible, please leave a comment about what appeals to you about Aldehyde 44 based on Lauryn's review, where you live and if you have a favorite Le Labo City Exclusive. If you are are a fan of Floral/ Aldehydic fragrances let us know. Draw closes 8/26/17.
Please read Lauryn's review of the new Amsterdam City Exclusive Mousse de Chene 30 here
We announce the winners only on site and on our Facebook page, so Like Cafleurebon and use our RSS FEED… or your dream prize will be just spilled perfume