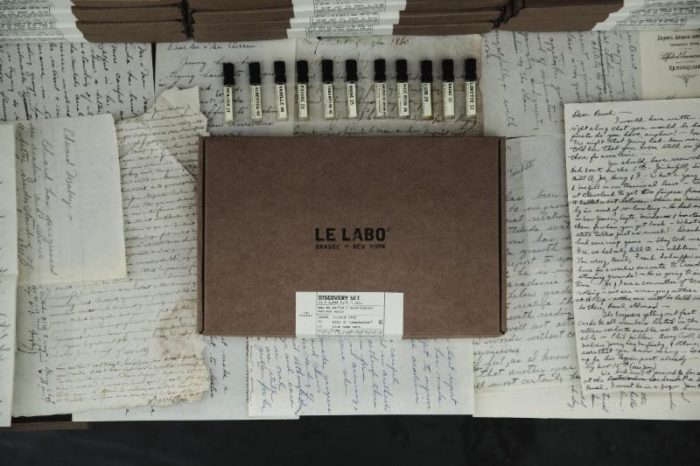 For 11 months a year, Le Labo City Exclusives usually require that you live in that city or else you will need to find a scent mule or take a trip to obtain. Once a year, Le Labo offers every scent to anyone who wants to buy them.
One of my favorites was Aldehyde 44 (Dallas) composed by Yann Vasnier in 2006, which was discontinued in 2013. Le Labo resurrected it for 2017. Also in 2017 Mousse de Chêne (Amsterdam) debuted and is composed by Daphne Bugey. All are currently available as samples ($12/1.5 ml sprayers) and there is a discovery kit (11×1.5 ml/$120); bottles will be on sale as of September 1-September 30. The City Exclusives are:
Mousse De Chêne 30 (Amsterdam) Daphne Bugey
Aldehyde 44 (Dallas)Yann Vasnier
Gaiac 10 (Tokyo) Annick Menardo
Vanille 44 (Paris) Alberto Morillas
Tubereuse 40 (New York) Alberto Morillas
Poivre 23 (London) Nathalie Lorson
Musc 25 (Los Angeles) Frank Voelkl
Limette 37 (San Francisco) Frank Voelkl
Baie Rose 26 (Chicago) Frank Voelkl
Cuir 28 (Dubai) Nathalie Lorson
Benjoin 19 (Moscow) Frank Voelkl
Click here for Lauryn Beer's "The Three Le Labo City Exclusives You Should Own.
Online at Le Labo here or visit Le Labo Boutiques and stockists.
Via Le Labo
–Michelyn Camen, Editor in Chief
Is there any you plan to sample?