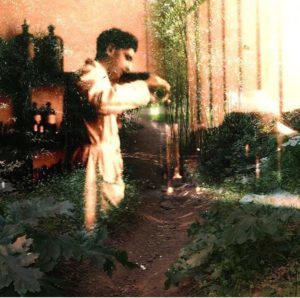 Le Jardin Retrouve Yuri Gustsatz in his lab 1935
Over forty years ago, Yuri Gutsatz, one of the foremost perfumers of his time, grew disillusioned with the direction perfumery was taking; creative control was being taken away from perfumers, and the quality of raw materials was being sacrificed on the altar of marketing budgets.
"Perfumers should not let themselves be permanently deprived of their creative initiative … They should not be transformed into robots chained to a mountain of imitations! "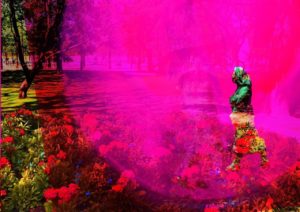 Art by Clara Feder
Fearing that perfumery was being lost as an art form, M. Gutsatz founded his own company in 1975; Le Jardin Retrouve, the very first niche perfume House. His son, Michel Gutsatz and his artist/co-creative director wife Clara Feder, began to revitalize the perfumery in recent years, relaunching Michel's father's original formulations, (with a few very slight changes to remain in compliance with IFRA regulations).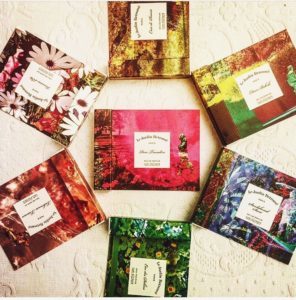 Le Jardin Retrouvé Samples photo by Ermano Picco
M. Gutsatz was kind enough to send me 5 samples of the inaugral line, and every single one of them is lovely; there isn't a bad one in the bunch. But it will come as no surprise to anyone that the florals captured my attention immediately, and the rose stole my heart completely. Yuri Gutsatz clearly knew his way around those rose fields. Rose Trocadero was love at first spray.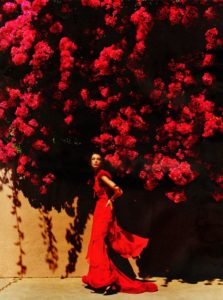 photo "Queen of Hearts" by Mario Testino ©
Rose Trocadero is all about the rose from start to finish, lovely roses, soft yet bright, like the rosy clouds of a perfect sunrise; vibrant but with a luminescence. It isn't an old-fashioned powdery rose, nor is it a big flashy rose; it's the ultimate feminine rose, tender and intimate in its beauty, almost suede-like in its plushness.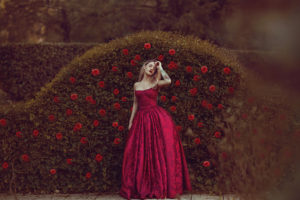 The Rose Garden by Edvina Meta ©
French blackcurrant adds the perfect touch of fruitiness and a bit of crisp green; this greenness is enhanced by a hint of lavender…it isn't sharp or mentholated, just enough to add some depth to the fragrance. Clove adds a bewitching spiciness to Rose Trocadero (I thought it was carnation until I read the list of notes). The clove is subtle and is there to support and enhance the rosy loveliness of Rose Trocadero, as is each ingredient in the composition. This blending of each separate note into one perfect whole is truly the art of perfumery.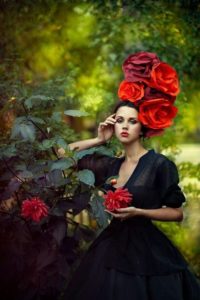 Photo: Mario Testino
There has never been a doubt in my mind that perfume is Art. Art is infinite in its many variations and there is plenty of room for variety in perfumery as well, but my own preference for any art is that it be beautiful.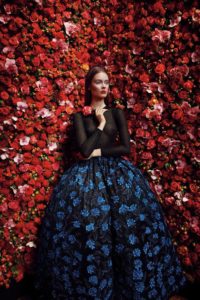 Photo: Patrick Demarchelier 2003 for Dior magazine
I appreciate perfumes that are thought provoking, but pure, unadulterated beauty works just fine for me, and Rose Trocadero is just that…. simply, unapologetically beautiful. It provides me with a fragrant aura of loveliness that brings me comfort and joy all day long, and blesses the air around me with its beauty. What more could one possibly ask for?
Notes: Absolute Bulgarian Rose, French Blackcurrant, Clove, Musk
DISCLOSURE Michel Gutsatz generously sent me samples for review. I am so grateful that he did!
Tammy Schuster, Sr. Contributor with Contributions from Michelyn Camen, Editor-in-Chief
Art Direction: Michelyn Camen
Editor's Note: Contributor Aaron Potterman reviewed the entire collection in two posts. You can read his reviews here and here. Also enjoy 20% off all perfumes through August with a special code JARDIN17 you can add at check-out.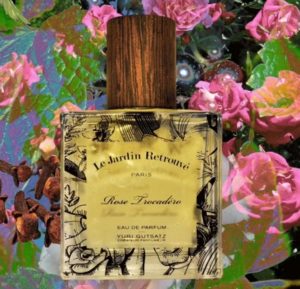 Le Jardin Retrouvé Rose Trocardero in the new flacon (photo from Le Jardin Retrouvé )
Thanks to the generosity of Le Jardin Retrouvé we are offering an avant premier 50ml flacon of Rose Trocardero in its new packaging, which will be available for sale in the fall ($120 USD and the most expensive of the House's perfumes), to a registered reader anywhere in the world. Please register here. Please leave a comment with what you enjoyed about Tammy's review of Rose Trocardero, where you live and if you have a favorite Le Jardin Retrouvé perfume. Draw closes August 8, 2017
Follow us on Instagram @cafleurebon and @lejardinretrouve
We announce the winners on our site and on our Facebook page, so Like Cafleurebon and use our RSS feed…or your dream prize will be just spilled perfume
.