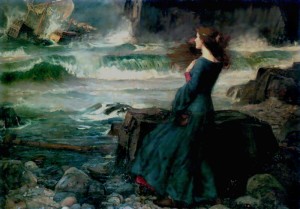 As those of us who believe that perfume is an artistic endeavor hope to see that become a reality, there are some who are doing something about that. Certainly Chandler Burr's new post as Curator of Olfactory Arts at the Museum of Art and Design in New York is an example. The other notable example was created in 1988 by Jean Kerleo in Versailles, France as the L'Osmotheque came into being. Over the last 23 years L'Osmotheque has become the archives for the history of fragrance. To accomplish this they attempt to get the original formulations of the "out of print" fragrances and re-create them using those ingredients. Since they aren't for sale and they are used for reference the long arm of IFRA is not involved and thus there is no list of banned ingredients. Gratifyingly many of the fragrance houses have been willing to give out their secret recipes so that history is not lost to commerce.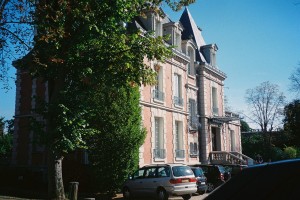 I have never made the trip to Versailles to visit the L'Osmotheque but it has certainly been on my perfumista bucket list and while it still is; I got the next best thing at Esxence 2011 in Milan the traveling version of L'Osmotheque. As part of their mission to let this fragrant history be experienced by the greatest number of people they have made a traveling version and within two hinged wooden cases the fragrant world's masterpieces beckoned to me.
As excited as I was to experience this I realized it was going to be like being a kid in a candy store. I could gorge myself on fragrance and never truly experience the best these historical gems could show me. Remember this was also happening amidst one of the largest perfume expositions in the world and I was busy sniffing the brand-new fragrances. Therefore I knew I had to choose a small tasting menu instead of nosing up to the smorgasbord and going crazy.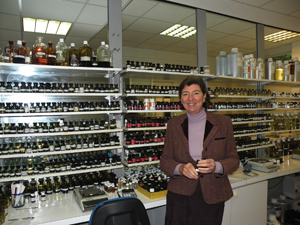 That led to my next dilemma if you have about 300 or so fragrant masterpieces how do you choose just a few? Thankfully I was surrounded by some people who could offer some suggestions. When I attended the Clive Christian dinner for the European debut of "C" I spent the cocktail hour chatting with Michael Edwards, he of Fragrances of the World fame, and told him how much I was looking forward to checking out L'Osmotheque. He asked what I was looking forward to trying I said there were two Coty's; La Rose Jacqueminot and L'Origan along with Jacques Fath Iris Gris. Mr. Edwards said all those were excellent choices and he urged me to try Carven Vetyver, as well. There were two original fragrances that I wanted to compare to their modern re-formulations; Gres de Cabochard and Houbigant Fougere Royale. The last fragrance on my list came courtesy of Clement Pinard who works at the Cannes, France niche perfume store Taizo. Prior to that he had worked at Roja Dove's Haute Perfumerie in Harrod's .He told me that Mr. Dove told him at some point in his life he had to smell F. Millot Crepe de Chine. With that kind of intro it went into my historical itinerary.
Over the next three days with either Patricia de Nicolai or Laetitia Navarro as my guide I would begin my day trying two or three of each of these seven; here is what I experienced.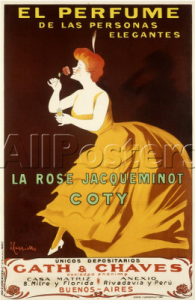 As Mme de Nicolai hands me my strip after being dipped in the vial of 1904's Coty La Rose Jacqueminot I am suffused in the days of wine and roses. La Rose Jacqueminot is the full slightly spicy rose that still exists but underneath is the sharp green facets of violet, lavender and musk. As I sniffed the strip later on these combined into a rich almost wine-like accord to my nose.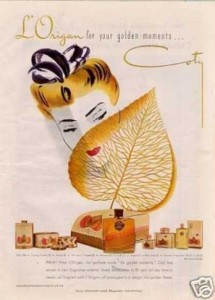 Coty's L'Origan, released in 1905 was another surprise to me. While I was aware of the inspiration that Coty Chypre was for all that came it wasn't until I sniffed the strip with L'Origan that I realized it was easily as influential. The floral mix of carnation and heliotrope over vanilla is the forerunner to so many fragrances. Guerlain L'Heure Bleue is the most often cited but there are hints of Mitsouko here too. L'Origan also lurks underneath the twin 80's powerhouses Opium and Poison. This is why the opportunity to see where these styles began is so much fun.
Next up were the two originals of a couple of my favorite modern re-formulations.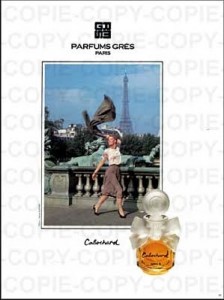 Gres de Cabochard is one of my favorite cheap buy perfumes as it is a beautiful leather perfume which wears amazingly well on my skin. It's funny I like the current formulation better than the original. The original feels too over the top for me and too old-fashioned.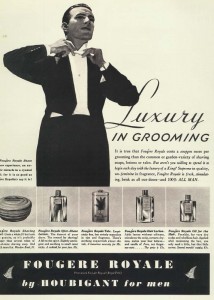 Surprisingly I am of the same opinion when it comes to Houbigant Fougere Royale; I like the new formulation better. While I see all of the architecture of fougere in Fougere Royale it feels somehow insubstantial compared to the newer version.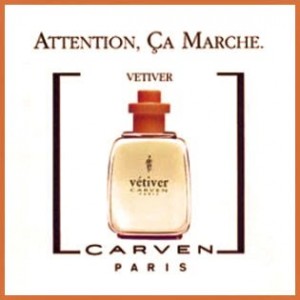 When it comes to vetiver centric fragrances I think I am safe in saying I own a disproportionate amount of these in my personal wardrobe. This was why I was so surprised at Carven Vetyver as this is a unique vetiver fragrance which surrounds its heart of vetiver and orris with sharp petitgrain on top and myrrh and musk on the bottom. It takes you on a fresh ride straight to the depths of an animalic base. It is amazing and if not for sharing a glass of champagne with Michael Edwards I would have missed it this time.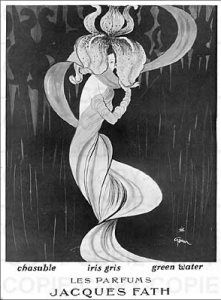 Whenever I talk about my love of iris I've been asked if I ever tried Jacques Fath Iris Gris, now I have. The nose was Vincent Roubert who also created the leather classic Knize Ten and was another reason I wanted to try Iris Gris. When I picked up the blotter it was the steely-eyed version of iris I like. It had all of the razor sharp quality of my favorite iris fragrances. Along with the iris there is a lush peach and that is really all there is but like the best "simple" fragrances Iris Gris is so much more. I'm not sure I'm in the camp of Luca Turin who calls it the best iris fragrance ever, but it is sure part of the conversation.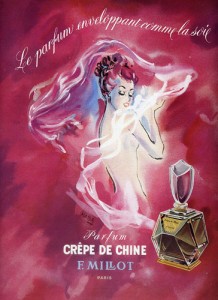 The last scent I asked to try was F. Millot Crepe de Chine. Up until now I was enjoying all the fragrances I had tried but I didn't feel the need to have them hanging in my personal perfume gallery. Until Crepe de Chine sunk its claws deep in my subconscious. This floral chypre is spectacular and it is because of the jasmine in the middle of everything. This is my perfect indolic jasmine which segues into a classic chypre base it is wonderful and now I want the unattainable….sigh.
Ahh 'tis true, as William Shakespeare said, "the opportunity to examine the past allows me to see the present based on what has come before". My thanks to Esxence 2011, Patricia de Nicolai and Laetitia Navarro for giving me this opportunity.
–Mark Behnke, Managing Editor
Which vintage fragrance would you put on your bucket list?