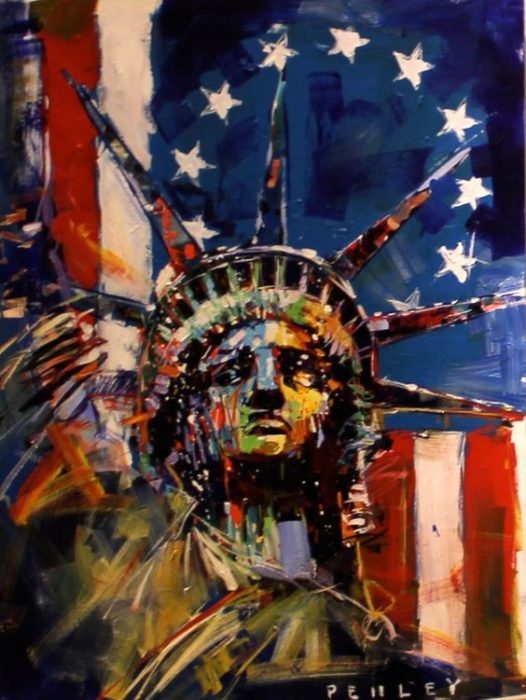 Steve Penley Statue of Liberty
July 4th is a celebration of Independence from British Rule in 1776. America. Who is America? We are a country like no other, and no matter your color, creed, religion, politics we are a land of opportunity. Not just for those who have lived in this country for generations but for immigrants who come to the USA to create a better life. Xenophobia is all around us. The tired, the poor the huddled masses yearning to be free; well that sounds like rhetoric when politicians talk about building walls. But this suspicion of those "different" nothing new; Irish and Italian immigrants were considered unsavory, Chinese immigrants were ridiculed, German Jews who tried to escape Nazi genocide in World War II were turned around by the US government and most perished in death camps. Japanese Americans were interred after Pearl Harbor. Many Cubans trying to flee Fidel Castro lost their lives trying to escape on small boats. Today, Mexicans are kept out by barbed wire fences. Those born in the Middle East are profiled as terrorists. What unites us is that we are all Americans. To celebrate The 4th of July in the spirit of embracing our multi-cultural society, I asked eight friends in fragrance, all immigrants, to write what America means to them.-Michelyn Camen, Editor in Chief
Carlos Huber of Arquiste Parfumeur
"I'm a mixed ancestry Polish-Lithuanian-Ukrainian-Swiss-Spanish-Turkish-Greek-Jew born in Mexico City and now living in New York. Twelve years ago, I asked my Polish-born grandfather for his original papers so I could process a European passport; after explaining how convenient it would be in order to study and work in Europe, he said NO: "I left Poland for a reason and we were lucky to arrive in Mexico. We've been lucky ever since to live here, and you should be proud and grateful for that." I was upset at the time because of his reasoning, since the purpose of me going abroad was to better my education and gain more work experience. But…the emotional core of his reason was, I realized later, perfectly understandable. I got what he meant and it made me truly aware and grateful for his experience as an immigrant in Mexico. I honor and cherish what Mexico has given my family. Indeed, they still live there and are proud to call it home and I visit regularly. I didn't leave Mexico because I didn't have a good quality of life, nor did I leave because of hardship and I know I'm very lucky for that. Coming here was a personal journey of discovery, a way to build my own path and pursue that spirit of entrepreneurship that is in my blood since centuries past. I've been living in the United States for 10 years now. I'm a legal permanent resident. I'm an immigrant. My grandfather and my great grandparents from all sides were as well. But then again, so were my long ago ancestors who moved all around the world, from Roman times- from Israel to Italy, from there to Alsace…from Spain to Greece, from Germany to Poland, from the Ukraine to Lithuania… To the Americas, to Mexico, and finally for me individually, to the United States we're I've decided to build my career and life.
Here, in New York, I started my adventure in perfumery. I have been given opportunities that would have never happened anywhere else – no hierarchies, no prejudice, no obstacles for this desire to create beautiful things, to share them and to bring a little bit of light to a world that right now, seems a little darker with every xenophobic attack. In gratitude, I work very hard to be contribution to this country. I am proud to live in a meritocracy with a multicultural point of view and I love the United States for all the positive values it strives to represent. I am, my family has been for centuries, and always will be, more than proud to be an immigrant. Please let's not forget this country is founded on that, strives on it, and will only move forward when this historic conscience is acknowledged."-Carlos Huber founder and Creative Director of Arquiste Parfumeur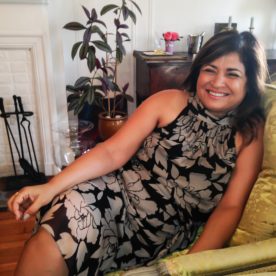 Shalini
"The land of the free and the home of the brave"
"The sentiment that echoes most for me personally is "Freedom". Freedom to live, to create, to be who you are, to dream and to have the opportunity to manifest that dream. I was born in Bombay India to a very cultured and sophisticated family. Unfortunately, that was accompanied with expectations of society regarding the life I was meant to lead. America allowed me to discover who I wanted to be as an artist and as a woman. My dreams are supported here.There is a world consciousness that exists in New York that permeates everything that is given birth here. People from all over the world who coexist in this city, each striving to walk on their path, bringing their energy, enthusiasm and culture; blending to create something new.
I have been supported in my creative journey here, first as a fashion designer and now in perfume. New York has been my home for 20 years. I have a created a family of close friends and a community that reinforces my spirit".–Shalini, Creative Director of Shalini Parfum and Fashion Designer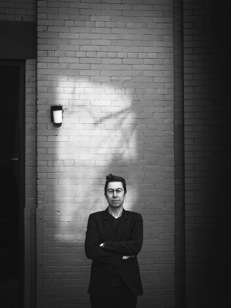 Ulrich Lang of Ulrich Lang New York
"Growing up in Backnag (near Stuttgart Germany) I was clearly influenced by Jil Sander's pure esthetics and matching fragrances – which changed in the late 1980s when I first visited the US and brought back my first "niche" fragrance that no one in Germany wore since it was before the heydays of Globalization – Halson Z-14. The fragrance was one of many American made products that tremendously influenced my path in perfumery. I also remember bringing back fragrances as presents for my mother who swapped Lanvin's Arpege and Carven's Ma Griffe for Calvin Klein's Eternity and Estee Lauder's Knowing. In the early 1990s I was lucky enough to be the first male intern at Estee Lauder's London offices when the company launched a groundbreaking skin scent using the molecule Calone, Aramis New West. And in general, I think it is America's "can do" attitude, trying to find solutions and not being afraid of failure (and of course embracing success) that made me launch my own fragrance line in the US instead of Europe – which even bears the name of the city I love the most: New York, New York. Just like me, it has a European base and top notes of American straightforwardness.".-Uli Lang, ULRICH LANG NEW YORK Fragrances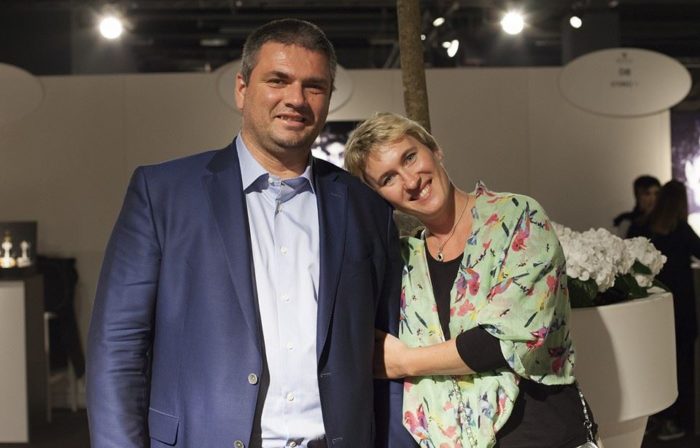 Elena and Zoran Knezevic Fragrantica founders
"We grew up in Russia and Bosnia but that's more complicated story once it was USSR and Yugoslavia when we were actually born. This concept of nationality by birthplace and other society imposed rules are not something that resonated with us. We now had an international relationship, and waited many months as our future was tied up in paperwork just to get married. We are all just people no matter where we are born and Elena was a foreigner in Bosnia and I was foreigner in Russia. We are grateful for the United States government program that allows immigration and we were lucky enough to be accepted, obtain residence and later become citizens. The Fragrantica story started approximately at the same time when we initiated our immigration process. We launched our website on the 4th of July 2007, symbolically hoping for new life. On our journey we bonded with people all over the world and we transcended boundaries in so many ways. Being in America enabled us to grow our business, freely travel, collaborate like we would not be able to in any other place on the world. Today we publish our website in 17 languages, reaching hundreds of millions of readers yearly and our "family" has 44 people from 25 countries and that would be impossible without free market, financial instruments, ecosystem that United States business provide and collaboration and openness toward the world. We both feel at home in United States and we think that the environment the United States provides was crucial to success of Fragrantica.- Elena and Zoran Knezevic, Founders of Fragrantica.com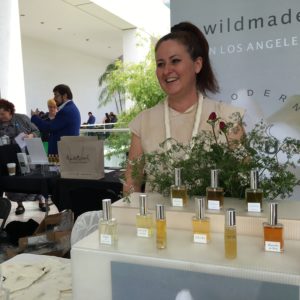 Maggie Mahboubian of Parfum LaLun
I was born and raised in Tehran, Iran, a Jewish child with an American mother and a Persian father. When the revolution took place in 1979 my parents struggled with the decision to leave Iran despite dire warnings, fleeing just before the hostages were taken. We left behind everything: our home, my father's business, our property in Lalun…We were part of the largest contemporary Jewish Exodus in the World. As a teenager I thought this would be my ticket to freedom. Instead, I spent the first few years in the United States striving to maintain a normal life. I remember waking up late for my SAT's, running around the test center trying to find the front door, peering through windows and seeing everyone huddled over their exams. It felt like a bad dream, but it was real, very real. I didn't realize it at the time, but the trauma of leaving Iran affected me profoundly. Despite my American citizenship and fluency, it took me years to adjust. I'm forever grateful for this passport to a new life. So many political refugees today can only dream of the luxury I enjoyed. Over the years I have watched the world become less stable, more like the life I left behind. It's important to appreciate the stability and quality of life we all enjoy as Americans. There is no other word as wonderful as "normal". –Maggie Mahboubian, Founder and Natural Perfumer for Parfums Lalun, author of The Architecture of Perfume and Guest Contributor to CaFleureBon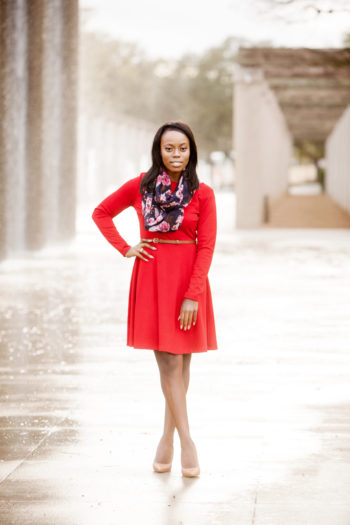 Mair Emenogu
Living in America for me is a gift. I am Nigerian from Edo State and travel back-and-forth to visit family regularly and the main difference between the two countries is opportunity. Beyond the education, the gift of choice and the good food in America is the loud message that if you want it, you can have it. In Nigeria, though people strive for greater, the opportunities just aren't as available because of greed and corruption everywhere you look. I always tell people my scent Remember When, and my brand MAIR is honestly an extension of myself. Remember When is a bright and happy scent, every time I breathe it in it's a reminder that I'm free to dream, design, and have a life that I choose to live and not a life a corrupt government dictates I should have. If I was living in Nigeria currently I couldn't promise you that perfume making is something I'd have access to doing, but I'm glad to be here in the land of the free carrying out my interpretation of the American Dream-Mair Emenogu, Founder of Mair Fragrances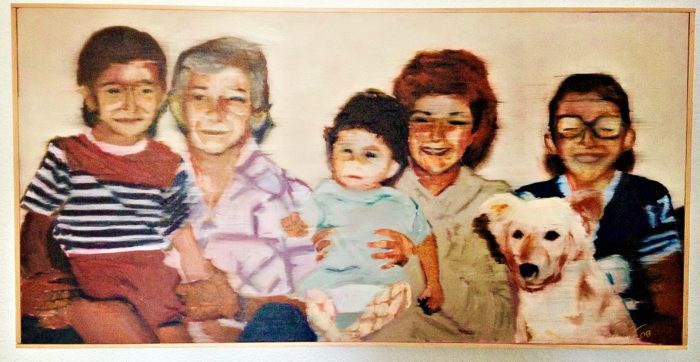 Sebastian's Family Portrait painted shortly they arrrived in San Francsico
I was born in Beirut to Armenian parents so I was brought up in a very Armenian, Christian Orthodox family. I attended an Armenian/English grade school so I had started learning English as a young kid. We had to learn Armenian as our mother language and of course Arabic since Lebanon is an Arabic speaking country and English was the third language taught at this school. Somehow as a coincidence my school was English speaking vs another Armenian school nearby was French speaking but I ended up in the English speaking school and that English came in handy when we ended up coming to the states. After the last war we experienced in the late 70s my parents decided to sell everything and move to San Francisco where my uncle lived at the time. They did not want to experience all the death and destruction any further. San Francisco was a great new experience for us. One of the most beautiful cities in all of the USA and we were here. How fun. It was more of a challenge for my parents than to my brother and I and especially me since I had already learned many words while in Beirut and could put some small sentences together. All in all though I love the freedom we have here in the USA even though there are many issues that come up those challenges our freedom it's still a great place to live. The world goes through many challenges but that doesn't mean we don't have our own roadblocks here in the states and those issues come up and we all seem to live through them and move on. I finally became a US citizen in 2009, many years after my arrival in 1980 and more than happy to be living in this country. The dream of living in Europe has also come up many times in my life as of late but I keep thinking we have it so nice here, why would I want to live anywhere else?-Sebastian Jara, Fragrance Youtube Reviewer for Looking Feeling Smelling Great and CafleureBon Contributor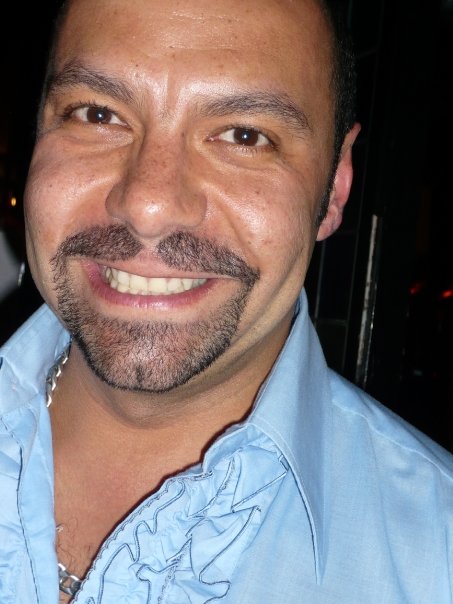 Photo of Rodrigo at The Pyramid Bar in NYC some time ago
"Even though I was born in Mexico City, I always say that New York is my home: I just can't say otherwise! Since the first time I set a foot in Manhattan back in 1990 (as a tourist…) I somehow KNEW I was going to end up here… for better and for worse. And, since 1996, it has been for the better. I'll say it a million times, and more emphatically especially today, because I realize how this city and this country were built and became what they are now because of the lives and the destiny of people like me, who left their own country searching for a dream.
I have been able to construct and create something here… something true, good, clear and open. So it saddens me to see how divisive and destructive these times have become. It all works just like the way we make a perfume: we put together a myriad of little parts and pieces, all of them beautiful, but their truly wonderful beauty really becomes apparent when they are working together, forming a new entity that is bigger, more radiant, much better, much stronger… more beautiful. This country, just like a perfume, reflects the old adage that dictates that the sum is much better than any of the parts. So why take it apart and divide it?" Rodrigo Flores-Roux, Vice President of Perfumery, Givaudan
We love the USA! Take a moment to reflect, stand tall and be proud . This is America -MC