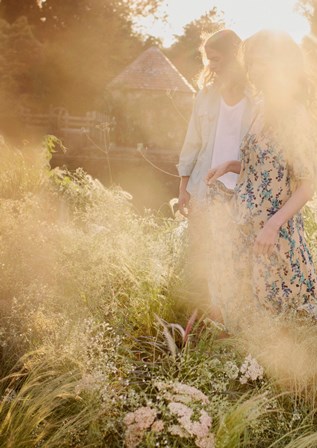 Jo Malone Wild Flowers and Weeds ad via Jo Malone
"Our Brit collection is always an opportunity for us to explore new olfactive territories. For this one it was the idea of wild flowers – not the typical wild flowers you find in a field like a daisy or a daffodil, but flowers that are almost not really flowers but weeds. What I love about wild flowers and weeds is that the nature takes over, with no rhyme or reason – and makes things unexpectedly beautiful"- Céline Roux, Creative Director
I have written before that I first began taking notice of a new direction at Jo Malone when Givaudan's Yann Vasnier composed the five fragrances in the Bloomsbury Set in 2017. As it happens, 2017 is the year on a sunny April day, that Céline Roux went on a field trip along a canal with the perfumers, and some of the Jo Malone London team. The inspiration for Jo Malone Wild Flowers and Weeds Colognes began then.
"This is the first time Jo Malone has worked with English perfumer Louise Turner (Editor Note:Lost Cherry by Tom Ford is one of her creations) "I thought she would understand the inspiration better than anyone, and be inspired by her own memories of visiting canals in England when she was growing up. We've worked with Yann Vasnier before and he really understands the Jo Malone London signature. So it was great to combine their talents to create the collection", states Céline Roux.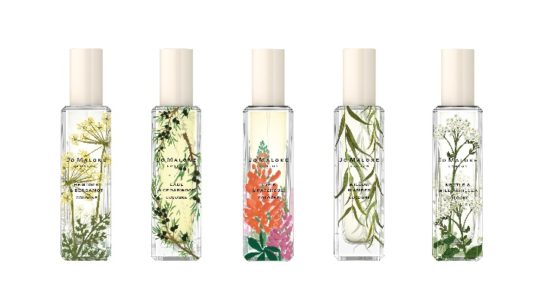 The Jo Malone Wild Flowers and Weeds collection includes five Colognes:
Hemlock & Bergamot: Hemlock's powdery petals, brightened with bergamot. A deadly, yet unexpectedly-delicate flower. Illuminated with golden mimosa and a floral flourish of heliotrope. Crisp and modern with a bite of cucumber.
Cade & Cedarwood: The smouldering embers of a wood-burning stove at nightfall. Basking in the warm and comforting glow of cade – its smoky scent mingled with cedarwood and complemented by a mouth-watering hint of sensual vanilla.
Lupin & Patchouli: Reminiscent of canal banks, awash with colour. A rainbow of lupin flowers, enriched by luxurious rose and deepened with rebellious patchouli. A surprising contrast with the fresh vibrancy of mandarin.
Willow & Amber: The expressive weeping willow, gently draping across the fresh morning water. Captured in the woody pairing of cashmere wood and smoky vetiver, enhanced by softly sensual amber.
Nettle & Wild Achillea: The tangy sting of nettle, peeking through pavement cracks and entwined with wild, white achillea flower. Sparkling with bright bergamot, the greenness softened by a soft base of white musk.
The Jo Malone Wild Flowers and Weeds Colognes are available in 30ml bottles, decorated with illustrations of the key ingredients of each fragrance inspired by a traditional painting style. Customers will receive a matching keepsake tin with purchases of two scents from the collection, or the full line-up.
Available from March 2019 at jomalone.com and Jo Malone London boutiques /Nationwide Each 30ml Cologne SRP $72
Via Press Release and my own synopsis
–Michelyn Camen, Editor-in-Chief