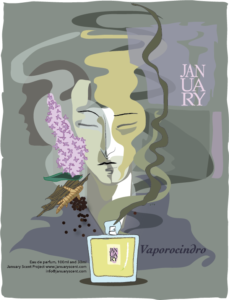 Vaporocindro Poster by John Biebel
It all began with a little spray vial in the post accompanied by a name gleaned from Esperanto: Vaporocindro – for a fragrance lilting cinders and the ashes of lilac.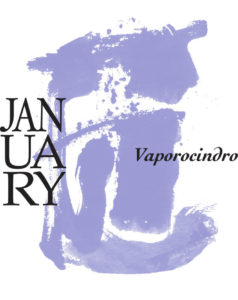 Perfumer John Biebel was kind to send me the first bottle after he'd felt it to be complete.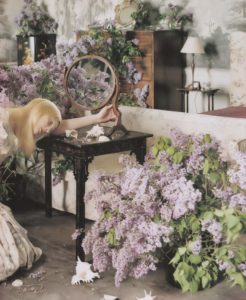 Photo byTim Walker©
Our dialogue began back in July 2017: John was busily adding and subtracting to/from his module.The lilac was beautiful, with cedar clearly in the background; it was challenging to make the lilac stay, as well as that green leafiness John was seeking. As it dried down, some elements felt disparate, not quite bridged/ integrated.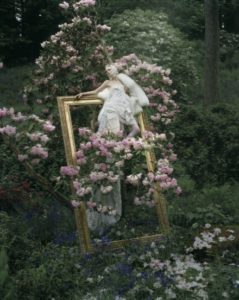 Tim Walker Wonderland©
"Where is your Greenwood Tree?" I asked. "Thomas Hardy? Or Shakespeare? :
"Under the greenwood tree, who loves to lie with me,
And turn his merry note,
Unto the sweet bird's throat,
Come hither, come hither, come hither
Here shall he seek no enemy
But winter and rough weather."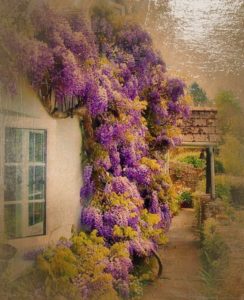 Digital Art by Robert Herrmann
"What I really wish is that the 'wood' part of the scent smelled like something between a freshly snapped off branch of a tree, and a weathered old shingle on a Cape Cod house." ~ John
We discussed various available enfleurages of lilac, the possibility of utilizing viburnum (which might produce a similar effect with more body/longevity). John was eager to explore an element mimicking mahagony – dry and salty, which fascinated him. He put the davana back in to augment his lilac, added a whisper of agar, jonquil, the promise of fruit: the fulfillment of his greenwood tree.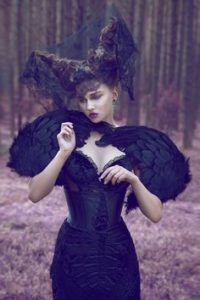 Mists and Powder Natalie Shau©
Vaporocindro is atmospheric and wistfully tender, much like a melancholy kiss edged with divine decay.I ts spices are very Ayurvedically warming: turmeric (the "crown jewel of the spice world" ~ Yoga Journal), black pepper, cumin. They contribute without overwhelming the composition as a whole. Black currant and apple smell resolutely tonic and mouthwatering; the jonquil is genius (granted, I am a fan), imparting that fresh-snapped verdant floralcy which is later tempered by arid woods, hot black coffee, silken sandalwood of John's own devising, and ambergris. Davana's sweet, wine-like fruity balsamic tones compliment lilac; they enhance each element by infusing a boozy, woody/herbal character and innate delicious decadence.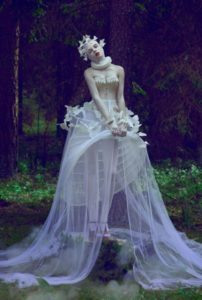 Mists and Powder: Natalie Shau©
Vaporocindro is truly suited for these months of reflection and hygge (a Danish word which embodies the ritual of enjoying life's simple pleasures: the cosy warmth of candlelight, family, friends, graciousness, good food. It's a quality of Danish culture impossible to describe any other way).
Spring's echoes of lilac and blooms; summer and autumnal fruit ally with embers still aglow from the fireside's intimacy and winter tales for the telling.
Notes: lilac, green leaves, apple, turmeric, black pepper, jonquil, mahagony, cedar, agar, davana, black currant, cumin, coffee, sandalwood, and ambergris.
Disclosure: Thank you for my beautiful little bottle, dear John! My nose is my own…
~ Ida Meister, Senior Editor
~ Art Direction: Michelyn Camen, Editor-in-Chief
Editor's Note: Select January Scent Project is now sold at Indigo Perfumery. There is a special code VAPORO for $30 off 100 ml on JanuaryScentproject.com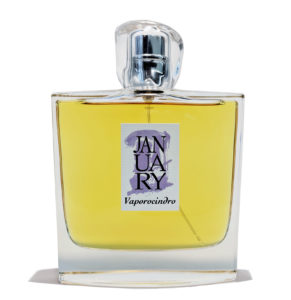 Thanks to the generous John Biebel of January Scent Project, we have a 100 ml botlle of Vaporocindro Eau de Parfum for one registered reader anywhere in the world. Please be sure to register. To be eligible please let us know what appeals to you about Ida's review, where you live, your favorite January Scent Project fragrance, or a wistful memory or reflection. Draw closes 10/9/2017
We announce the winners only on our site and on our Facebook page, so like Cafleurebon and use our RSS feed…or your dream prize will be just spilled perfume.