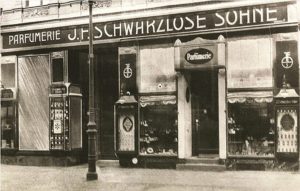 1910 JF Schwarzlose Sohne
When I start pondering historical perfume Houses from decades and centuries past, my thoughts automatically travel to France and the usual suspects; Guerlain, Dorin, Racine and the like. So I was thrilled to discover a GERMAN house from the 1800's that has reemerged and been reborn with a contemporary vibe: J.F. Schwarzlose Berlin. Originally founded in the 1850's, J.F. Schwarzlose was a family-run Apotheke (pharmacy) and dry good store serving the needs of the Gendarmenmarkt neighborhood in Berlin, and existed in some form until 1976 when the Company finally closed their doors. In 2012, the Schwarzlose Company was given new life, and like the proverbial phoenix rising from the ashes, was reinvented as the perfume House we know today, firmly grounded in contemporary culture while honoring the traditions of the past.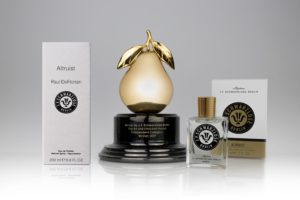 Altruist EDT by J.F. Schwarzlose Berlin won a Art and Olfaction Awards 2017, in the Independent Category.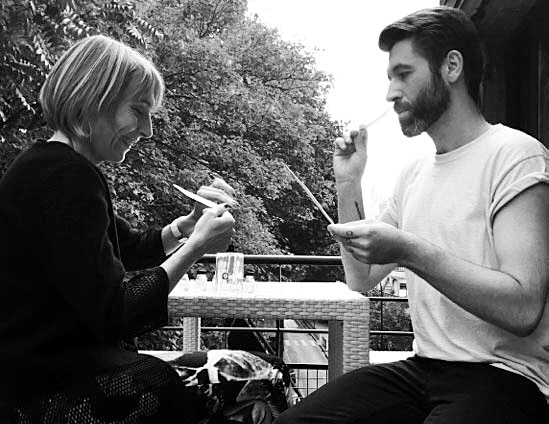 Véronique Nyberg & Paul DeFlorian
Altruist is described as "A scent for feminists, cyborgs and survivors", was created by perfumer Véronique Nyberg of MANE (Paco Rabanne Invictus, Thierry Mugler Alien Eau Extrordinaire, and Lancôme Tresor In Love among many others) in collaboration with well known Berlin artist Paul DeFlorian as an Art Edition. Inspired by his compelling and contemplative award-winning artwork, Altruist EDT brings vividly to life the atmosphere and colors of his painting.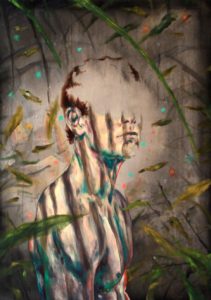 My Mobile Is On Vibrate But He Never Calls Me Back (Paul DeFlorian)
"To underline the freshness of Paul's color scheme, especially the green-turquoise brushstrokes, Véronique Nyberg included light and sparkling citrus notes such as Lemon and Bergamot essences. Véronique and Paul were looking for a clean and cold facet that they translated with an aldehydic MANE Fragrance Company captive, and with Ginger Pure Jungle Essence. To represent the touches of orange, she used warm and fusing spices such as Nutmeg essence and Black Pepper Pure Jungle Essence, an exclusive MANE extraction technology. An imaginary floral facet was added using Rose Superessence, with the sensuality of Orange blossom absolute, two everlasting scents, constantly being reinterpreted in perfumery, and therefore anchored in our unconscious. In the base, the blend of woods and Ambramone created a dense, dry and humid scent that reminds one of fresh paper delicately soaked in ink."
Paul DeFlorian's contemporary artwork are abstract landscapes and portraiture pieces which skirt a sexual and gender-identity genre, and feature young men with incompletely drawn faces or heads turned away that allow the viewer to create in his or her own minds-eye, the face and specific features they desire to see. The paintings feel at once complete and unfinished. Altruist the Eau De Toilette however, is anything but unfinished. At it's heart Altruist EDT is a truly stunning vetiver-centric fragrance, but multiple-layered, nuanced and absolutely unforgettable. Altruist opens with an electric shock of citrus, backed by an effervescence that you might find in a summer cocktail, bitter, bright and with a touch of sweetness. The ginger and nutmeg add to the feeling of freshness, while concurrently creating a depth touched with a slight floral. If you were to ask me if this perfume is linear in any way, I would answer that what it is, is a spiral that takes you downward and deeper, becoming darker and smoother, but always maintaining the ray of light waiting at the top. Like Alice falling down the hallucinogenic rabbit hole, Altruist is a never-ending spiral journey into the perfumed depths, while bright notes and woody aspects catch your olfactive attention on the tumble down.
Notes: bergamot, lemon, ginger, rose, orange blossom, nutmeg, black pepper, cedar, vetiver, patchouli and ambramone.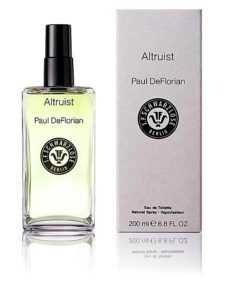 Altruist EDT
Disclosure: Thank you SO much to J.F. Schwarzlose Berlin for supplying the samples. The opinions are my own.
–Robert Herrmann, Senior Editor
-Art Direction: Michelyn Camen, Editor-in-Chief (all art, videos and photos courtesy of J.F. Schwarzlose Berlin). Please read our reviews of their earlier releases, 1A-33, Treffpunkt 8 Uhr Rausch and Trance here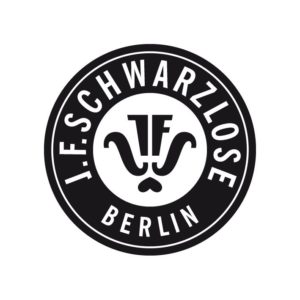 Thanks to J.F. Schwarzlose Berlin, we have five 10ml. travel sprays of Altruist EDT for 5 registered readers Worldwide, so be sure to register if you have not done so. To be eligible please let us know what appeals to you about Robert's review of Altruist, if you follow the Art and Olfaction Awards and where you live. Draw closes on 8/8/2017.
Follow us on Instagram @cafleurebon and @schwarzlose_pefumes
We announce the winners only on our site and on our Facebook page, so like Cafleurebon and use our RSS feed…or your dream prize will be just spilled perfume.