Olivia Giacobetti is one of the current crop of rockstar perfumers. When I hear her name attached to a new fragrance I immediately want to try it. Mme. Giacobetti has made my favorite lilac fragrance of all time in the fragrance she designed for Editions de Parfums Frederic Malle, En Passant. It is triumphant in my opinion because she expertly creates ethereal compositions that feel as if they are being carried to you on a breeze. None of the fragrances I admire from her are what you would call "sillage monsters". They are almost the opposite and while I wouldn't term them "skin scents" that description is closer to the way her best fragrances develop on my skin.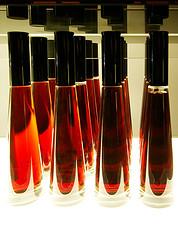 As Mme. Giacobetti continued to look for places for her to practice her brand of artistry it lead to, what at the time, turned out to be a shooting star across the fragrant firmament. In 2003, in partnership with Shiseido, Mme. Giacobetti opened a boutique in Paris named IUNX with twelve fragrances and a working lily pond inside the store. From all accounts I can gather on that store it was modernistic and sleek in style…..and probably destined to fail, which it did. By 2006 Shiseido was pulling out and the lily pond was being drained. The people who had a chance to try the fragrances spoke highly of them and I thought my opportunity to try them was gone.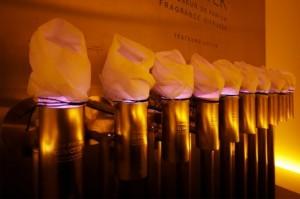 Mme. Giacobetti would go on and continue to create fragrances with her own aesthetic front and center. It is obvious that IUNX was a personal passion because she has taken the opportunity to resurrect it in a more modest reincarnation. Mme. Gicobetti has had a successful relationship with the Hotel Costes in the 1st Arondissement in Paris. It is there that IUNX has quietly made its return. In 2008 a little boutique just off the entrance to the Hotel Costes was opened and while it wasn't as expansive and futuristic as its predecessor it still had some of those futuristic touches, most obviously in the scaled down tubes equipped with fans which waft puffs of the fragrances to your nose to sample. The number of fragrances was also kept more modest as there were only three fragrances for sale; L'Ether, Splash Forte and No. 9 Eau Blanche. Earlier this year No. 8 Eau Baptiste was added. Although I don't know this, maybe her intent is to slowly count backward through the original ten fragrant eaus, adding one a year, until they are all finally for sale again. In many ways I hope this is the eventual plan because all of these fragrances should have their opportunity to be experienced individually. L'Ether and Splash Forte will be a review for another day as those are woody fragrances executed in Mme. Giacobetti's signature style. Today I am going to focus on the other two IUNX fragrances available, No. 8 Eau Baptiste and No. 9 Eau Blanche which are orange blossom and iris centered respectively.

No. 8 Eau Baptiste
I found on OsMoz a description of Eau Baptiste, in French, and it says translated via Internet translator:
"With Eau Baptiste, IUNX imagined a 'baptism water' to the wheatfield perfumes of orange blossom and honey"
I find when Mme. Giacobetti keeps her compositions as simple and focused as stated above they turn into my favorites.
Eau Baptiste starts with orange blossom and it is a barely indolic orange blossom which it almost has to be. Had Mme. Giacobetti chose to use a source which was more indolic the delicacy of Eau Baptiste would have been thrown off entirely especially the heart note of wheatfield accord. This is an accord of sun-dried grasses and it is an extension of the bright clean orange blossom from the top. It is an accord which you find in the heart of many of Mme. Giacobetti's compositions almost heartbreakingly ethereal but which impart a complexity few other perfumers ever accomplish. The intensity of Eau Baptiste comes in the base as a golden honey accord comes to life. In many ways Eau Baptiste makes one feel like an olfactory bee gathering pollen from the local orange tree and wheat field before heading back to the hive to turn it into honey. In the natural case and the fragrant case both produce something golden and sweet in the end.

No. 9 Eau Blanche
Once again I turn to OsMoz in French and the Internet translator to produce:
"With Eau Blanche, IUNX imagined 'a water that sleeps', the just sprinkled vapor of white linen dried in the sun."
OK stop me if you've heard that description Estee Lauder White Linen fans. For those of you who are not White Linen fans this might be the fragrance which allows you to access the linen accord in a way that is radically different from White Linen. That linen accord is what opens Eau Blanche and it does it with a delicacy akin to a breeze blowing across crisp white sheets drying on a clothes line. What is lying behind that clothes line, and what the breeze has to blow through, is iris. Mme. Giacobetti has taken iris and completely obliterated many of the colder aspects I usually associate with iris. In Eau Blanche the iris feels sun warmed and encased in the freshly laundered sheets. The linen accord feels infused by the richest orris butter and it is perhaps the best iris accord Mme. Giacobetti has produced and yes I am saying it is better than Hermes Hiris, hands down. Eau Blanche finishes off with a clean woody teakwood and it is nice but I so wanted the iris and linen accord to stick around indefinitely.
Both fragrances have average longevity and below average sillage, if you've worn other fragrances by Mme. Giacobetti these have similar longevity and sillage to those.
There is a reason Mme. Giacobetti is a fragrant rockstar, to me. It is because she has a clear vision of what kind of scented music she wants to compose. When you think about it that is what separates the successful from the pretenders. Mme. Giacobetti is no pretender she is one of the best perfumers we currently have.
Disclosure: This review was based on samples purchased from The Perfumed Court.
Iunx photos (c) Kevo X Thomson
-Mark Behnke, Managing Editor