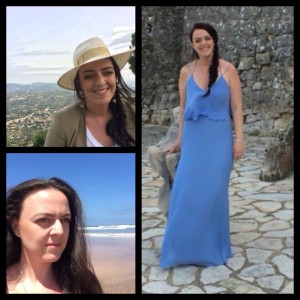 Stéphanie Bakouche
I had the pleasure of talking with Stéphanie Bakouche above the picturesque village of Cabris (near Grasse), in the Roudnitska gardens and home to Art et Parfum and Accords et Parfums. The setting was redolent with French perfume history and couldn't have been more perfect. Holding the interview in Michel Roudnitska's gardens felt very special.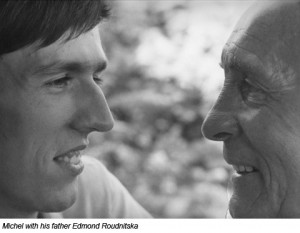 Michel Roudnitska and Edmond Roudnistka
These were the gardens that acclaimed perfumer Edmond Roudnitska nurtured into being and lived with his wife Thérèse, who was the inspiration for Le Parfum de Therese, (now housed in the Editions de Parfum Frederic Malle) and son Michel. Edmond Roudnitska is of course considered one of the best noses in history with the creation of Diorissimo ,Eau Sauvage for Dior and Femme (Rochas) among many others. Of course Michel Roudnistska is also a perfumer with Magnolia Grandiflora Michel (Grandiflora) Noir Epices (Editions de Parfum Frederic Malle) and Bois de Paradis (Parfums Del Rae) just a few amongst his own body of work; he is also a pioneer in ambient scenting and a shaman.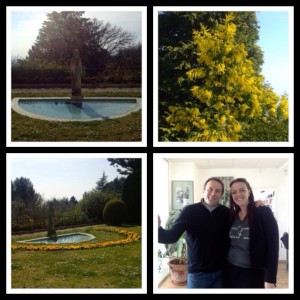 Photos taken by Megan at the Roudnistka Gardens Estate in Cabris Stephanie with Olivier Maure
Thanks also to Olivier Maure for the welcome and walk around the beautiful gardens. This article is a result of our conversation at Cabris and additional written material from Stéphanie.This article is a result of our conversation at Cabris and additional written material from Stéphanie.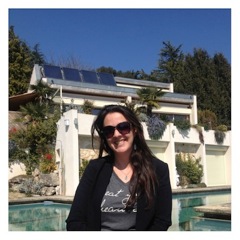 Stephanie in front of thte "T" shaped pool Edmond Roudnistka constructed for his wife Therese
Stéphanie Bakouche is a young perfumer with a difference, as this is only one of the myriad parts of her role at L'Artisan Parfumeur. She's 35 years of age, grew up in Paris and has lived there all her life until her recent shift to Grasse. Stéphanie has a passion for working not only as a perfumer but also in the industry as a Fragrance Development Manager. In this sense, it could be said that her journey follows a different path to other classically trained perfumers. Stéphanie's insights offer a unique and intriguing take on the road less travelled.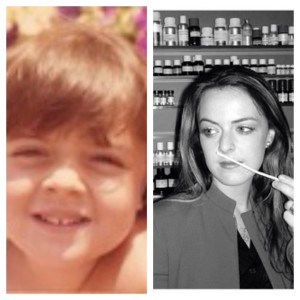 Stephanie Bakouche at 4 years old in Casablanca and at the Osmotheque 2006 (26 years old)
The Early Years
SB: I had always been unable to explain why I've always wanted to create perfumes. There is no perfumer or artist of any kind in my family. I don't look for an answer anymore. I just believe we all have our specific angels bending on our cradles. That we have absolutely no control on.My chance was to discover the existence of ISIPCA early enough to take the right direction in my studies, a scientific Baccalaureate and enter University for a degree in chemistry that would enable me to take the ISIPCA contest. That was all I wanted to do. You have to obtain your degree first and then it's a two-year school. It's in partnership with the University of Versailles so you have some lessons in common with other students in the university. You also have to know that you spend two months in the school, two months in a company for every two months for the two years at ISIPCA It is enriching. There are so many things to discover. It's a passionate experience. You enter the world you have wanted to know for a long time and you discover everything.
You don't become a perfumer after ISIPCA. It gives you bases, and it's even more true now. Needing to work and make myself a living, I worked for various brands on the sales floor, for the launch of their new fragrances. I learned the market, the story of all brands … and slowly became quite a specialist in fragrance brands and in the perfume market in general. I began to be called for special missions training the Sephora staff or elaborating training manuals for Marionnaud. I took a bit of time to understand the relevance. You do this in parallel because you have to earn your living but it's a good thing I did this. These experiences lasted 5 years. In between, two major encounters happened: the one with Bernard Bourgeois in Hermès, working side by side with him, Director of Fragrance laboratory for Hermès, was amazing. I was in charge on quality control of all perfume fabrications for Hermès, Cartier and Lalique, and I was there at the same time when Jean-Claude Ellena joined the brand, so I've had the great opportunity to work on the Hermessences developments.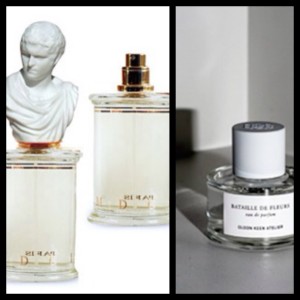 Invasion Barbare for MDCI perfumes and Bataille de Fleurs for Cloon Keen Atelier
First Perfume Creations: Invasion Barbare for MDCI perfumes and Bataille de Fleurs for Cloon Keen Atelier
SB: I also met Claude Marchal (from MDCI) in 2005. I sent six fragrances … he came back to me, thrilled with one of my creations, and wanted no modifications. Invasion Barbare was born. Still one of the best sellers of the brand, this creation has made me a name in the industry, and I will never thank Claude Marchal enough for having trusted me at that time. I wanted the strength (of Invasion Barbare) to be very obvious. I wanted a modern fougère and I decided quite quickly to make it leathery and animalic with costus, and I used thyme, which is an aromatic leathery herb. I used a lot of spices and aromatic herbs and a lot of artemisia, and an overdose of thyme and then I spiced everything up. It's a daring fragrance, it's very strong and that's why it's successful in Russia. "This is the first fragrance by Stéphanie Bakouche … clearly a talent to watch … After ten minutes I uncurled my toes and relaxed: this thing was not done on the cheap, and is in fact one of the top two or three fragrances in this genre on the face of the earth." (Luca Turin, in the A-Z Guide). It is thanks to this experience for instance that I have been known by Cloon Keen Atelier Director, Margaret Mangan, who, in turn, gave me carte blanche to create a new scent celebrating flowers. Bataille de Fleurs was born, a celebration to the Mimosa blooming in winter on the French Riviera. I took this as a challenge and that it would teach me a lot. And then little by little she (Margaret Mangan) fell in love with the mimosa that I created. She enjoyed this, a very very white fresh green watery almost marine scent.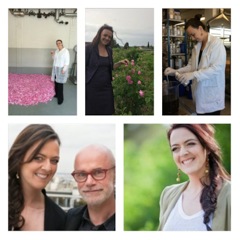 Top Row: working with mai rose at the Art et Parfums laboratoryi n Cabris 2014
Bottom Row: Photos of Stephanie with Bertrand Duchaufour Press launch Rose Privee 2014 Paris
Working at L'Artisan Parfumeur as Fragrance Development Manager and Perfumer
SB:I was first hired as a trainer. I got a chance to learn about and become accustomed to this precious brand, learning every detail of each of its fragrances. I'm still in charge of the training manuals; how we build the story, tell our staff. I'm in the heart and the start of the discussion of the ideas of the fragrant launch. It's like a creative director – propose ideas of future scents, olfactory mapping, gaps, something consistent to your range, and the trends and best sellers on market. I brief perfumers. I do smelling sessions with them also reworks of fragrances to respect IFRA. This is hell. Compliance is huge.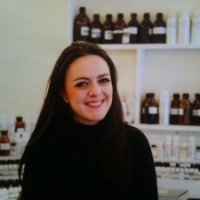 The Development of Rose Privée
SB: My aim as a perfumer is never to create anything that leaves people indifferent. I want to give some emotion it can be good it can be bad but I want to have a strong reaction to it. You have to feel something. That's a definition of a good creation – you give an emotion whatever it is. My idea and first samples have been welcomed by the team, so I kept on working on this fragrance for fourteen months, with the amazing luxury of having Bertrand Duchaufour as a Master Perfumer guide and Artistic Director. He mentored me all along. We wanted something extremely Mediterranean. I think the biggest challenge on this fragrance was to make it accessible and modern and it's difficult when you're doing a rose theme. We had the idea of lilac and this hint of magnolia that he taught me to use together with another rosy note.
Smelling a patchouli tree (she's crazy about this scent!) MAY 2014 in the gardens of the MIP (Intermational Perfumery Museum)
The base is chypre, it has a hint of patchouli and I thought how could I make things sunny and keep the Mediterranean spirit in the base, and that's where hay came from. And at this moment we thought that hay would replace oak moss in the chypre scheme and it's a bit musky as well to make the base warm sensual and round. So that's how its been constructed. It's probably the most amazing development I'll ever do having Bertrand Duchaufour as an Artistic Director and evaluator and of course as a Master Perfumer. It's amazing to have this luxury to have Bertrand guiding you in the steps of your development. And it's true that the ideas for the composition were my ideas but his help has been absolutely priceless. He's also someone who absolutely teaches us to work in a direction where there's no use of doing very long formulas. He really taught me to make ingredients breathe. I like to make personality out of each of my creations I tend to exaggerate, maybe to put too much of this our that and he taught me so well how to enhance this facet. You don't need to put more you need to play on the contrast and this was very useful.
Favourite Perfumes and Scents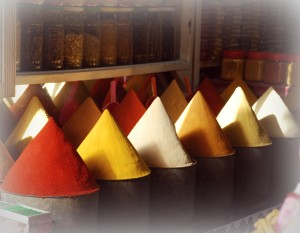 Spices Morrocan Souk from Lextolexicom
SB: I think all the holidays I spent in Morocco. I had my grandparents there and I spent my summers there. I think the scents of the souks, the spices, the woods, the Atlas cedar wood, the craftsmen in the streets. You walk there and you smell this smoky woody scent all around. I love spicy woody oriental scents. I can't express nor explain my passion for patchouli and the amazing feelings this scent wakes up inside of me. I love iris, cedar wood and jasmine, leathery and musky notes, the richness of spices such as cumin, curcuma (turmeric) and the vibrating freshness of cardamom. The deep leathery facet of narcissus, the surprising complexity of osmanthus.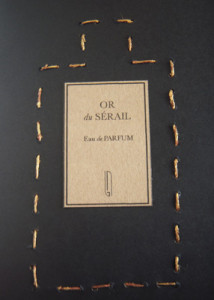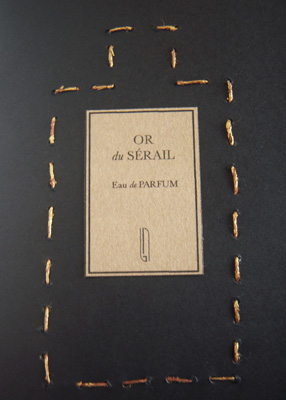 Photo:Tama Blough Esxence 2014 Or du Serail Naomi Goodsir
I love Serge Lutens fragrances and admire Christopher Sheldrake. I really love Kenzo Amour. It's a doudou (something children sleep with to comfort them). I'm so crazy about Gucci Pour Homme. It's smoky. Also some classical ones. I admire Guerlain Mitsouko, CHANEL No 19. GUERLAIN Heritage is the most amazing masculine. I'm part of the Osmothèque and so I have the chance to smell rare fragrances and I'm crazy about iris and I'm probably going to get a tattoo of one soon. Iris Gris from Jacques Fath I would die for and Bertrand said he has the formula and now he can't find it. I keep some hope. There's also a beautiful niche brand that was created by Naomi Goodsir. Bertrand created Or du Serail, it's an amazing tobacco it has everything but it breathes. It's sugary, tobacco, leathery, woody. It has a sillage with this one. I make every person smell it. For me this an amazing perfume.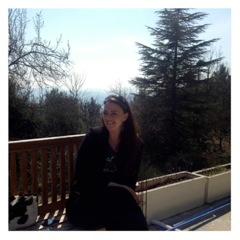 Stephanie March 2015 Roudnitska gardens
Stéphanie's Future
For now I am of course exclusive to L'Artisan Parfumeur so if I remain as the Manager of Fragrance Development and once every year I launch one perfume I would love this. I'm conscious that I have an amazing chance to do both. Such a key position in the marketing team and being a perfumer at the same time. But definitely I would like my future to be more creative with L'Artisan Parfumeur, but I'm having so much fun as a Manager of Fragrance Development with Bertrand, working with him."
Megan Paki, Senior Contributor CaFleureBon and Editor of Megan In Sainte Maxime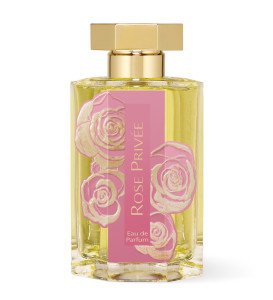 Thanks to L'Artisan Parfumeur we have a 100 ml bottle of Rose Privee for a US or Canadian Registered Reader
and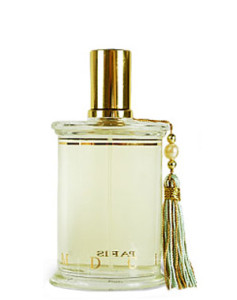 Thanks to Claude Marchal of MDCI we have a 75 ml flacon of Invasion Barbare for a registered reader in the US or Eu.
To be eligible, be sure to register. Please leave a detailed comment with what you found fascinating about Stephanie Bakouche, (a quote, something you will remember about this interview), where you live and your choice of fragrance. Draw closes June 27, 2015.
We announce the winners on our site and on our Facebook page, so Like Cafleurebon and use our RSS option…or your dream prize will be just spilled perfume