How do you move a world famous perfumer to grant you an interview? You invite him to dance! Not just any dance… But the Argentine Tango; this is how I met Maurice Roucel, (the FIFI award winning nez who is known for his sensual scents) a few days before he left for his home in France. Maurice Roucel divulges much about the world of fragrance and his life, so sit down grab a cup of espresso and read the most revealing interview I have conducted to date.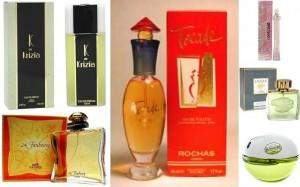 Maurice Roucel is prolific and passionate about his ART. Among his 100+ fragrances: Le Labo Labdanum 18 and Jasmine 17, k by krizia, Envy by Gucci, Three from Bond. No.9 including New Haarlem, Four by Guerlain including Insolence, L'Instant Magic, Rochas Tocade, two by Lolita Lempicka including L, Kenzo Air, four by DKNY, Amouage, Missoni Aqua, Serge Lutens Iris Silver Mist, Alain Delon Lyra, Reminiscence Jammin', Helmut Lang, Dans tes Bras and Musc Ravageur by Editions de Parfums Frederic Malle, Shalini, Nautica Voyage, 24 Faubourg by Hermes, Isaphan by Yves Rocher, Hypnose Men, Roberto Cavalli Oro, Kiton Black, Marc Jacobs Orange, Mac Vanilla, Lalique pour Homme, Laura Mercier neroli, Adidas Sport for Men, Linari Acqua Santa and Amouage Reflection Woman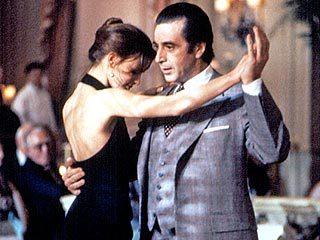 You were in France for over a month, what were you working on?
MR: Ahh Michelyn, I return to France permanently as of January 12, 2011. I will still be at Symrise, so please visit me in Paris.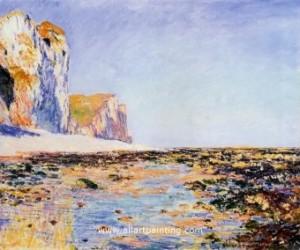 Where were you born? Any childhood olfactive memories?
MR: I was born in Cherbourg, France. When my mom would take me to the beach, I remember the smell of the sunscreen from L'Oreal, baraques a frites (kiosks for French Fries, ices, etc). My grandmother wore 'Soir de Paris' by Yves Rocher, but the formula is very different, it's a bad imitation now.
If you weren't a perfumer you would be…
MR: An explorer, but not geographical; I would chart new ideas and theses. Theories like Einstein. I wanted to do this as young man. But I was a bad boy
Why were you a bad boy, Maurice?
MR: My teachers always said I interrupted class and made too many jokes. I had long hair in the early 60s, like the Beatles. My shirt was an English flag, very mod.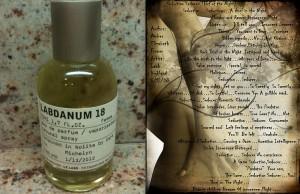 Which scent would you choose for me?
MR: I already know the one you love, the one that inspired our modern tango… Le Labo Labdanum 18
What is your favorite meal? Do you cook?
MR: Fish. Especially sashimi…I just started to cook, because I was eating out twice a day. My specialty is "mon omelette Francaise", it is complex with a reduction of wine, tomato, and mushrooms. It takes an hour to prepare.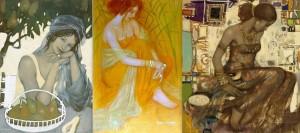 A sensuous woman is one who is…
MR: Blonde, brunette, redhead, beautiful to look at with a beautiful heart and moves well, carries herself well. She is any color, any religion…but she is all woman, in the French tradition. I pay attention to her curves; and the eyes, what's behind her eyes…I think Hungarian women are very beautiful.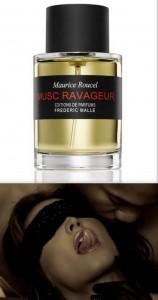 The scent of a sensuous woman is
MR: Musc Ravageur, bien sur.
What is the most erotic raw material, and why?
MR: It is Oud. Do you know about oud? A tree called Agarwood, from Asia, this tree has a parasite that is killing the tree. After that the wood is dry, but it is developing a material, that is very expensive. Like musk, it used as medicine and as an aphrodisiac.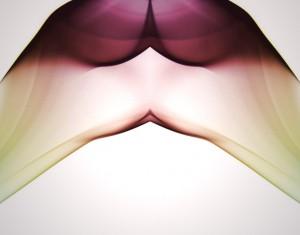 Now this is erotic… The women light a fire over the brazier and stand over the smoke so that the smoke enters their ladies' parts.
What was the first fragrance you bought?
MR: Eau Sauvage. It was a discovery for me. And it attracted the ladies.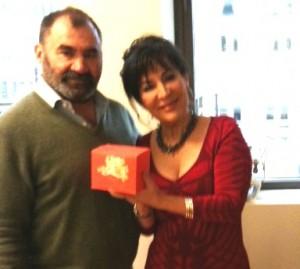 You create beautiful fragrances in the broadest possible price range—from perfumes that are very inexpensive (Tocade and L by Lolita Lempicka) to very expensive (Shalini, Amouage Reflection Woman). What approaches are necessary to create truly artistic perfumes inexpensively?
MR: Speaking of price, sometimes it isn't always reflected in the jus. First, you need a soul, the talent of a perfumer. Think of the Japanese art of origami, a piece of paper to begin. Then voila. It is Art. Of course when you can put in very good raw materials, this is perfect. Like Shalini, it is really worth it, because I made it and I know what is in it. But you mention Rochas Tocade and L By Lolita Lempicka, they are good perfumes with both value and quality.

The Frederic Malle bio says you are self-taught. How did you break into the close knit fraternity of classically trained perfumers?
MR: First, I was studying organic chemistry and a specialist of chromatography. But I needed money, so I sent out my resume everywhere. So the old man, Henri Robert the head perfumer of Chanel liked me. It was so flattering and lucky that this legend, who was already in his 70s, took me in while I was only 23. I was there for six years and I learned by myself. In the beginning, I wasn't interested. I would laugh at the perfumers with their mouillettes (editor's note: French for breadsticks but aka scent strips). Do you know we used to call ourselves, i.e. perfumers'? 'Ghosts'. That has certainly changed since the information about us is more available.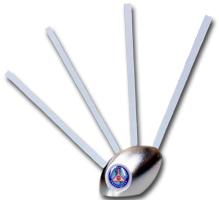 How do you feel about testing with the moulliettes vs. skin?
MR: It is a tool for perfumers only. But we finish on the skin.
Now you go to Sephora and there is 700 perfumes. The product oxidizes under the light in worst possible condition… It's a mess, so how can you spray it? Yet, the old alternative wasn't great; remember when the perfume ladies sprayed you when you shopped without your permission?
So, try four –five on a strip and spray two-three maximum on skin. Walk away. Wait. Then decide.
When does the nose get tired? How many fragrances can you really smell?
MR: Sometimes people who are obsessed spray too many. There are lay people, and specialists. Michelyn, maybe six for you, but no more. For the lay person it is two or three. I find it ridiculous to see people spray every inch of their skin with a different fragrance. For a professional perfumer, we are trained like a marathoner. We can smell a lot. But we get tired smelling the same thing. So I take a break by smelling other perfumes. I am always working on 20 projects at the same time, to refresh my nose. This is vital.
Our sense of smell was more acute thousands of years ago, because we could smell danger, or predatory animals, it was vital for survival. It is our means of communication with the organic universe.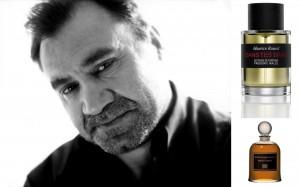 You have worked with two of the most influential niche perfumeries and personalities… Frederic Malle and Serge Lutens. Please share how you met these two legends and how you worked with each to create your two most 'beloved' fragrances Silver Iris Mist and Musc Ravageur.
MR: How does everyone know my work Iris Silver Mist? This is a mystery to me. (Michelyn explains about perfumistas to Maurice).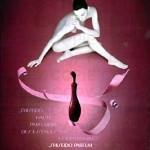 I met Serge Lutens when he was with Shiseido. He was working on Feminite du Bois with Christopher Sheldrake. It was how I say… a bit boring, so he called me in to collaborate. Which I did, and then later I created Iris Silver Mist for his new House. I mixed the most expensive Orris concret with very inexpensive materials.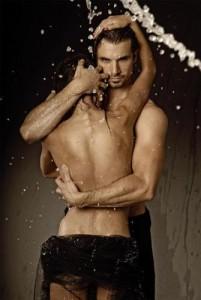 I met Frederic Malle in the 90s, in NYC. He was sent to me by Pierre Bourdon, because at that time Frederic wanted to be an editor of perfume. I told him I had something in my drawer, it was a finalist for Fragile by Jean Paul Gaultier. I gave it to Frederic, and we added a little fresh on the top, and it became Musc Ravageur. Dans Tes Bras, was a collaboration. I love this perfume; it is based on my memory of warm, salty skin (Editor's note: — M. Malle described it as "saltiness and a hint of sunscreen… I love it when an interview comes together).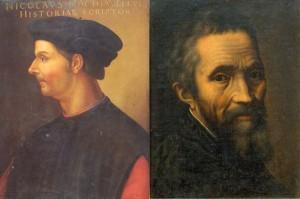 Machiavelli or Michelangelo?
MR: Michelangelo…but you know Machiavelli was completely misunderstood. He wasn't such a ruthless guy. History made him so. It was the times he lived in. He was very smart.
Which piece by Michelangelo?
The David of course
I read On Wikipedia that michelia centifloria is your signature scent, but I thought it was magnolia? Which is correct…?
MR: It certainly is not michelia centifloria…where did that come from. Who said that? You can't trust everything you read 🙂 But I did discover a species of magnolia that is not my signature, but I am very proud of finding and creating, it's an extraction from a Chinese magnolia. Ambergris is my favorite.

Which fragrance took the longest to create? The shortest time?
Hermes 24 Faubourg took five years and Shalini fifteen minutes. This was due to the conviction of the respective creative directors, and to their briefs.
My dad wears Nautica Voyage. He loves it. So does my mom.
MR : Funny, I got a letter from Coty, that a man said it helped his sex life.

Maurice, no offense, but TMI, changing subject. Thoughts on IFRA?
MR: Sometimes too protective, like above, but sometimes there is abuse of chemicals and materials. Now it's a business. It is not a law it is a recommendation but many are taking it as a law. It is a grey area. There are some positive aspects, and some negative aspects
It is a stupidity to forbid this material. Because you actually protect the Sperm Whale, by using it. The whale is unable to eat something bigger than shrimps; the sperm whale is eating squid (calamari) which has a beak, like a parrot. He eats 100 at a time, it hurts its stomach and he is vomiting. It is disgusting. Nothing in the world smells this disgusting. Its black and liquid, you have never seen anything so vile. But after year after year, the sun, wind and ocean transforms it into a solid like bleached stone. The smell now is gorgeous.
Luca Turin predicted IFRA the 'death of perfumery' Do you agree?
MR: No, although I love Luca Turin and he is my friend. Synthetics are necessary in my perfumery, and new technology creates new 'paints' for my palette. We have a huge amount to choose from. It won't be the materials that are the death, because there are alternatives.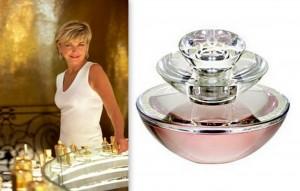 If the industry could do one thing to help noses to create better fragrances?
MR: Better briefs. Sylvaine Delacourte of Guerlain is amazing at guiding the perfumer, bringing her vision and his/he Art to new heights.
Little known Guerlain perfume fact?
MR: Jicky by Guerlain was named for Jacques Guerlain and his nickname was Jicky
Do you have any passions besides perfume?
MR: I love to read. Rene Barjavel, I am reading his last one Faim du Tigre. Once I read a book for 13 hours in the bath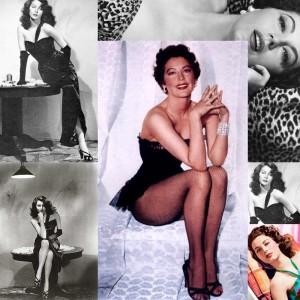 You have created an exhaustive amount of fragrances… but very few celebrity scents… I can think of Lyra Alain Delon and Celine Dion. If you could create a celebrity fragrance whom would it be for?
MR: Let me think… yes, Ava Gardner.That dark hair, that fiery temperament. BTW, Michelyn, Lyra Alain Delon original formulation was superb.
Now Ava by Maurice Roucel ? It would refined and beautiful, it would be alive and with movement and radiant. Somewhat dry and refined. Sparkling top notes, with a sensual amber, vanilla, dry down.
Which perfumers do you MOST admire?
MR: G-d.
But human perfumers it would be Michel Almairac, Sophia Grosjman, and Alberto Morillas
If you could have dinner with anyone who would it be and why?
MR A beautiful woman. Ok, Ava Gardner, why not… since I want to make her fragrance.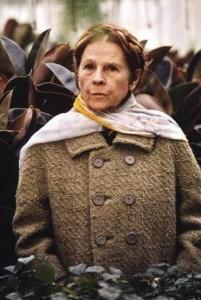 If you could play a famous character from movie, who would it be
MR: Ruth Gordon, the old lady in Harold and Maude. I have seen the movie 20 times.
You lived in NYC for twelve years… what you love the most about NYC. What do you find the most difficult as a Frenchman in NY
MR: I love the diversity of people. The restaurants, the many cultures. A mosaic.
Difficult?
The language. It was so hard for me to learn a new language at 50 yrs. old. Especially the nuances of the language. It is not my language or culture. For example, Verizon phone…I am trying to disconnect and I don't understand what they are saying and they don't understand me, so I speak the command , and because of my accent and I end up somewhere else. I would yell into the phone 'internet' and I end up in billing.
Do you read blogs or read critiques of your fragrances?
MR: No, not so much. Yours and Bois de Jasmin, but sorry not so often. I am not great with Facebook and these things. I also don't pay much attention to what fragrance critics say, although they have every right to express opinions.
Have you ever shaved your mustache?
MR: Once in the past 25 years.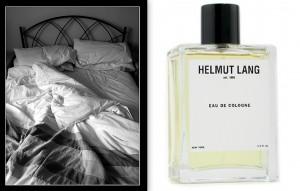 Tell me about the creation of Helmut Lang Cologne ?
MR: He wanted the jus to smell of his boyfriend's secretions on clean sheets
Two "only in NY stories"?
MR: First story, not so happy. I saw the destruction of the twin towers during 9/11 as I lived in that area. I saw the planes hit. Such a tragedy I will never forget.
The second happier… going to Rasputin, a Russian restaurant in Brooklyn and getting drunk on vodka with Sophia Grosjman.
–Michelyn Camen, Editor-In-Chief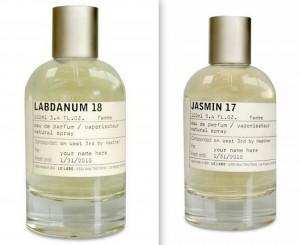 Our draw is sponsored by our friends at Le Labo and ends January 21 @noon est.
Jasmine 17 and Labdanum 18 will be offered to two winners, each will have their name printed on the bottle!
Be in the scent loop and LIKE us on Facebook and subscribe via RSS. Unclaimed winners as of January 27 will be subject to a redraw.