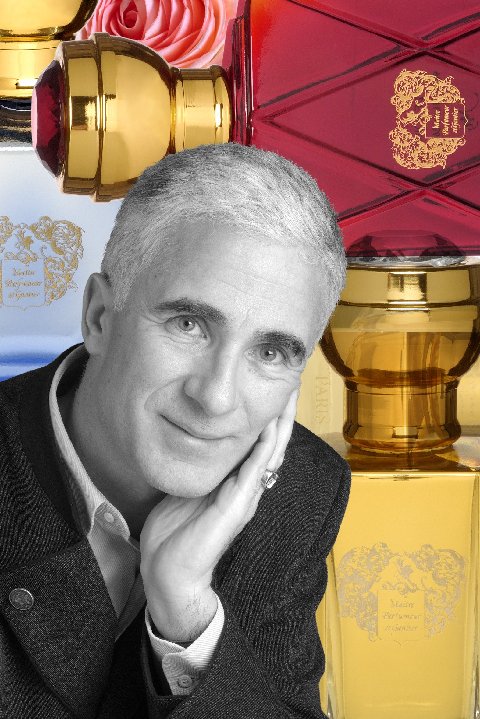 When the House of Maître Parfumeur et Gantier ("Master Perfumer and Glovemaker") was founded by the late Jean–François Laporte, the original creator of L'Artisan Parfumeur in 1977; at that time there were few, if any niche perfumery brands. M. Laporte left to start Maitre Parfumeur et Gantier in 1988. The brand was bought by passionate perfumista and nose Jean-Paul Millet Lage in 1997 and is somewhat under the radar for many perfume lovers. M. Millet Lage's first big success as thenose for the Company was in 2005 with Bahiana and he continues to preserve M.LaPorte's unique sensibility and commitment to old world quality and modern luxury as he evolves Maître Parfumeur et Gantier to appeal to a contemporary audience.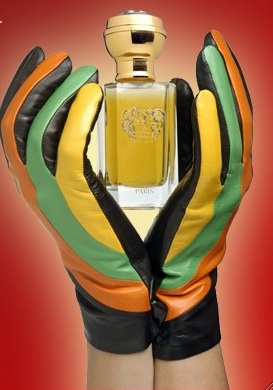 The Company still sells scented gloves in the shop in Paris
Why was the brand named Maitre Parfumeur et Gantier?
JPML: In 1656, under the reign of the King Louis XIV, perfumers has been recognized by the King as a royal corporation under the name : Maitre Gantier et Parfumeur. Indeed, first, these artisans had gloves workshops as our gloves must be perfumed. Jean Laporte had the idea to use this glorious time in French History, so he chose and registered the brand name by reversing the words : Maitre Parfumeur et Gantier instead of Maitre Gantier et Parfumeur as his main work was to be a perfumer, not a glove maker.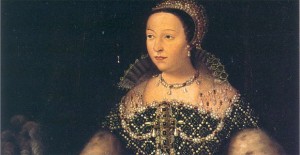 Catherine de Medici, Queen of France was hated by her subjects. But she introduced Perfume into the French Court bringing her perfumer Rene the Florentine in 1533. rene R
What did M. Laporte want to accomplish that was different from his work at L'Artisan Parfumeur?
JPML: He wished to create a new brand with more references from and to the history of French perfumery which began during the Renaissance under Catherine de Medici. During this time, the city of Grasse was the center (as it is today) with its large fields of orange trees and the cultures of plants with perfumes such as Rose, Carnation, Tuberose, Violet and Jasmine. At the same time, the French companies of the East Indies had given perfumers a direct access to numerous exotic elements. Rose Opulente, Ambre Précieux, Secrete Datura, Parfum d'Habit are some examples of perfumes showing his approach. Even the baroque bottles and caps (I modified the bottles 8 years ago) evoke a sense of luxury from the 16th and 17th Centuries.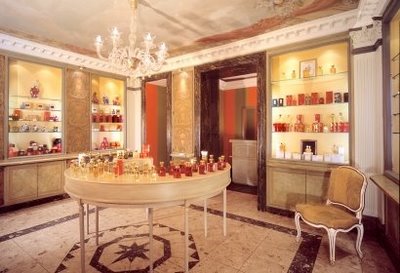 Maitre Parfumeur et Gantier Boutique located at 5 Rue des Capucines

What are the core values of MPG that have stayed constant over the past 24 years?

JPML:

– artistic creativity without any marketing constraints

– to strive for excellence by using natural raw materials when we are allowed by the international laws IFRA

– MPG has its own internal Creator Perfumer, always

– Independence of our distribution network, no chains of stores.

When did you meet M. Laporte and where?

JPML:

Paris, in 1996, through the father of a friend of mine who worked with him for a very long time.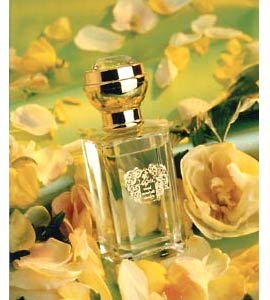 The world of perfumery mourned M. Laporte's passing November 2011. What are some personal memories of him that you can share with our readers…

JPML:

First, I was seduced by the independence of his mind, by this one constantly turned to the creation, by his rich ability to create, his great knowledge and taste to share it. An educator. Among so many memories , today, I chose 2 of them:

First, the creation of the last feminine fragrance he launched: Camelia Chinois in1997. It was such a great experience for me to see how he works, to try to follow his path: 2 steps forward, and sometimes, one backward. Many times, he was so happy; sometimes, disappointed. You know, a composition is a very difficult work and often very surprising. Many times, he had reactions by discovering a marvelous surprise or a misunderstanding on a bad evolution of the combination of raw materials. And his reactions were always those of a child Marvelous, amazing.

Second, he was a wonderful educator and teacher; everyone from journalists to customers loved tot listen to him speak about perfume. At the same time, he was a private person and disliked parties. Jean was a great gardener and quite a chef.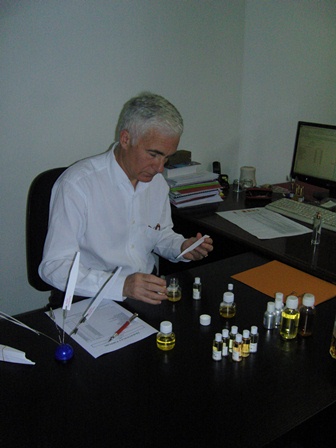 Why did you decide to take over the company in 1997? What is your "stamp" that differentiates the contemporary MPG from the early compositions?

JPML:

I was a client of this brand for a long time before I really got to know Jean Laporte. Like you, I began with his work at L'Artisan Parfumeur (Editor's Note: My very first niche perfume was Jean Laporte for L'Artisan Parfumeur's Pamplemousse). Maître Parfumeur et Gantier became the symbol of my love for perfumes and what is special about the niche perfume world. From him, I learnt and kept the requirements of high quality of products, of a real olfactory composition that goes to work on us (skin), changing on us, to become part of us and give us pleasure. So I work with all of this in mind but I decided to change some things: logo, bottles, (Bahiana and Cuir Fetiche for instance). In the 21st century, even a traditional brand must be relevant.

T

here were very few niche perfumes 1977-1997. Now there are hundreds. How does MPG differ and how does the Company grow in such a cluttered market?

JPML:

Among the hundreds of new brands, how many are those that we are or will be still talking about a year or 3 years from now? However, with so many brands the market is more competitive than 10 years ago. MPG is well known for its authenticity and faithfulness to its concept whatever the '' trends" of the moment may be.

Have you changed the formulas of the classics such as Ambre Precieux or Route de Vetiver?

JPML:

Oh, no, never… out of respect for myself and respect for our customers. Why change? To save a few Euros? That would be a big mistake as we have seen with other brands. If something must be changed, that would be only because we would be obliged to do by IFRA. But not for Ambre Precieux or Vetiver.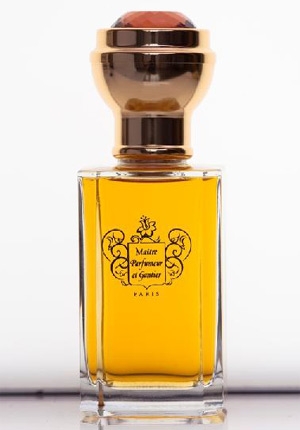 Ambre Doré-No its not joining the Oud parade-it was formulated years ago

MPG's Ambre Precieux by Jean Leporte was my first oriental amber perfume and to this day I reach for it. It is iconic. Now, I hear that your Ambre Doré will debut in the US in 2012. Can you tell us about its creation and your feelings about OUD?

JPML:

MPG Amber is really one of the best in the world created by Jean. I created Ambre Doré (Golden Amber) in 2007 for a special event. But at this time, oriental scents with oud were not trendy like they are now. So, I held back on the launch. Since these last two years, 2010/2011, the wave of oriental perfumes and especially with oud has flooded the market and especially the media.

So, I decided to promote this perfume because it is a nice oriental one. But I am convinced that oud is not one of our important essences in my philosophy of Creator.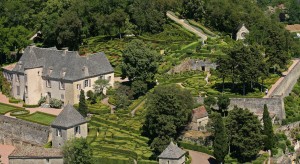 What is your background- where were you born and when did you first become a perfumer?

I am born in a lovely part of France, Perigord, but I've always live in Paris. I became a perfumer in 1996 when I met J Laporte. Indeed, I have been so much interested with perfumes as I mentioned earlier I was a customer of J Laporte since the beginning – as I loved so much Mure et Musc (the original one), then MPG with Route de Vetiver.

MPG is known for creating perfumes that are unconventional variations on a central raw material. Are some more problematic than others to work with?

JPML:

You know, perfumes are compositions, even plus, combinations of different raw material. None in particular is difficult for me to use alone. The difficulty is to find the right association between them. When I have a scent in my mind and begin to work on a formula, most of the time I know exactly how they will work together. Sometimes, there are some surprises. So, I have to rethink the formula all over again and start from the beginning. I find these challenges very exciting, even fascinating.

What are your thoughts on the future innovation in the niche market and its challenges?

JPML: The future is in personification of a brand and even personalization of perfumes. This last idea is not easy as ''sur mesure perfumes'' are too expensive just now. We must invent a new business approach, a new way of working. A new concept ?? When you see that mainstream and designer brands call perfumes "Collection Privée", "Collection Particulière and other name to mimic the independent perfumeries, you have confirmation that niche perfumes (I prefer the name Parfumerie Artistique) are very much on their minds.

Regardless of different sectors, one must invent, innovate. An amazing challenge.

–Jean Paul Millet Lage, Perfumer and Owner of Maître Parfumeur et Gantier.

-Michelyn Camen, Editor-In-Chief

Thank you M. Jean-Paul Millet Lage for taking the time to share the intriguing story behind the brand and your passion. We also want to thank EuroParfums (www.europarfums.com) for choosing CaFleureBon for this interview.

Maître Parfumeur et Gantier is offering a draw that is amazing. A reader's choice of any 42 fragrances in line. MiN New York carries the complete selection so please click on this link to choose your fragrance. In order to be eligible, please leave a DETAILED comment with your favorite quote, (or something you will remember about this interview and M. Millet Lage) and your choice of any MPG fragrance from the link above. Draw closes June 7, 2012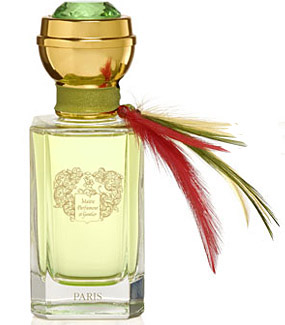 Since every fragrance in this extensive line may be somewhat unfamiliar to some of readers, we have some suggestions: Editor in Chief Michelyn Camen's favorites are Fleure de Comores Vocalise (her first MPG purchased in 1995) and Fraiche Passiflore. Perfumistas pick is Iris Bleu Griss. Managing Editor Mark Behnke recommends Bahiana and Ambre Precieux. Mindy Yang, Vice President of MiN New York loves Fraicheur Muskissime Extravagante and Bahiana for summer. Maitre Parfumeur et Gantier George Sand Eau de Parfum & Route du Vetiver are the favorites of Chad Murawczyk, the owner and founder of MiN New York.
We announce the winners only on site and on our Facebook page, so Like Cafleurebon and use our RSS option…or your dream prize will be just spilled perfume.