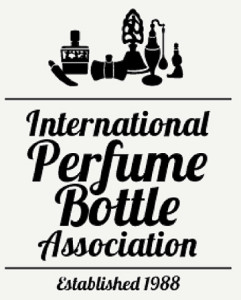 If you love perfume, the bottles probably are secondary. In fact, raise your hand if you own decants. On Facebook, I often see perfume collections that make my jaw drop. But to some serious collectors the bottle is everything. There is an organization, I.P.B.A (The International Perfume Organization) that is devoted to the art of bottle design and auctions rare bottles for prices in the tens of thousands. Recently, there was a convention held in Spartanburg, North Carolina, where buyers from all over the of the world gathered and spent BIG bucks on bottles. According to an article in Maine Antique Digest, an auction, hosted by Robert Dawes (Antiques Roadshow) brought in a record breaking …$533, 744.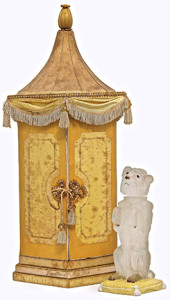 J'appartiens à Miss Dior 1957
A 1957 Christian Dior limited-edition presentation perfume bottle, J'appartiens à Miss Dior, originally created to celebrate The House of Dior's 10th anniversary. (I belong to Miss Dior), sold for $66,000. The piece had Dior's signature Tien Dior (Christian Dior's nick name) The bottle is made of silk (note Dog begging)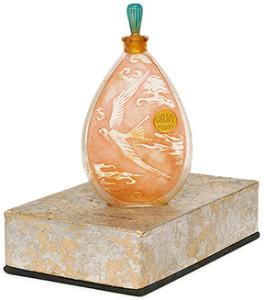 A 1920s Julian Viard perfume bottle for Colmy, C'est un Secret sold for $16,000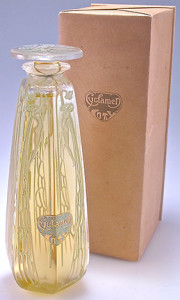 Francois Coty "Cyclamen" perfume bottle dated from the 1920s was the first complete bottle that René Lalique designed for him, brought $19,200. As we know from Kevin Verspoor's article on the History of Coty, Lalique designed the label and the box in addition to the flacon.
Take some time to look at the I.P.B.A's virtual musuem with categories that are labeled not by perfumer but by bottle or material type. For example, in the Baccarat section, you can find a vintage bottle of Guerlain Coq d'Or from 1937. There is a vintage cosmetic section as well, featuring vintage compacts from Maison Dorin. With vintage bottles fetching such high prices,a reality show spinoff of "Antiques Road Show" may be in the works. It isn't clear if some of the bottles contain the original fragrances. Some look like factices or empty…giving new meaning to spilled perfume.
Via Maine Antique Digest and The IPBA website; all photos property of The International Perfumers Bottle Association
-Michelyn Camen, Editor in Chief