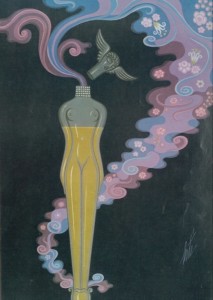 Perfume Bottle –Erté
In a multi billion dollar industry that's often driven by the numbers– both in dollars and products sold- fragrance can lose many of the qualities we value most, its ability to stir memories and emotions– with just a dab of scent. When the emphasis is put on ad campaigns, flankers and celebrity spokespeople as it is for a large percentage of fragrances on the market, something vital is lost… perfume as artistic expression. We are excited by the mission of the Institute of Art and Olfaction which is to encourage education, creativity, and excellence in fragrance. We have been following their amazing progress and are excited about the potential for a competition that honors perfume without politics.–Michelyn Camen, Editor in Chief

The Institute of Art and Olfaction -Photos courtesy of IAO
In 2013, the Institute of Art and Olfaction was founded in Los Angeles, led by Saskia Wilson-Brown as Director. Her experience in film-making and consulting with filmmakers – an equally creative métier – makes her a valuable asset. She took a suggestion to create a blind competition for independent and artisan fragrances in which transparency is key and politics are absent.
"The awards represented a chance to apply what I learned in the film festival world to the perfume world. In fact, we adapted many of the structures that go into running a film festival for the Art and Olfaction Awards, namely: Low entry fees, access to entry information, unbiased judging (in many film festivals you are excluded from judging a film that you have a personal tie to), a diversity of judges, and a non-profit art for arts-sake motivation."-Saskia Wilson Brown, Director, Institute of Art and Olfaction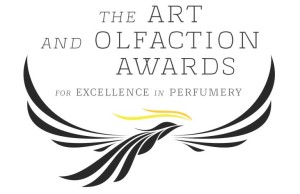 The announcement of the winners for the Art and Olfaction Fragrance Awards is on April 25, in Los Angeles at The Goethe Institute. I will be attending this event and will come back with a wrap-up on this competition and quotes from judges and winners. This competition was broken down into two categories: Independent and Artisan. Here are the Finalists
Independents: Art and Olfaction defines an Independent Perfume House as an organization where the company oversees branding, production and bottling of the scent. The Independent Perfume House will be privately-owned (not owned by another larger public corporation), and operated with the owner's direct oversight:
Christopher Street by Charenton Macerations (USA) Ralf Schwieger and Douglas Bender (Guest Contributor to CaFleureBon)
Ashoka by Neela Vermeire Creations (France) Bertrand Duchaufour
Feu Follet by Friede Modin (England)
Jardin Mystique by Friede Modin (England)
König by Yosh (USA)
FR!01/02 by Fragrance Republ!c (USA) Julie Masse
Sahraa Oud by Fragrance DuBois (France)
Only For Her by Hayari Parfums (France)
Blood Sweat Tears by Atelier De Geste (USA)
Artisan – Art and Olfaction defines an artisan perfume house as a perfumer-led business, where the perfumer creates the scents him or herself in hand-made batches, and oversees all aspects of production and marketing. The Finalists:
John Frum by Aether Arts (USA) Amber Jobin – CaFleureBon had the pleasure of introducing Amber Jobin to the world !
Mosaic by Imaginary Authors (USA) Josh Meyer
Lampblack by Bruno Fazzolari (USA) Bruno Fazzolari
Calling All Angels by April Aromatics (Germany) Tanja Bochnig
Owl by Sweet Anthem Perfumes (USA) Meredith Smith
Golden Hour by Artemisia Natural Perfumes (USA) Lisa Fong
Vesper by MIKMOI (USA) Michael (Mik) Coyle
Blackbird by Olympic Orchids (USA) Ellen Covey
Sensei by Piotr Czarnecki (Poland)
Magnolia Esxentialis by Cristiano Canali (Italy/France)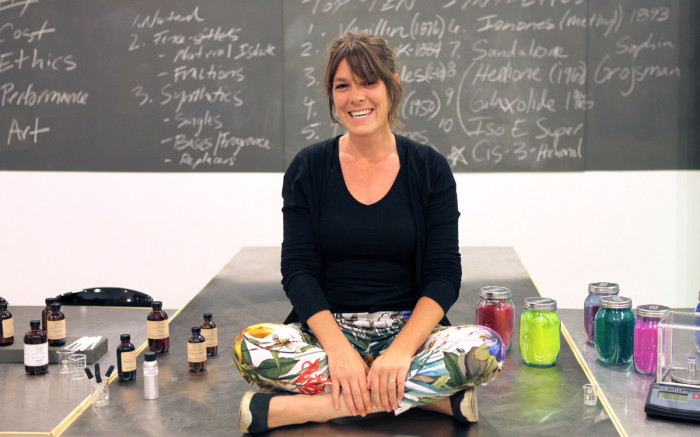 Saskia Wilson-Brown
A terrific list of perfumers and fragrances and I wanted to know more. Director Saskia Wilson-Brown answered my questions regarding the evolution of this competition and how it was different from others in the fragrance and beauty world.
Stevie Wilson: I am intrigued by "blind-judging". How was that structured?
Saskia Wilson Brown: We received each submission in four vials. If there were labels attached, we removed them and replaced them with a tracking number (for instance I-007 for an independent perfume, or A-056 for an artisan one). The vials were accompanied only by a statement of intent from the perfumer– where we obscured all names with a sharpie. (See attached photos to see what the judges saw when they came into judge. http://ow.ly/vUzr0 )
The selection of the Art and Olfaction Awards judges differed from traditional judging practices. The competition had preliminary judges to select the finalists and then a finalist judging panel to select the winners. While the judges came from a diverse group that includes various experts, critics and scientists, this group included peers of the entrants as well. All judges reflected a love of scent and understood the outcome was to be transparent without any of political elements seen in other competitions.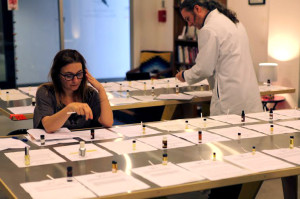 Sherri Sebastian of Sebastian Signs is a judge…here at the submission table
Why blind judging
SWB: We chose to implement blind judging for two reasons:
1. To remove personal bias
2. To level the playing field
When you have to assess perfume based solely on the scents themselves, rather than the marketing and without knowing who's behind it, it means that an excellent perfume from a house that has no marketing budget whatsoever is being assessed in equal measure to a perfume from a larger independent house with plenty of razzle-dazzle. They compete on the same level, to a degree. It seems more sporting. I also had a few very great, very honest and very dedicated advisors who I ran everything by as I developed the idea — the formidable Mandy Aftel, Tara Swords from Olfactif.com, and Franco Wright and Adam Eastwood from Luckyscent.com and the Scent Bar. They helped keep the idea on the right path, and were forgiving of my naiveté.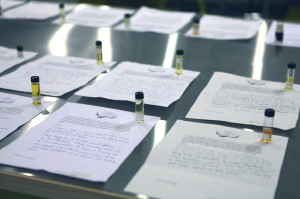 How did the actual judging take place? What was the process?
SWB: For preliminary round, there's a very thorough description here: http://ow.ly/vUzr0
For the finals round: When we the list of finalists, we prepared five packages of the anonymous vials, and sent them to the finals judges scattered around the world. They had a few weeks to make their assessments, and they filled out a form similar to the one filled by the preliminary judges. We then tallied the scores to determine the winners, which we will announce April 25.
Many of the readers of CaFleureBon are familiar with quite a few of the finalists, so we thought readers would find it interesting to get their take on the competition and additional insights into them as olfactive artists. I posed three questions, the first on how they viewed trends in the fragrance world, the second which offered insight into the scent submitted for the competition and the third on what inspires their work. (These are excerpts from their very in depth and much appreciated answers).
On the direction of trends in the fragrance world:
Mik (Michael Coyle) and Yosh Han
"I believe the fragrance world is where the beer industry was in the 80s… I think we will and do see more and more interest in unique, handcrafted works. I'm excited to be a part of that and to help push the envelope on what can be done and worn across genres and genders". –Michael Coyle MIKMOI (Artisan)
"Consumers are looking towards niche, independent and artisanal perfumers now for creativity, story-telling and inspiration… In a way, the person wearing the fragrance becomes a character in the story telling – that's the signature piece people are looking for. Consumers want to identify with the products they're choosing to wear. With globalization, there is so much same-same and fragrance is still one way to stand apart and be unique, after all, the skin is the last ingredient! "-YOSH Han, Eau de Yosh,( Independent)
Francois Dusquesne and Amber Jobin
On The Fragrance submitted for the Competition:
"FR! 01/02 is made by Julie Massé, a very young and talented perfumer. Her tuberose story is simple, light and easy yet extremely qualitative. Simplicity is quality for me. There's something very special about the way Julie Massé created a new approach to well loved ingredients"–Francois Duquesne, CEO and Cofounder, Fragrance Republic (Independent)

"John Frum was based on the Burning Man art theme for 2013, Cargo Cult. Being able to translate such an abstract concept to perfume and finding an unusual ingredient (Kava Kava) sourced from the actual geographical location of a cargo cult made it much more personal to me and expanded my awareness of another culture". -Amber Jobin, Aether Arts (Artisan)
Tanja Bochnig and Francois Merle-Baudoin (Not pictured)
What inspires you in the fragrance world?
"Mandy Aftel's book about perfumery has inspired me, although I have never met her, nor smelled her fragrances. But she is a pioneer in the natural perfume world and has changed a lot for us natural perfumers. Yet again my biggest teacher is NATURE".- Tanja Bochnig, perfumer/owner April Aromatics (Artisan)
"I evolve with times in creating clean modern and fresh fragrances by using the traditional method. My interest is to create natural fragrances"-Francois Merle-Baudoin for Fragrance DuBois.
Thanks to the Institute of Art and Olfaction's Saskia Wilson-Brown and the finalists who took time out to answer my questions. More photos and information are available on the Institute of Art and Olfaction website: http://ow.ly/vUzr0
I am looking forward to bringing you the Event report after the competition. Good luck to all and I am looking forward to meeting everyone April 25, 2014. Special Thank you to Michelyn Camen for her assistance on this article and inviting me to be a Guest Contributor for Cafleurebon.com
Stevie Wilson, www.LA-Story.com