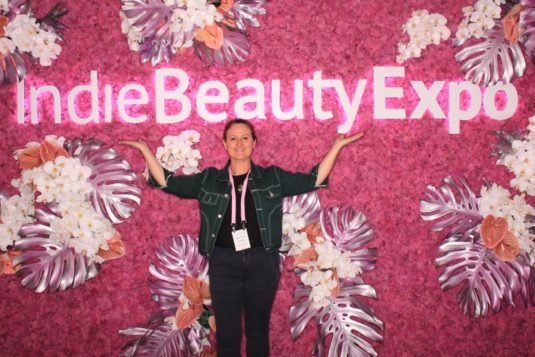 Maggie Mahboubian at Indie Beauty Expo L.A. 2018 Show
In the two years since I last covered Indie Beauty Expo NY for CaFleureBon there have been shifts and changes in the industry that manifested themselves clearly in the Indie Beauty Expo L.A. 2018 Show that was held January 24th-January 25, 2018. This time around I did not have the pleasure nor the benefit of walking the show with Michelyn, whose instincts guided us. Instead, I ploughed through the Indie Beauty Expo L.A. 2018 Show and all its 150 brands emerging 5 hours later, exhausted and overwhelmed, but impressed. Since it was virtually impossible to spend quality time with any one brand, it felt as though I were having an out of body experience, flying overhead like a drone scanning the landscape, taking in the BIG PICTURE. It was immediately clear that the Indie Beauty Expo L.A. 2018 Show had perfected their game, fast becoming the hype beast of trade shows. The LA Expo was organized, beautifully executed and well attended. From a consumer standpoint there was something for everyone in every category, from hair to makeup, skincare, nails, supplements, grooming tools, men's products, etc.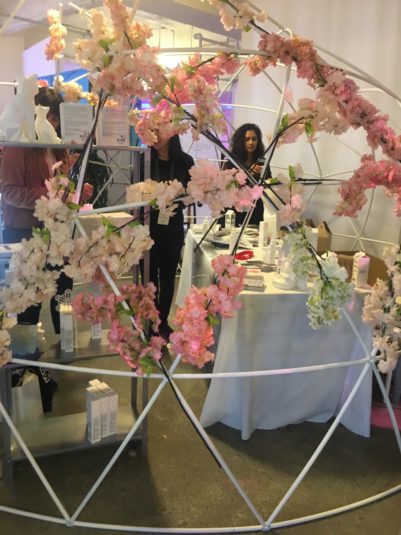 The Snow Fox Booth at Indie Beauty Expo L.A. 2018 Show
There were more startups this year and fewer upstarts indicating indie beauty brands are finally able to finance their launches with substantial investments. This was confirmed by the sheer number of brands with elaborate displays, contract manufactured products, robust sampling programs and expensive marketing materials. Make no mistake, indie beauty has gone mainstream! Most likely this is due to the growing interest in independent brands. Once the domain of Anthropologie, Urban Outfitters and Fred Siegel, mega retail stores like Sephora, Neiman Marcus, Nordstrom and Target are now focusing on indie beauty. Suddenly, it seems, everyone wants a piece of the pie. Just last month, Schmidt's Deodorant was purchased by Unilever. Yet they had a booth at the show. This is good news for Indie brands that have followed their dreams and now have a chance to make money in a highly competitive industry. But what does it bode for creativity? Indie beauty was born as an alternative to commercial beauty with out-of-the-box thinking. Can indie brands make money on a commercial scale and still innovate?The following is a shortlist of camera ready brands that were polished and ready for their closeups, prepared to compete on a national scale. In addition, there was a glut of international brands hungry to conquer the US market. From A-Beauty (Australian) to K-Beauty (Korean), international brands were a visible force.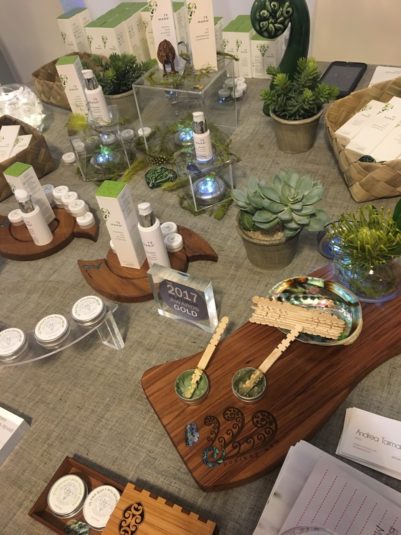 Te Mana at the Indie Beauty Expo L.A. 2018 Show
Dr. Roebucks has been around for 30 years and has a cult following in Australia with a plethora of products addressing every concern, but I didn't notice anything unique to Australia. Te Mana, a New Zealand clean beauty brand, on the other hand, impressed me with their formulas featuring wild harvested seaweeds and merino wool collagen. I loved the incorporation of native raw materials into their hand crafted creations giving this brand an authentic feel and distinct angle.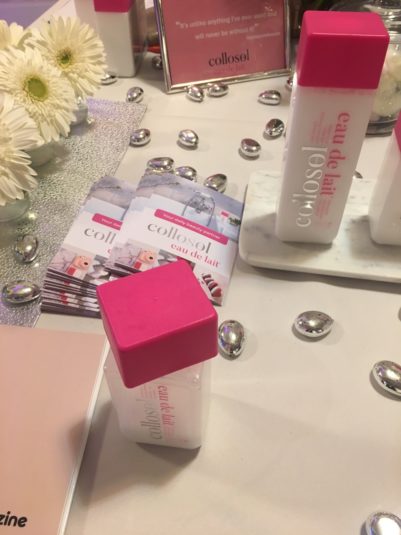 Collosal Eau de Lait
Nothing beats classic French skincare and Collosal's Eau de Lait definitely had a certain je ne sais quoi. A milky micellar water that removes stage makeup, Collosol was invented in Paris in the 1950's. The smell transported me to the Paris of my youth, but the updated minimalist packaging made me feel "eau" courant. I wouldn't be surprised if Collosal were to become a household name here in the US.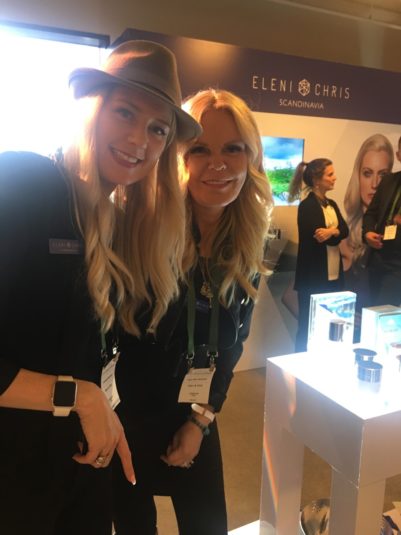 Nordic skincare is still having a beauty moment and no wonder! Who doesn't like the idea of arctic glacier water, birch sap and cloudberries? Lumene, a classic brand from Finland founded in 1970 transports us to this luminous land of snow queens. Speaking of which, Eleni & Chris, the mother/daughter duo with gorgeous skin offer their Scandinavian sensibility that makes one feel like a Hans Christian Andersson mermaid. Hydration is key.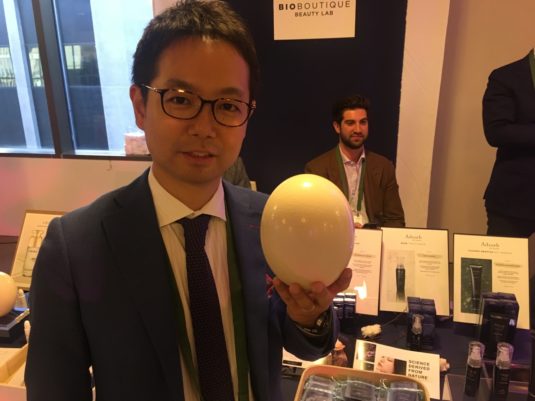 Founder of Bio Boutique Beauty Lab holding an Ostrich Egg
Harnessing antibodies from ostrich egg yolks to create anti-aging skincare? This was, by far, the strangest concept I encountered, especially during flu season. But this Japanese company, Bio Boutique Beauty Lab, claims antibody technology can fight damaging free radicals that result from environmental assault. Yet the "anti" stance seemed a bit passe now that Allure magazine has declared their pro-aging stance.
Photo courtesy of Fatco©
Believe it or not, strangeness was not unique to the European contingent. After all, this is Indie Beauty where the stuff dreams are made. The American brand FATCO was probably the only Paleo certified skincare brand featuring the use of grass fed beef tallow in their products. Yes, you read that right. Fat is your friend and can feed your skin.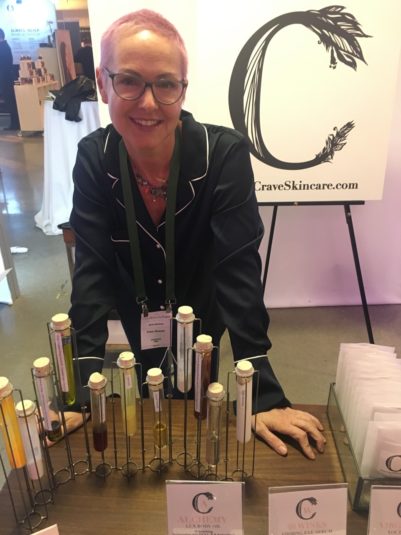 Crave Skincare incorporates CBD, a non-psychoactive cannabinoid from hemp that has anti-inflammatory, anti-aging, antioxidant and antibacterial effects
From paleo to vegan food continued to inspire brands. But there's a new kid on the block; cannabis. Hemp oil, CBD and activated hemp extract are poised to explode in the coming year, the result of the legalization of recreational marijuana. Mary's Nutritionals offers standardized doses that can be absorbed through the skin. This brand's tagline says "It's not alternative medicine. It's an alternative to medicine", promising to help everything from pain relief to hyperactivity, autism, reducing the effects of chemotherapy, fibromyalgia and MS. Crave Skincare, another cannabis centered brand incorporates CBD, a non-psychoactive cannabinoid from hemp that has anti-inflammatory, anti-aging, antioxidant and antibacterial effects. Apparently CBD is absorbed through a network of receptors in our skin. Who knew?!
Broome Products LipKRAK via Broome
Crave does not mask the grassy green scent of hemp in their skincare which brings us to a new/old trend in beauty: fragrance free. More brands are doing away with fragrance, including essential oils in order to reduce the likelihood of a reaction. As a result products can have a distinct odor depending on the raw materials used (hello, raw shea butter), but customers are learning to appreciate this. Broome Products' LipKRAK has no added fragrance which allows its combination of Florida beeswax and honey to shine through.Will this mark the end of aromatherapy as we know it?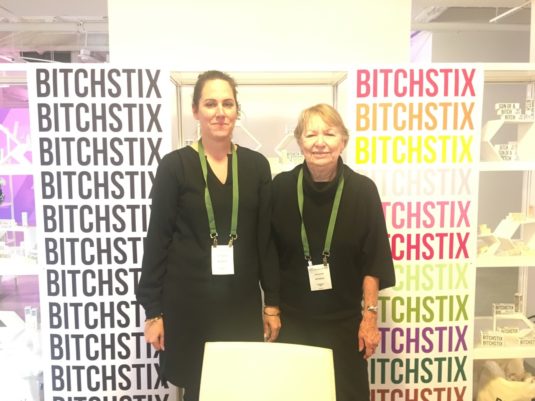 BITCHSTIX founders
Female empowerment has captivated the Indie Beauty Expo L.A. 2018 Show Following the Pink Pussy movement that subverted a taboo female term, BITCHSTIX relies on shock value to draw one into their story. Purchase of their lip balms helps support survivors of domestic abuse and sexual assault. Secret Service embellishes their line of accessories with shocking slogans like "Fuck Hair" (on their tweezers) and "Millenial Millionaire" (on their makeup totes). There's nothing revolutionary about these products, just a huge dollop of attitude signaling an alignment with empowerment politics.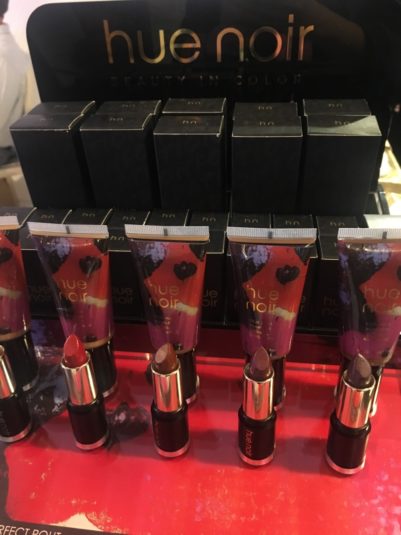 Hue Noir
Women of color have been rockin' the beauty industry, so it was great to see brands like Hue Noir and Unsun Sunscreen offer products geared towards people of all colors. Inclusivity, personified by Fenty Beauty's mandate is not a passing trend, but rather something we will see more of in the future.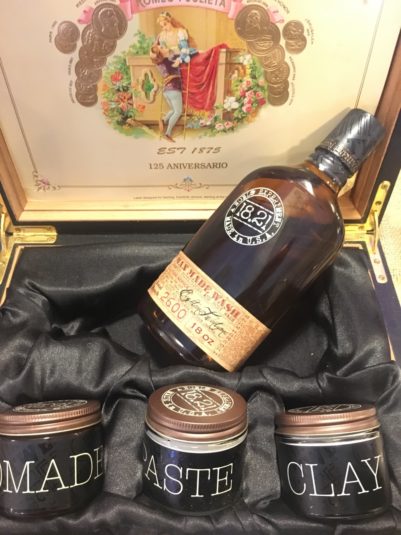 18.21 ManMade
The dudes really had it goin' on. Vitruvian Man and Way of Will exemplified a minimalist architectural style while BIG BOY, Maapilim and 18.21 ManMade celebrated masculine sexiness. I was especially taken by 18.21's cheeky branding with their #SpoilHim hashtag. Vintage whiskey, cigars and barbasol are playfully referenced in their line of shampoos, pomades, pastes and fragrances.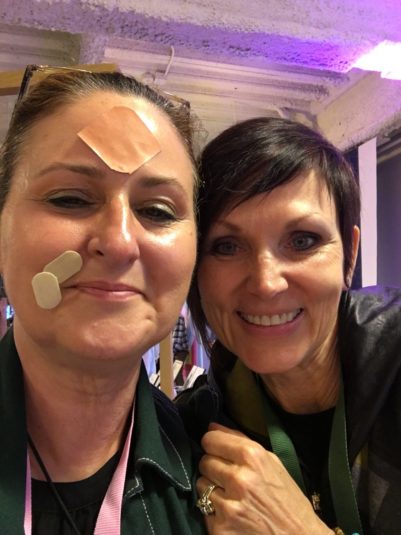 Maggie wearing Frownies© not that she needs them
On another vintage note, it was fun meeting the Frownies "family", fourth and fifth generation women who are continuing the business begun in 1889. A Hollywood staple (used by Olivia de Havilland and Gloria Swanson) whose formula remains intact, Frownies© are the precursor to the beauty mask craze that has taken over the market. For a more high tech approach to smoothing wrinkles Fillerina delivers targeted doses of hyaluronic acid that promise to fill in face "depressions". They even have a syringe to prove it!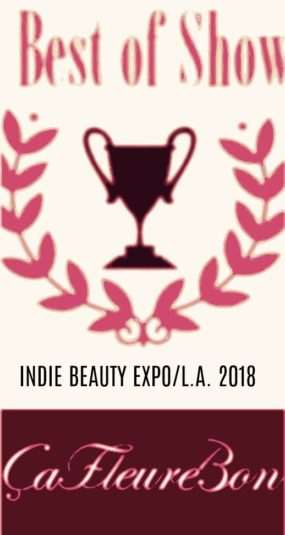 This brings us to our best in Indie Beauty Expo L.A. 2018 Show Two favorites stood out, one for its Vegas style bling and pizzaz, the other for its overall elegance.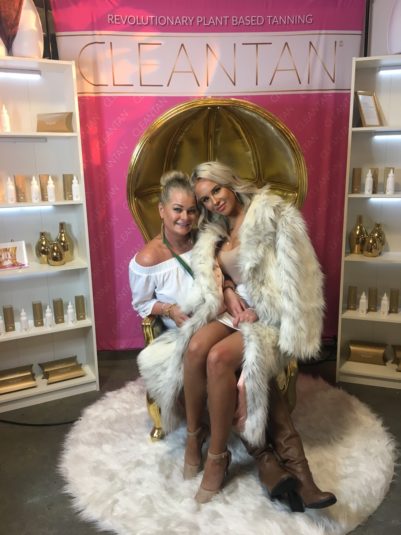 CLEANTAN
CLEANTAN is a pioneer in the sunless tanning industry by "setting new standards with eco-elegant tanning formulas". Their sexy, sassy marketing coupled with an exceptional product made from plant based pigments is a win-win or as they say "a tan with benefits".I know this is on Michelyn's, (the self-tanning expert) MOST WANTED list.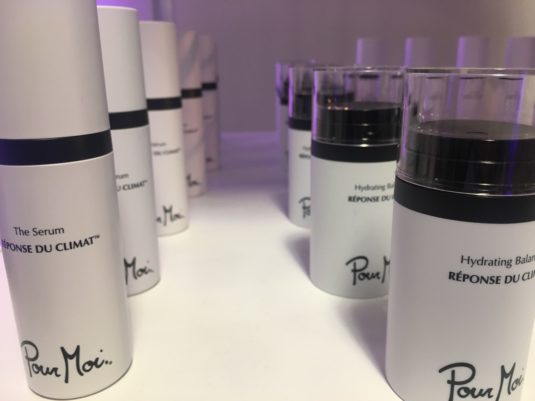 Pour Moi is a climate specific skincare line that is beautifully formulated and presented. Their clean, elegant packaging is functional (utilizing airless technology) which allows them to minimize preservatives. Pour Moi aims to be a safe skincare line and yes, they are fragrance free. An American company that manufactures in France, Pour Moi offers the best of both worlds!
–Maggie Mahboubian, Contributor and Founder of Lalun Naturals
All photos by Maggie unless otherwise specified
To learn more about the Indie Beauty Expo click here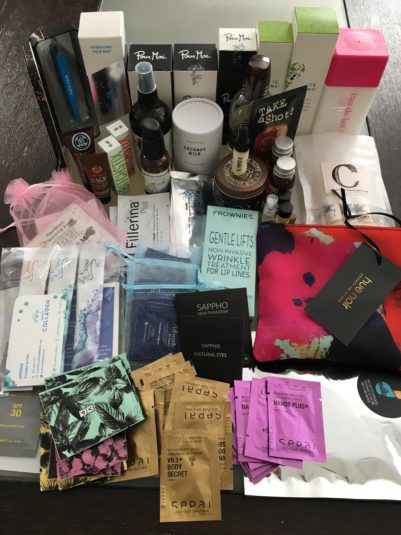 Indie Beauty Expo beauty, skincare, makeup and haircare
Thanks to the exhibitors we have a ginormous swag bag representing at least 20 brands, many Best of Indie Beauty Expo L.A. 2018 Show and some full size products for a registered reader in the CONUSA. You MUST register click here. To be eligible please leave a comment with which products you want to try, trends, or what you enjoyed about our event report. Draw closes February 8, 2016.
Special thanks to Maggie who wrote this while she had the flu and could barely speak. That is dedication!!
We announce the winners on our site and on our Facebook page, so Like Cafleurebon and use our RSS option…or your dream prize will be just spilled perfume