Sara Horowtiz Thran of Sarah Horowitz Parfums at her custom blend bar
I recently had the honor of sitting down with Sarah Horowitz Thran for a Blending Bar service at her studio nestled beside a pond in Westlake Village outside LA. My single goal: Mom in a bottle. Seeking out a signature perfume is an act of self expression; seeking one out for your persnickety mother is one of angst. Sarah Horowitz-Thran has been making perfume of fleeting scent memories and associations for over 20 years (with joy and amusement at your inevitable frustration in describing how it should "smell like this, but not like that.")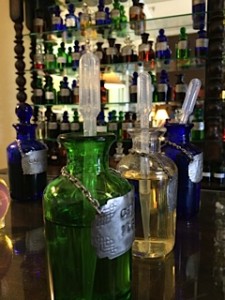 Essential Oils Photo: Daniel Krasofski
The immense Blending Bar greets you as you enter, an actual bar whose wares have been replaced by multicolored apothecary jars with metal placard labels, the punched metal boasting contents from Haitian Vanilla to leather accord- already a place of endless possibilities. Sarah is 'easy-peasy.' She's enthused, engaged and completely genuine in her desire to hit your olfactory mark. She speaks with the kind of offhand wisdom which only years of applying your craft can produce: you are lulled and elicited from; collecting memories which dictate the colored bottles of fragrance oil Sarah is starting to place on the counter. "Custom work gives me the greatest pleasure, while everyone may nor be a perfumer, everyone wants to express a vision of themselves, be that for a brand or for one body." Custom or branding perfuming seems to be an essential similar endeavor, although when working for someone else versus her own work, she observes, "…working for someone else, I know when the work is done."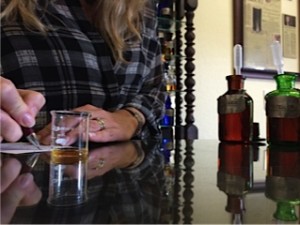 Sarah Horowitz-Thran custom blending a signature perfume Photo: Daniel Krasofski
We discuss everything in my mom's scent lexicon (when I mention my perceived range of perfume she covets, from an iconic tuberose to a skin care line's uber-clean soap scent- Sarah is on board, inquisitive but never leading), her lifestyle ("Oh, you're mom's a CLEAN dirty girl."), and seemingly random questions about water and her bathroom. They are anything but random questions. While apprenticing at Mane, Sarah created an aromatic compound she now calls Pacific Musk- it is added to the bottles on the counter, and I sit back to watch Sarah's ubiquitous smile deepen into a kind of bliss I recognize as the joy of creation. She is shaking a bottle as all mothers prepare a feast for someone who is hungry, a mouilette is passed…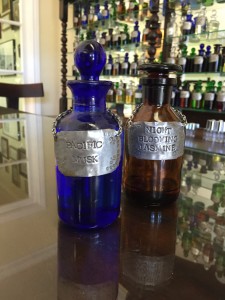 Pacific Musk and Night Blooming Jasmine Photo: Daniel Krasofski
Suddenly, I am in my mother's bathroom- there is water running. I do not smell a replica of one of her perfumes; I am smelling the entirety of her toilette (clean cotton towels, cosmetics, her penchant for jasmine and tuberose- everything clean and in its place. (Later in the dry down, I have returned to mom's bathroom- empty at the end of the day, waiting for her return; an olfactory feat I still cannot fathom.) There are, briefly, no words. When I manage to point out the scent of running water, Sarah explains, "Pacific Musk."
Sarah is a multitasker, retaining important details of your signposts and minutia- as she is relating to me the creation of her aroma compound; she has bought out a familiar bottle of jasmine absolute- the botanical. "Naturals, to me, are the jewel in the setting of fragrance oils," she smiles and we watch a pipette drop a small stream of pure jasmine into the bottled world of my mother. Here Sarah and I have become somehow symbiotic in our quest to immortalize mom in her files for future products, revisions (one needed) or reference. The jasmine brings vibrancy, a quintessential presence which is my mother. Our holy grail is found and filled. Perfect Mom.
Notes: Jasmine Grandiflorum (India), Night Blooming Jasmine, White Gardenia, Tuberose, Pacific Musk, Egyptian Musk, China Musk
–Einsof, West Coast Contributor
Editor's Note: Happy 20th Birthdayto Sara Horowitz Parfums. I was the first journalist to interview Sarah in 2007!!! If you missed CaFleureBon's Profile in Perfumery about Sarah Horowitz Thran I believe you will enjoy reading it here. Einsof's Mom wore Vinatge Chantilly Perfume.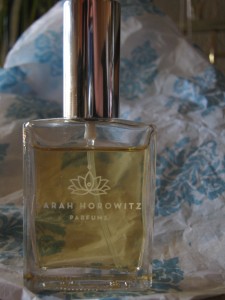 Thanks to Sarah Horowitz Thran we have 1 ounce of Perfect Mom or the $99 online Fragrance Journey where you can create your own perfect scent (1/2 oz epd or mini oil) for draw for a US Reader. To be eligible please leave a comment with what scents, botanicals or perfumes you associate with your own mother and if you would like to win Perfect Mom or embark on your own scent journey. . Draw ends November 9, 2014
We announce the winners only on site and on our Facebook page, so Like Cafleurebon and use our RSS option…or your dream prize will be just spilled perfume.