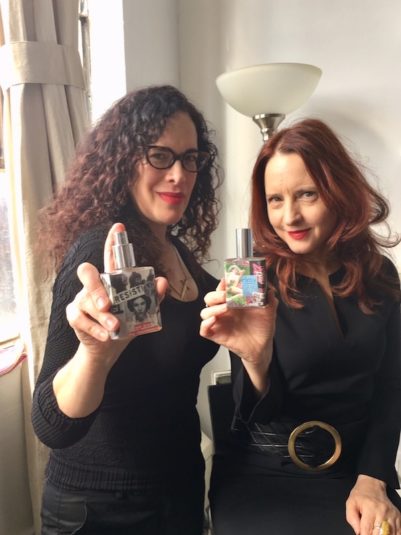 Alexis Karl and Maria McElroy of House of Cherry Bomb (photo by Valerie©)
Collaboration can be tricky, yet Alexis Karl, Brooklyn based Artist/Musician/Perfumer/Professor/Lecturer, and Maria McElroy, American-born Artist/Perfumer/Japanophile/ Tea Sommelier/ Master Flower Arranger/ Aromatherapist/ NYC/ Kyoto/ Marrakech make it look not only easy, but fun. They each maintain their own distinct fragrance lines, Maria with Aroma M and Alexis with Scent by Alexis, but their joint-effort has led them to their alter-ego, House of Cherry Bomb (HOCB). Through HOCB they have created a myriad of fragrances with distinct collections namely: Atelier, Immortal Mine II and most recently Revolution Perfumes.
In February, HOCB was collaborating with visual artist Jared Boechler, at the Sheen Center in NYC, and created a series of six impressive scent compositions that connected to and illuminated Boechler's still life paintings. The exhibit made me want to find out what brought these two together, and learn more about their process.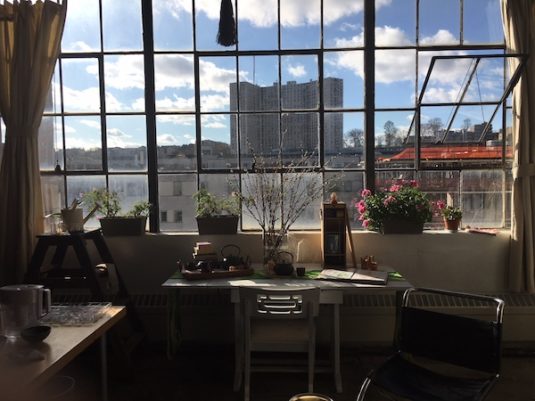 Maria's Atelier photo Valerie©
We met at Maria's gorgeous atelier in Hoboken, New Jersey and it didn't take long before we were steeped in conversation. Their collaborative spirit is fun-loving and fast-paced, with equal measure of purpose, skill and deep knowledge about perfume, art history, and politics. Our conversation hit many topics: siblings, inspiration, travel, and fragrance trends, and American perfumers.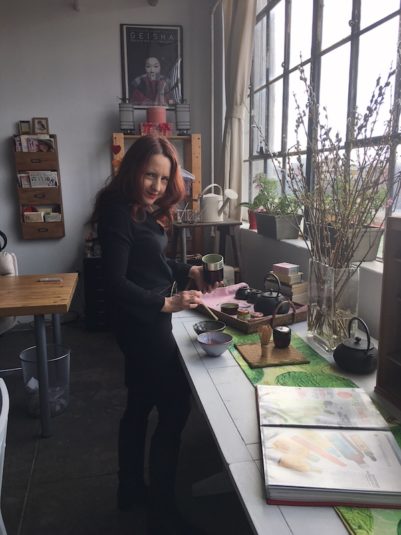 Maria McElroy preparing matcha tea in her Atelier (photo by Valerie©)
They practically finish each other's sentences. It's no wonder that they are celebrating 8 years at House of Cherry Bomb. Together they have developed a "comforting reliance on truthful feedback" this trustworthy manner is what they describe as a kind of "writing circle for the nose". They are each-others scent confidantes. Their synergy is palatable and powerful, with a good dose of howling laughter. Yet, I wondered how two opinionated artisans create a perfume together. Alexis explained that once they target their inspiration, a kind of smelling volley begins, a back and forth that eventually settles into a precise formula. Inside each fragrance there isn't a single note that is arbitrary, every note has meaning.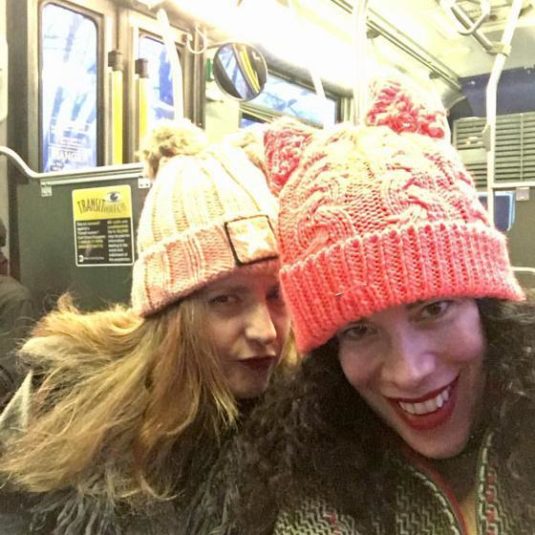 Alexis Karl and Maria McElroy of House of Cherry Bomb in Washington D.C.
This idea rings true in their House of Cherry Bomb Revolution Perfumes. In January 2017 Alexis and Maria marched with over two million women on Washington, DC. Once back home and inspired by the Women's March, the spirit of resistance and desire to take action they created two House of Cherry Bomb Revolution Perfumes: Pussy and Resist: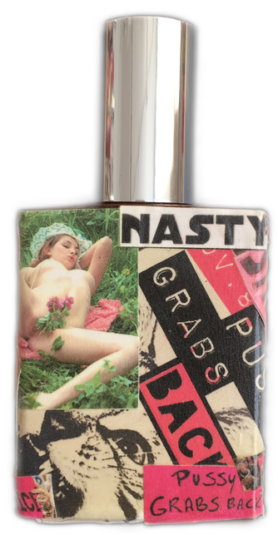 Pussy is a beauty. A dramatic mix of leather, musk, honey, fig, tuberose, and labdanum, it is operatic in the way it lives on the skin and air.
Resist is steely, stark, yet it's not distant and cold, rather its jasmine heart is abundant, and its smoky radiance makes this writer feel determined. Notes include: metal, smoke, wood, oud, cement, jasmine, and blood. In June 2018, both will launch in 8ml travel flacons.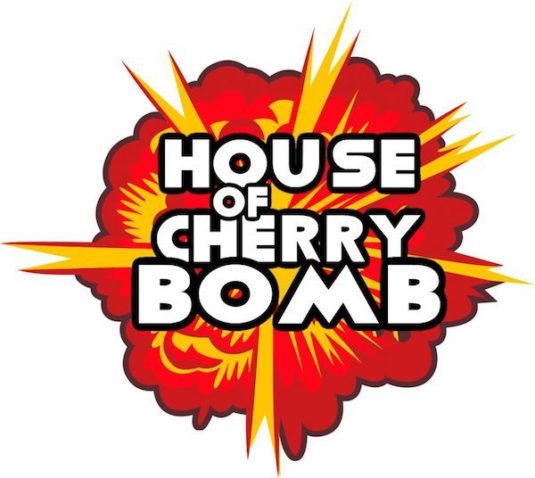 Oddly, their admiration began before they ever met; they were both drawn to each other's packaging. Alexis with her hand-gilded bottles, and Maria with her bottles wrapped in Japanese Yuzen paper. When they finally met at a Bendel trunk show they instantly bonded, and soon after began to hang-out. Within six months they decided to start a line together, their first fragrance was the purposely idiosyncratic and kitschy, Cherry Bomb Killer Perfume. No one was making anything like it at the time. Pacesetters now and then, always allowing scent to lead the way. After Maria's delicious Matcha, she brought out some of her treasures from Morocco for us to smell, the three of us smelled flower of honor together. Appropriate given their respect they have for each other and given how deeply they want each other to succeed. We noticed the flower of honor vial was slightly cracked, and dripping. Concerned, Alex said better decant that. Maria said, let's put it on first. Alexis continued, wow this would be beautiful with a deep labdanum, cypress, and oakmoss……
Valerie Lee Vitale, Guest Contributor, Author and Perfumer for Soliflore Notes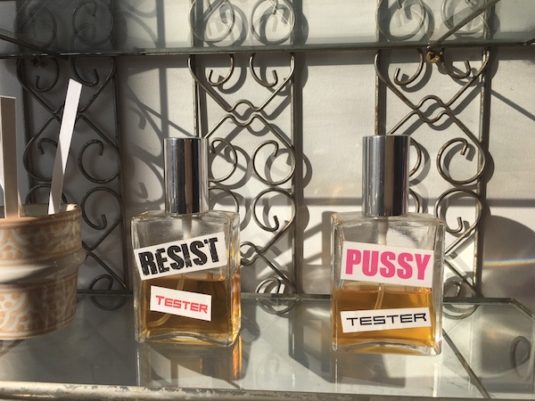 House of Cherry Bomb Revolution Perfumes (photo Valerie©)
Thanks to House Of Cherry Bomb, there is a draw in the U.S ONLY for an avant premier sample set of House of Cherry Bomb Revolution Perfumes. To be eligible you must be a registered reader (register here), you must be registered or your comment will not count. Are you familiar with the perfumes of Maria McElroy and Alexis Karl? What do you think of their creative collaboration on House of Cherry Bomb Revolution Perfumes? Draw Closes 5/29/2018
We announce the winners only on our site and on our Facebook page, so like Cafleurebon and use our Blog feed…or your dream prize will be just spilled perfume.