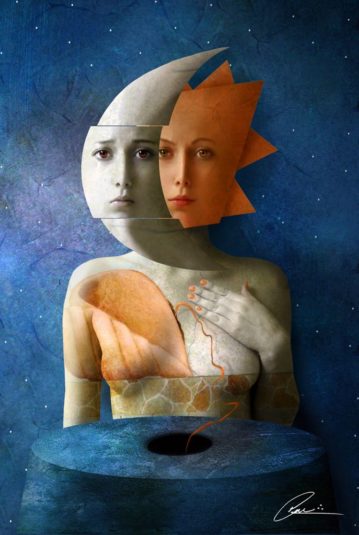 Digital art by Mariana Palova, Musetouch Visual Arts Magazine
In Taoist philosophy, the concept of Yin and Yang is one of simultaneous contrast and integration, of complementarity and opposition, represented by dark and light, moon and sun, concept and thing. As Histoires de Parfums describes it: "every element in the universe has its own opposite: feminine-masculine, day-night, fire-water, natural-synthetic…Yin & Yang are two complementary forces that are interdependent on one another. They are two aspects of the same reality."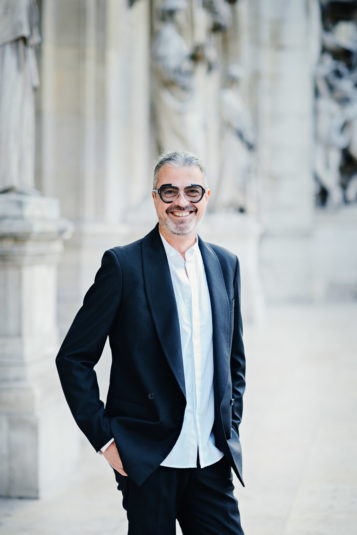 Histoires de Parfums Gerald Ghislain
And indeed, This is Not a Blue Bottle 1.4 and 1.5, the newest iterations of Creative Director Gerald Ghislain's "This is Not a Blue Bottle" series, each represent a distinctively different style and use of ingredients. Not only do the two fragrances contrast with each other, they have an internal yin and yang. Histoires de Parfums This is Not a Blue Bottle 1.4 and 1.5 are made up of little contradictions, notes that merge and part before jutting up against each other and receding in ripples.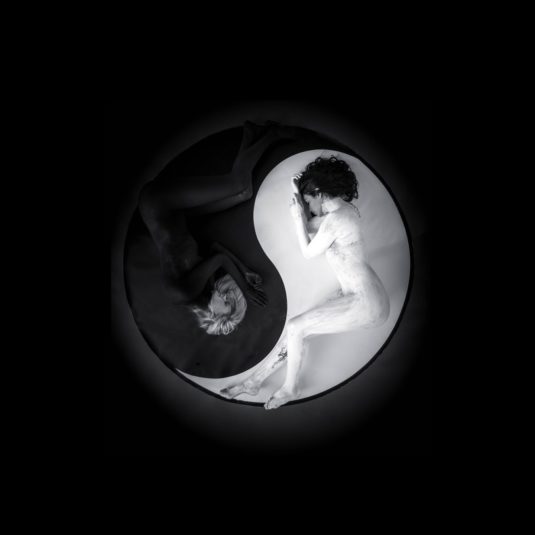 Yin Yang by Cristina Mirzakhanian©
"On the blank leaf glued to the inner back cover I drew the double curve within the circle, and blacked the yin half of the symbol, then pushed it back to my companion.'Do you know that sign?' He looked at it a long time with a strange look, but he said, 'No.' 'It's found on Earth, and on Hain-Davenant, and on Chiffewar. It is yin and yang. Light is the left hand of darkness… how did it go? Light, dark. Fear, courage. Cold, warmth. Female, male. It is yourself, Therem. Both and one. A shadow on snow.'" ― Ursula K. Le Guin, The Left Hand of Darkness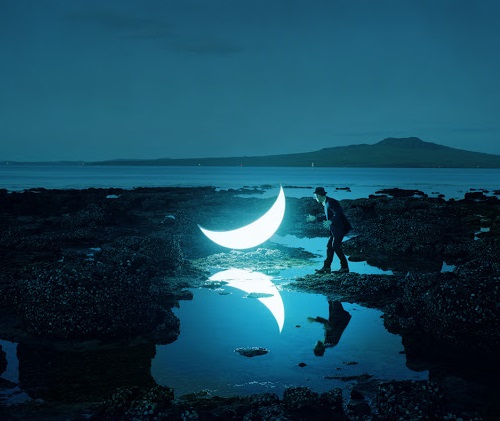 Private Moon installation by Leonid Tishkov©
With its dreamy, purple-grey lushness,1.4 is perfumer Sylvie Jourdet's rendering of yin, which is composed of 100 percent natural ingredients. This is Not a Blue Bottle 1.4 is fruit just at the tipping point of over-ripeness mulled with sweet spice and soaked in resins. Jourdet brilliantly captures the coolness of yin in the opening. That anisic, rain-soaked smell that lavender has on a spring morning, with hints of soil and pine, breathes out of the bottle. At the same time, a strange combination of notes, as unsettlingly lovely as a minor key can be. Cardamom, with its charcoal-wood sweetness, curls around the lavender and softens it into a charcoal smudginess.
The Tide by Seraph-Eden Carr©
Then come the ripe fruit smells; the sleepy syrup of davana, with its overripe tree fruit, and fleshy ylang. Pairing the chilly, spruce-tree aroma of lavender with the banana-butter sweetness of ylang is inspired. As This is Not a Blue Bottle 1.4 warms on the skin, the resins surface like oil paint on water, and yin begins to beckon to yang. Sweet and savory notes play off each other, while the cool of the lavender brushes up against the hint of sweat brought by labdanum. The damp leaf of patchouli and cool crushed lavender, the smells of plants grown under a shy sun, juxtapose and merge with the warm spice and richness of the resins, creating an internal ebb and flow of cool-warm, masculine-feminine, earthly and lunar. Notes: Davana, lavender, cardamom, ylang-ylang, tonka bean, benzoin, labdanum, patchouli and opoponax.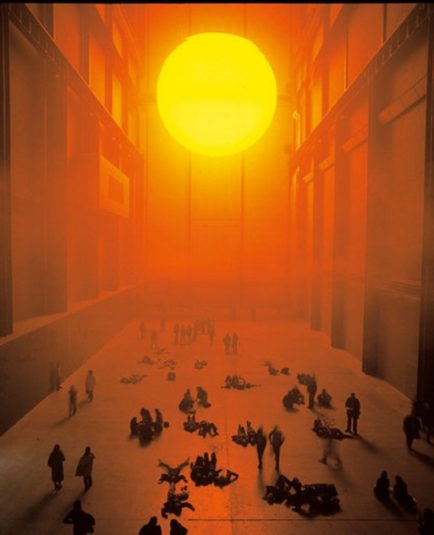 Olafur Eliassons The Weather Project, Tate Gallery, 2003©
If you smell Histoires de Parfums This is Not a Blue Bottle 1.5, as soon as 1.4 finishes her trajectory, it is as momentarily startling as listening to Philip Glass right after Ravel. After the earthiness of 1.4, there is starkness in the absence of familiar, notes. 1.5 an oblique contrast; a perfume created entirely of synthetic molecules, hinting at ideas of nature rather than nature itself. This is the embodiment of Yang, with its unflinching brightness. In the hands of perfumer Luca Maffei, This is Not a Blue Bottle 1.5 is a fragrance of waking, newness, contradiction; the glare of sun on a cold winter landscape.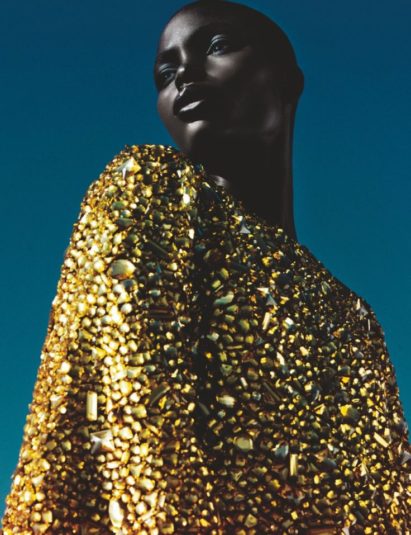 Photo by Txema Yeste for Numero, Feb 2014©
Aldehydes spark the opening like a match against flint: an abrupt, brilliant flare that is held in place by some quick-arriving lemon-petit grain citrus. Ambroxan, a bold, vetiver-like molecule, can get high-handed with other notes, but here is balanced by mineral notes that enter in alongside it. The effect of This is Not a Blue Bottle1.5 at this point is dichotomous: the aldehydes continue their glinting sunlight chorus, while the conjoining aromas of mineral, ozonic notes and ambroxan, suggest water over stone. Maffei cleverly brings the contrast of heat and chill in a mirror-image reverse of 1.4, the cool notes emerging gradually after the intense radiance of the opening. Notes: aldehydes, citruses, ozonic notes, ambroxan, musk T, karismal super, floral fantasy, ambroxan and mineral notes.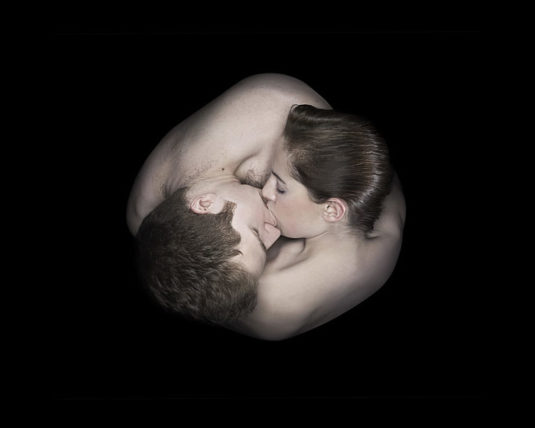 Kiss 05, photo by Andy Barter©
Both Histoires de Parfums This is Not a Blue Bottle 1.4 and 1.5 reflect and embrace each other in subtle ways. The floral, spiced fecundity of 1.4 suggests scents of things warmed and ripened under the sun. With its contrasting solar, mineral and sea notes, 1.5 alludes to the tides, drawing their motion from the moon. And it is fascinating to layer them. Spray 1.4 on top of 1.5, and the fruit note sharpens with citrus and becomes less roundly feminine, the cardamom asserting itself in tandem with ambroxan, sweetness muted. Reverse the order, and 1.5 becomes an angular fruity-spice scent, spikes of citrus and aldehyde piercing the sweetness and, unexpectedly, heightening the labdanum, becoming more female. Taken separately, each perfume holds a looking glass to the other, but is complete by itself. But together they unite their contrasting elements into something harmoniously lovely. They become an olfactory embodiment of yin and yang.
Disclaimer: Perfume samples of Histoires de Parfums This is Not a Blue Bottle 1.4 and 1.5 generously provided by the Company. Opinions are my own.
– Lauryn Beer, Senior Editor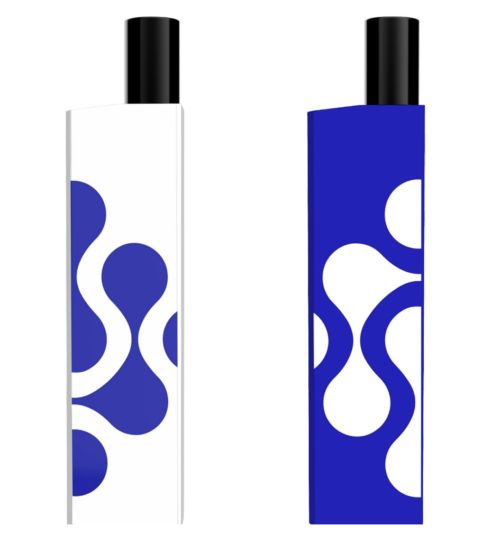 Histoires de Parfums This is Not a Blue Bottle 1.4 and 1.5
Thanks to the generosity of Gerald Ghislain and Histoires de Parfums, we have a 15 ml bottle set of Histoires de Parfums This is Not a Blue Bottle 1.4 and 1.5 for one registered reader in the U.S., EU or Canada. To be eligible, please leave a comment saying what appealed to you about Histoires de Parfums This is Not a Blue Bottle 1.4 and 1.5 based on Lauryn's reviews, and where you live. They are designed to mix together or stand-alone…what would you do? Draw ends 3.11.2018.
We announce the winners only on site and on our Facebook page, so Like ÇaFleureBon and use our RSS blog feed … or your dream prize will be just spilled perfume.