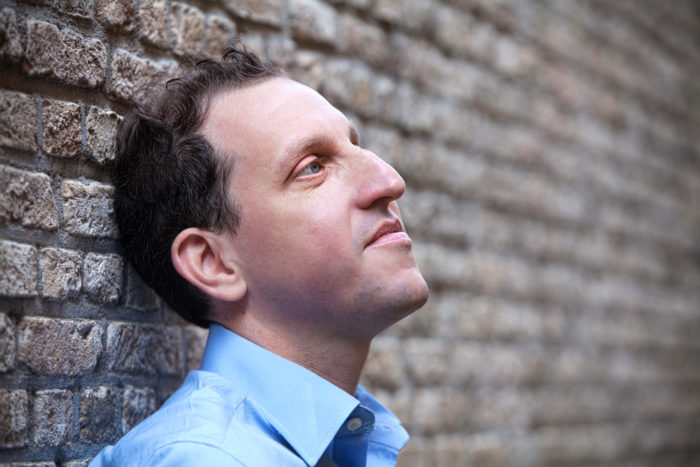 Hiram Green
Gouda-based natural perfumer Hiram Green has created the most authentic leather fragrance since Santa Maria Novella's 1901 Peau d'Espagne (I keep a well-guarded old flacon of SMN's triple extrait and have contrasted them, side by side). Hiram has created a new classic with legendary longevity: brash, swashbuckling and debonair – it positively ROARS. Those who cling to the notion that natural perfume just fades into the background will simply have to alter their opinion after experiencing Hyde. I even devised a category all its own to describe it: Edeltier. Because Hyde is a Noble Beast of a perfume.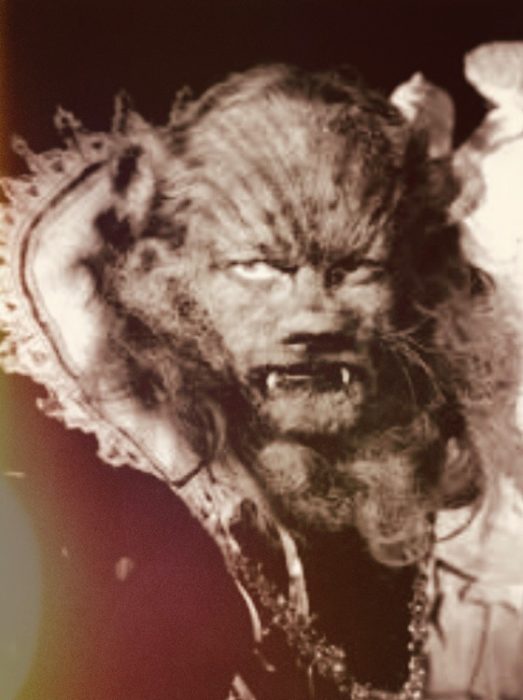 Jean Marais as La Bête apped by MC
If you are a timid soul Hiram Green Hyde is not for you. You'll need to slink away under guise of a safer, quieter, less smoky leather fragrance, my friend. You either wear this or it wears you, no two ways about it – and if you love it, it's for keeps. This isn't to infer that Hyde is sans finesse; far from it. I'd like you to envision it as the marvelous Jean Marais in Cocteau's iconic 1946 film, La Belle et La Bête (Beauty and the Beast).That sort of Noble Beast.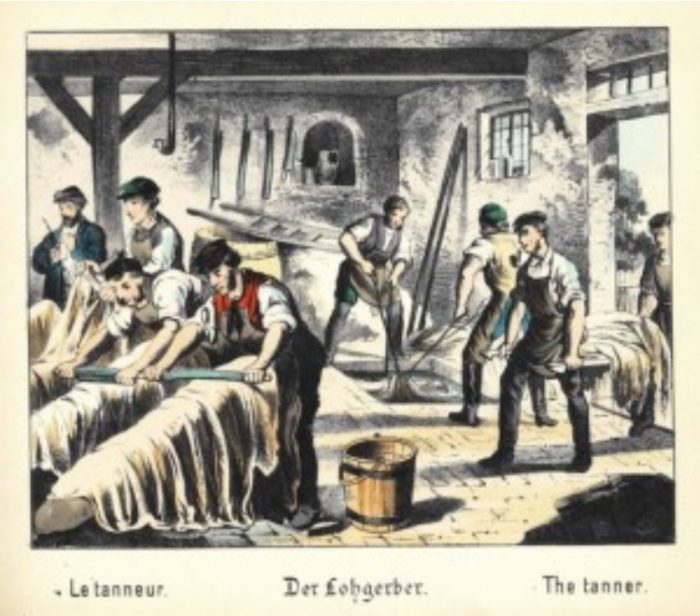 Tannery via wiki
If truth is an end unto itself, Hyde's veracity is irrefutable: tanners of yore had completed the most malodorous portion of the process long before we arrived upon the scene. There were commodious vats of urine in which skins were soaked to remove all traces of remaining hair; theythen either pounded the skins with dung or soaked them in animal brains to 'bate' or soften them.Tanning hides was referred to as a 'noxious' or 'odiferous trade' and relegated to the outskirts of town.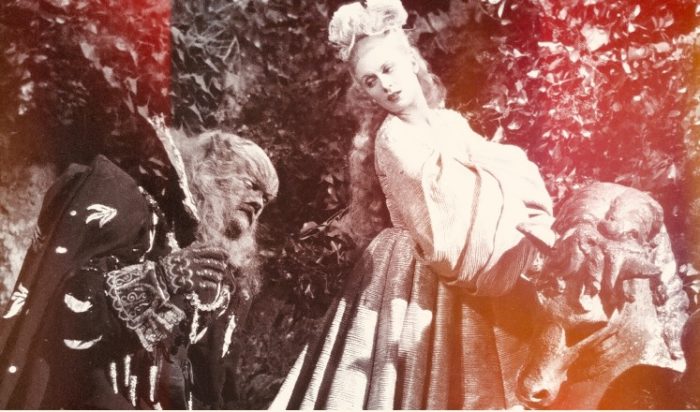 Horse scene from La Belle et La Bête
In Hiram Green's Hyde what we smell is the perfumer's art, the resurrection of olfactory memory extant since man first hunted and gathered. Bergamot and lemon glitter as they flit across a fragrant firmament in the twinkling of an eye, just long enough to bridge the dense heart/base notes. This can only mean cassie – the complex acacia blossom with its honeyed spicy (cinnaminic) balsamic drydown sprinkled with ionones for violet olfactory hue. All else is base-dense, with traditional birch tar (love it or leave it) and labdanum insinuating their smoky selves to hyperrealistic effect. At this juncture Hiram Green Hyde is scorched skins and honey-drenched, potent and intoxicating; it's bold, courageous even – are Mongols upon the horizon? Marauding tribes on horseback? You might readily envision it, smell it, even taste it – the effect is so immediate. We are not in violet/iris-tinged pastel Leatherland here. We are leather-in-earnest, hearty, robust with horses and saddles and oakmoss – oh my! Inky oakmoss is an intuitive counterpart, while a malted aspect and vanilla lend their boozy visage to the heady brew gently rounding out sharpness, acridity. Here's the thing: the morning after (15 hours later, in fact – cooking, cleaning, sleeping, etc. has occurred since application) I can still smell Hyde on my hand.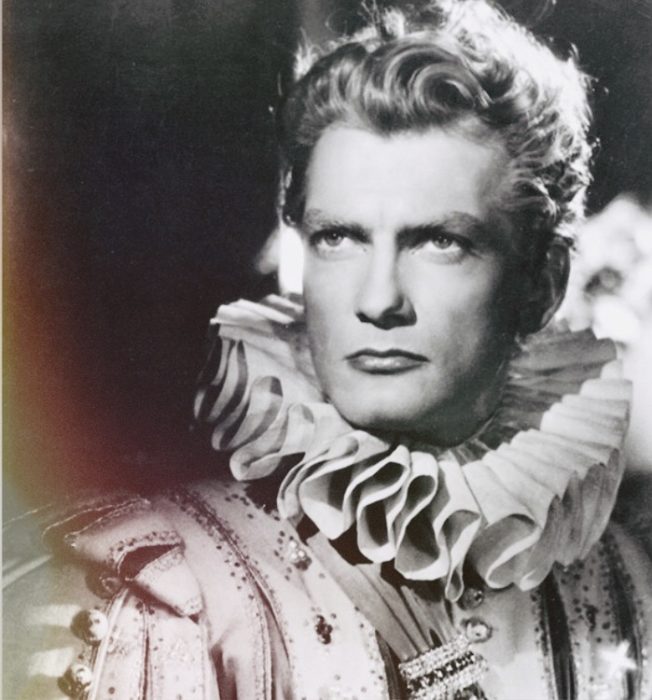 Jean Marais once he turned back from The Beast to a Prince
It has morphed into a gentler, tamer version of itself and appears more honeyed than ever, with tendrils of smoke which linger in lieu of the entire campfire. Jean Marais' sovereign has appeared upon the silver screen: elegant, suave, dashing. What a marvelous perfume this is. Arcibravo, Hiram! Hiram Green Hyde is going on my Best Perfumes of 2018 for certain…This is as good as it gets. Notes: bergamot, lemon,birch tar, cassie, labdanum, malt vanilla, oakmoss
Samples of Hiram Green Hyde so kindly provided by both Ann of Indigo Perfumery and Hiram Green – many, many thanks! My nose is my own…
~ Ida Meister, Senior Editor and Natural Perfumery Editor
~ Art Direction: Michelyn Camen, Editor-in-Chief- Hiram Green has been the recipient of our CaFleureBon Best of Scent 2016 and 2014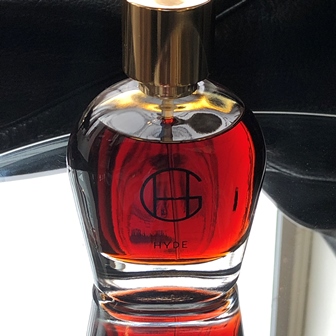 Photo by Ann of Indigo Perfumery©
Thanks to the generosity of Hiram Green, we have a draw for one registered CafleureBon reader in the USA, EU and Canada for a 50 ml bottle?$165 of Hiram Green Hyde. To be eligible you must be a registered reader and please leave a comment what you liked about Ida's review of Hiram Green Hyde, where you live and your favorite Hiram Green perfume. Draw closes 12/10/2018
We announce the winners only on site and on our Facebook page, so Like ÇaFleureBon and use our Blog feed…or your dream prize will be just spilled perfume.