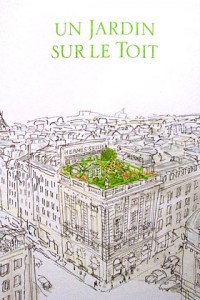 Courtesy :Fragrantica.com
Indeed it does!
[Smell good, that is ;-)]
Hermès' newest launch into the "Jardin" series, authored by in-house maître parfumeur Jean-Claude Ellena, is a lilting melody of freshness and clarity.
Jean Claude Ellena
Decidedly cheerful, fairly linear, a greenly floral, transparent aquarelle-
Un Jardin Sur Le Toit surprised me with its good-fellowship last weekend at Sniffapalooza, where I sniffed it for the first time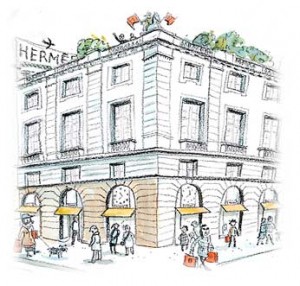 Inspired by the roof garden atop 24 Rue du Faubourg Saint-Honoré [ the flagship address of Hermès in Paris], the fourth addition to this series is a welcome one.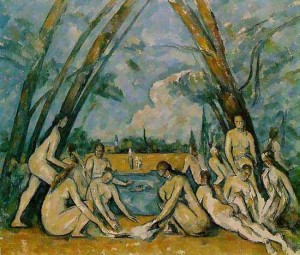 Paul Cezanne is Jean Claude Ellena's favorite painter "The Bathers"
Described as an 'aromatic fruity floral', I would prefer to acknowledge it as an "herbal orchard aroma" instead.
Is it wrong to be so blatantly vital? So nakedly happy, fairly waltzing with apple and pear, sheerest gauzy rose, and gently crushed greenery and herbs?
Barefoot in the grass, with only the merest mention of soil underfoot?
You are asking the wrong person 😉
In this particular case, linear is very good.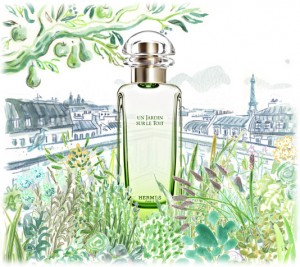 Courtesy hermes.com
My senses are regaled with delicacy and bon goût.
Tomato Stem:kjanicki-sotd.blogspot
The lineage to Ellena's brilliant and ground-breaking tomato leaf – infused Eau de Campagne de Sisley is readily apparent; every cook and gardener can feel it- the rubbed, torn leaf between your fingers, so verdant and crisp.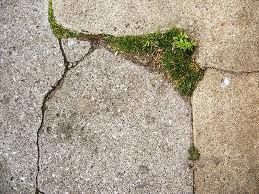 Crack in the pavement: Courtesy of ehow.com
Un Jardin Sur Le Toit is not edgy nor exotic; it waxes vegetal and redolent of succulent fruits, escorted by the rose and the magnolia.
Its broad appeal lies in its capacity to uplift the flagging spirit and celebrate light-
Much as the moss which insists upon springing up between the cracks in an old wall or sidewalk does.

Paul Cezanne: Summer
If you don't have a feel-good fragrance of this nature in your wardrobe, Un Jardin Sur Le Toit is an excellent place to start.
A full bottle should be drained fairly quickly in the warmer months to come!
[Think of it as liquid refreshment.]
Couurtesy of thedailygreen
I am absolutely certain that I could wear this to my work without complaint- more likely, with many compliments;-)
And I think I'm going to….right away.
–Ida Meister, Senior Editor


Editor's Note MC: I had the opportunity to interview M. Ellena in 2009 with the help of his friend Perfumer Michel Roudnitska, most memorable quote:he wanted to create the "perfume of the wind"
And.for those who don't speak French: 'Toit" is pronounced twa
M. Ellena was born in Grasse where he studied with Edmond Roudnitska; he was best man at Michel's wedding
BREAKING NEWS: Hermès loved the review so much they are offering a Un Jardin Sur Le Toit 3.3 oz. draw. Draw ends May 6, 2011. Leave a comment about your favorite Hermès fragrance and you are eligible