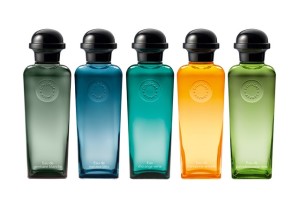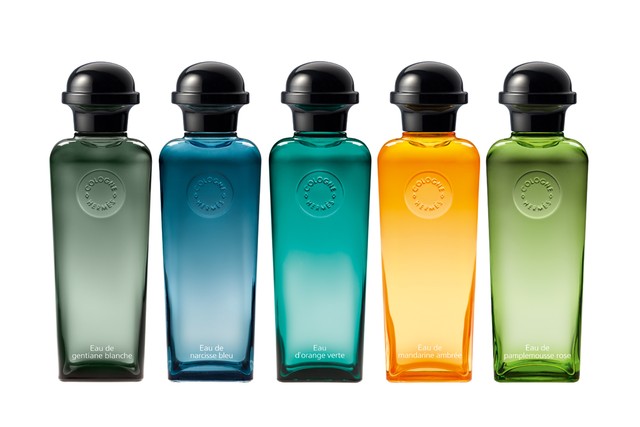 Gentiane Blanche,Eau de Narcisse Bleu, Eau D'Orange Vert, Eau de Mandarine Ambrée , Pamplemousse Rose
"Colognes are a source of wellbeing and pleasure , nowadays they are seen as intimate perfume, filling the need for refinement and sensuality that we feel in ourselves and about ourselves.The are classic, original and sometimes surprising… and I have created them to be lived rather than to be worn"
– Jean Claude Ellena
1979 was the year Eau d'Orange Vert, Hermès first eau de cologne was created by Francoise Caron. The House wants to create a world of colognes, an Eau for every time time of day and a colour for every mood.
2009, In House Perfumer Jean Claude Ellena contemporized the genre with Gentiane Blanche (a study in white musk) and Pamplemousse Rose (a play on the word rose – the flower and the color). In his book "A Diary of A Nose", M. Ellena dedicated the Tuesday August 24, 2010 entry in his journal to the creation of the 2013 Eau de Narcisse Bleu, which he called an "improvisation… the whole narcissi flower including the stalk…a juxtaposition of green, abrasive, powdery and floral notes".

Eau de Narcisse Bleu
" A creation made with complete freedom in which I particularly wanted to express the tactile nature of the raw material". Jean-Claude Ellena.
A distinct contemporary writing style with notes of narcissus, orange blossom, woods, galbanum

Eau de Mandarine Ambrée
" I don't know of a more cheerful smell than Mandarin, and a more velvety one than amber" – Jean-Claude Ellena
Reinventing its classic connection to citrus fruits Mandarine Ambrée brings a cheeky yet gentle vitality to the genre of colognes
Notes: green mandarin, passion fruit, amber.
100 ml/ $125
$200 ml $165
Available at Hermes stockists and boutiques April 1, 2013 and online at www.hermes.com
Source: Hermes, Diary of a Nose
–Michelyn Camen, Editor in Chief