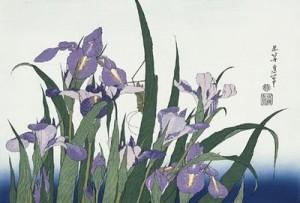 It seemed to take a long time this year for Hermes to announce that there would be a new addition to the Hermessence collection of fragrances. As the summer wore on without an announcement it seemed like 2010 would leave us without one of Jean-Claude Ellena's minimalist studies. Then right after Labor Day I received the press release announcing the ninth Hermessence, Iris Ukiyoe. Based on the name I expected a Japanese take on Iris. In many ways it seems the Japanese aesthetic and M. Ellena's are so similar that it seems like a logical intersection of creativity.
As I awaited my sample I did some investigation into what Ukiyoe was. It is actually more correctly written Ukiyo-e and is the name of a class of Japanese woodblock prints and translates to "images of the floating world". The opening picture above is an example of Iris Ukiyo-e by Japanese artist Katsushiko Hokusai. Based on his previous work on the Hermessences that picture pretty much encapsulated what I expected M. Ellena to create, a green smelling iris with watery background. Did I get that? Well I was half right.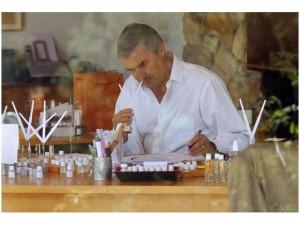 M. Ellena even hearkens to Hokusai's Ukiyo-e in the press materials when he talks of the irises that grow in his own garden:
"I have a mental picture of the irises in 'the floating world'. As an echo of that world my own garden is with blue and white irises from early May to early June, from snow white to feather white, from blue-black to light blue, with a few touches of pink irises. Ever since, the two worlds have formed an echo of each other, and I cannot see, smell, or touch irises without doing so through the eyes of Hokusai or Hiroshige."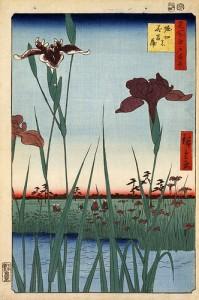 This led M. Ellena to focus on the flower and not the root or rhizome of iris. What this causes him to create is the green iris I hoped for but it stays extremely green and fresh without tilting into the watery expectation I also anticipated. While I'm not sure what I hoped for would have been interesting. M. Ellena, once again, shows who the perfumer and who the writer is.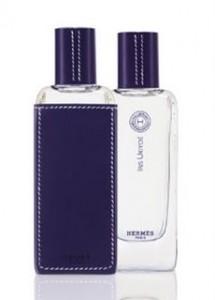 Iris Ukiyoe opens on a crisp green note, it might even be a bit too hard edged a green note if left to linger too long. M. Ellena also realizes this and before things become too harsh he brings in the florals. The next stage of development is sort of reminiscent of the green lily of the last Hermessence, Vanille Galante, but then the distinct iris quality arises and begins to predominate. The iris in Iris Ukiyoe is recognizably iris but it never turns powdery, cold or overwhelming. It instead does exactly what M. Ellena wanted it to do, be the iris of 'the floating world' and something entirely different in the panoply of iris fragrances.
Iris Ukiyoe has average longevity and below average sillage.
If you are fan of iris fragrances or M. Ellena, Iris Ukiyoe is a must try. If you are looking for a place to begin your exploration of iris fragrances or M. Ellena's aesthetic, Iris Ukiyoe is also an ideal place to begin both or either of those journeys.
Disclosure: This review was based on a 15mL travel sample supplied by Hermes.
Photo/Art credits:
Iris Ukiyo-e by Katsuhiko Hokusai
Picture of Jean-Claude Ellena from
http://www.nationalpost.com/life/story.html?id=2970377
Iris Ukiyo-e by Utagawa Hiroshige
-Mark Behnke, Managing Editor