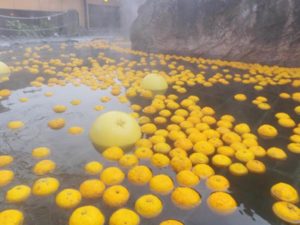 Yuzu bath, photo misakimeguri.at.webry.info
In eighteenth century Japanese culture, the yuzu bath became a tradition on the winter solstice. Heated water would be filled with dozens of yuzu fruits, bobbing and scenting the air into a grove of citric steam. Many public bath and hot springs still carry out the practice today, believing the yuzu ritual on the shortest day of the year wards off illness and brings good luck. While a trip to Japan to chase away the winter blues may be a bit pricey for most of us, a splash of the irrepressibly sunny and sophisticated Heeley Note de Yuzu offers a midwinter tonic sparkling enough to make you smile at the glowering sky, and sophisticated enough to make you feel sleek in a down puffer.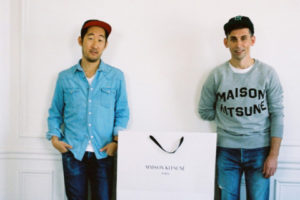 Masaya Kuroki and Gildas Loaec of Kitsune
Perfumer James Heeley created Note de Yuzu for Maison Kitsuné, a Paris-based hybrid line of fashion and music founded by architect Masaya Kuroki and former Daft Punk manager Gildas Loaëc. The perfume is intended to be "a multicultural blend of English, French and Japanese notes."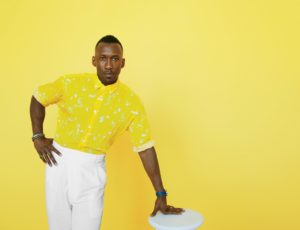 Mahershala Ali, photo by Erik Madigan Heck for GQ, Feb 23, 2017
Now, fasten your seatbelts and get ready for that opening! — a zingy, tart wallop of bitter citrus and whip of salt so bright it practically pulled apart the snow clouds outside my window. Note de Yuzu bursts on the skin like a squeeze of every citrus you can think of sprinkled with sea salt. This Asian tree fruit has an unmistakable aroma – like a cross between lime, grapefruit and mandarin, and yet unlike all of them. Its fragrance is complex; perfumed, with a tart, bitter floral bouquet that has touches of petrol, osmanthus, and jasmine. All those notes hopscotch over each other in Heeley Note de Yuzu's first five minutes.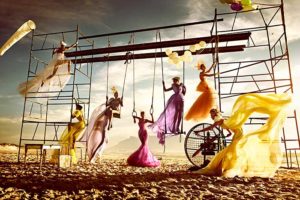 Photo by Kristian Schuller©
The scintillating bite of the opening sticks around for a while. Gradually, the acerbic nip of the lemon, salt and yuzu ease, and the quiet, orangey sweetness of mandarin steps up. The salt and yuzu remain, but mellower now. A sideways note – vetiver mixing with salt –comes in that is like the smell of steam poured over hot rocks. Then, the petrol of the yuzu merges with a similar mineral note I find in vetiver. Note de Yuzu warms, smelling like an oil spill of chartreuse, orange and goldenrod yellow.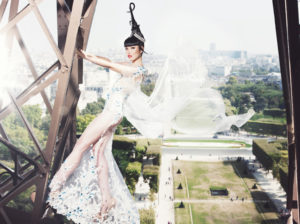 Jessica Minh Anh on the Eiffel Tower, photo J Model Management
As Heeley Note de Yuzu develops, the notes fan out. An hour later, yuzu is still foremost, but its flowery components become noticeable than its lime-grapefruit aspects in the quietness of the dry-down. The perfect balance of bitter (vetiver, salt lemon) and floral sweetness (yuzu, musk and mandarin) give note de Yuzu a spare, genderless elegance that is characteristic of the Heeley line. Unless you are a citrus hater or your surname is Scrooge, I defy you not to feel just a bit chipper whenever you catch a waft of Note de Yuzu, even as the wind wrestles the tree branches and you yearn for Spring. Notes: Yuzu, lemon, mandarine, sea salt, vetiver, white musk.
Disclaimer: perfume samples provided for editorial consideration– many thanks. My opinions are my own.
— Lauryn Beer, Senior Editor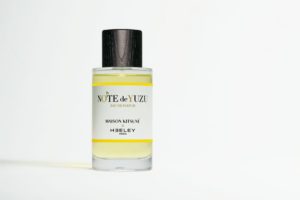 Heeley Note de Yuzu
Thanks to the generosity of Twisted Lily, we have 3 samples of Heeley Note de Yuzu for three registered readers in the U.S. To be eligible, please leave a comment letting us know what appeals to you about Heeley Note de Yuzu based on Lauryn's review, and what your go-to fragrance is when you need a dose of sunshine in winter. Draw closes 1/15/2017
Follow us on Instagram @cafleurebon and @twistedlily360
We announce the winners only on our website and on our Facebook page, so like Cafleurebon and use our Blog feed … or your dream prize will be just spilled perfume.