Kenny Ellis sings his hit single "Swingin' Dreidel" from his Hanukkah Swings! Album
It's been a tradition here at CaFleureBon to do a Hanukah (or Hannukah, or Chanukah…take your pick) fragrance post since 2010, and I was thrilled when Michelyn asked me to write this year's because Hanukkah is the coolest. Think about it…when else do you get a religious holiday that promotes gambling?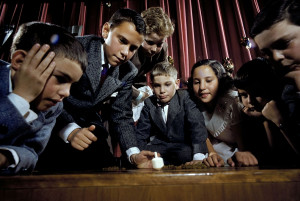 Playing with a dreidel in the Reform Temple Beth El. Providence, R.I., 1955. Photograph by Burt Glinn
Okay, maybe I exaggerate a little. Although playing dreidel, a game not unlike rolling dice, the rules for which plus yet another spelling of Hannukah can be found here) is an important tradition, for normal people it is not the point of the holiday. It is the Festival of Lights, celebrating the miracle of the Maccabees, who were able to use one's day oil for lighting the Temple when it was under siege by the bad guys for eight nights, what are the odds on that happening). But I come from a long line of gamblers.
Both of my grandmothers won $50,000 jackpots (from the Irish sweepstakes and Atlantic City, not playing dreidel). My father likes to brag about his days of making book before he met my good girl mother and settled down. Multigenerational family vacations are planned around the availability of casinos. So I suppose it's not a surprise that we take dreidel very seriously at my house.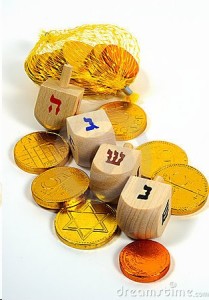 As a result, we've had to come up with some house rules. I share them in the hopes that they will help you grow your pile of Hanukah gelt ("gold" coins made of chocolate, the traditional stakes in a game of dreidel) into a nest egg that will last you until next Halloween.
Do not let Uncle Richard supply the dreidel. It shocked me to learn this because Hanukah is a religious holiday, but yes, they make "loaded" dreidels.
If some of the players have not gone to Hebrew school, post the meaning of the rolls in English beforehand. I also wasn't thrilled to learn that my then seven year old daughter was totally scamming me by switching the meanings of nun–just like it sounds–and gimel–this one means take the whole pot; we remember it now by thinking of it as "gimme." The other two possibilities are hei, which means you take half the pot, or shin, which means you must put gelt in.
No matter what else you do, never ever turn your back on the twins. (Ten year old boys; we spent one holiday with most of the adults searching the house for one of them while I called Poison Control Center about the other one.)
The Rat Pack: Frank, Dean, Sammy, Peter and Joey ie the Rat Pack at the Sands Hotel in Vegas
Since Hanukah is so closely tied to gambling in my mind, when asked to pick a fragrance that embodies the holiday, I immediately thought of Jovoy Paris' Les Jeux Sont Faits (the name loosely translates as The Chips Are Down). According to the Jovoy website, the scent's inspiration was Michel Audiard's 1960s gambling movies, but it makes me think immediately of the Rat Pack. This then makes me annoyed that Adam Sandler left Sammy Davis, Jr. out of the various versions of the Hannukah song, especially since he mentions him in the Thanksgiving Song. This year you can play the Thanksgiving Song as the Hannukah song because the second day is on the same night. The last time that happened was 1888, which are odds approximately as long as the Giants getting in the Super Bowl this year.
Doesn't thisDreidel look like the Eiffel Tower …Joyeux Hanoucca!
But I can't stay upset for long while wearing Les Jeux Sont Faits (2013, Dorothee Piot). It opens with a cool minty blast of angelica and juniper that is perfect for both a winter holiday and the image of men standing around a baccarat table with dry martinis. (I wonder if the Rat Pack ever played dreidel. If so I bet Frank Sinatra won).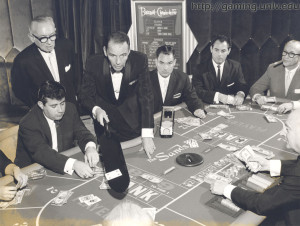 Frank Sinatra at the Baccarat table at the Sands Hotel
Les Jeux Sont Faits then morphs into a pleasantly hazy mix of tobacco, leather, sandalwood, patchouli and cumin that evokes players loosening their ties and their tongues as the alcohol takes its effect. As time goes on, vanilla and fruit warm and sweeten it like a streak of luck. I don't know whether it's true or not that "Luck Be A Lady" but while this scent is undeniably masculine, it works well for women too.
Disclosure: Fragrance review was based on a purchased sample.
Thanks to François Hénin of Jovoy Paris, we have a full bottle draw for Les Jeux Sonts Faits, open to CaFleureBon readers worldwide. To enter, please comment on what your favorite part of Hanukah is, your favorite spelling of the holiday, or what your favorite game of chance is. If you have a favorite member of the Rat Pack or Jovoy Paris Perfume add that too. Draw ends November 29, 2013.
–Nancy Knows, Contributor and EIC of the fragrance blog Make Perfume Not War.
Art and music direction: Michelyn Camen Editor in Chief of Cafleurebon.
We announce the winners only onsite and on our Facebook page, so Like CaFleureBon and use our RSS option…..or your dream prize will be just spilled perfume.