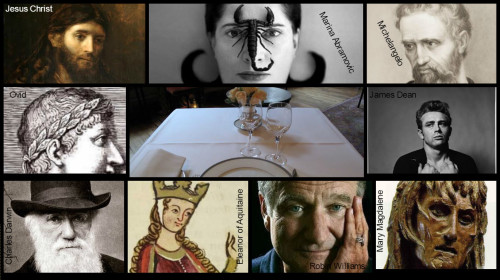 Top: Jesus Christ, Marina Abramović, Michelangelo; Middle: Ovid, James Dean; Bottom:Charles Darwin, Eleanor of Aquitane, Robin Williams and Mary Magdelene
What if we could time travel? To another era, or just a few days ago, where we could meet a historical or contemporary figure with whom we could share a bottle of wine and dinner. What secrets would we learn? To claim this month's spilled perfume try to match the contributors and editors of ÇaFleureBon to someone we would love to meet.
Hernando Courtright, Contributor- Eleanor of Aquitane
Aaron Potterman, Contributor- Mary Magdalene
Ermano Picco Contributor – Charles Darwin
Liza Wade Contributor- Jesus
Bettina Korp Guest Contributor- Ovid
Sebastian Jara – James Dean
Pam Barr, Sr Contributor- Michelangelo
Elise Pearlstine, Sr. Contributor – contemporary artist Marina Abramović
Michelyn Camen, Editor in Chief, Robin Williams
For our Guess who's coming to dinner draw
WORLDWIDE: biehl. parfumkunstwerke PCO2
WORLDWIDE: House of Matriarch 50 ml of Orca ALL NATURAL
WORLDWIDE Naomi Goodsir Iris Cendre.
WORLDWIDE: 100 ml of Grandiflora Madagascan Jasmine
USA, CANADA and EU: Oriza L. Legrand Special discovery kit with 2ml x all 15 perfume
USA only Elisire Poudre Desir
USA only Belle Fleur Fine Fragrance Mayan Tuberose candle
USA only Opalscent Scents USA a full size (¼ oz) Bottle of Aurora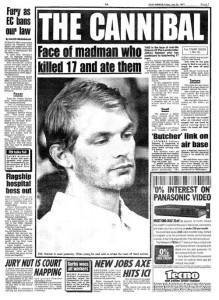 If a reader matches us correctly, they automatically win two prizes they asked for (country restrictions ) and if no one guesses correctly, the draw is random. Don't complain if you don't get exactly what you want or you will be forced to have dinner with Jeffrey Dahmer who might eat you!! Your entry must include the name of the editor or contributor, (i.e. Hernando Courtight dinner guest is to be eligible and of course you must be a Registered CaFleureBon reader and use your registered name. We would love to know who you would love to meet and share a meal and conversation with. Draw closes March 12, 2016.
We announce the winners on our site and on our Facebook page, so Like Cafleurebon and use our RSS option…or your dream prize will be just spilled perfume