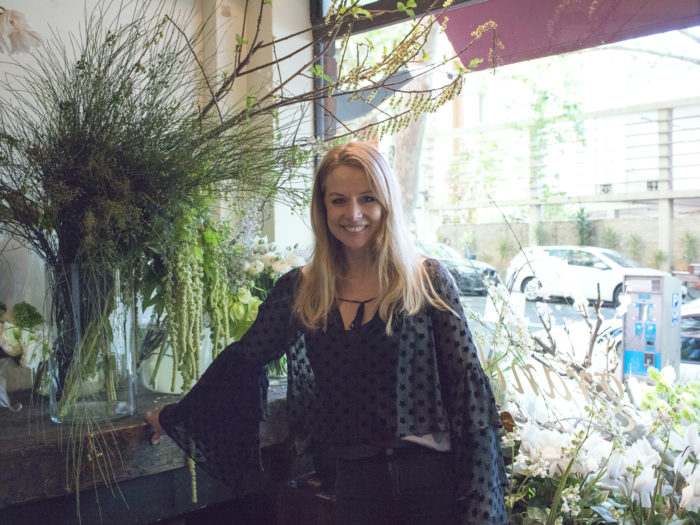 Saskia Havekes in her Grandiflora Flower Boutique 1/12 Macleay Street, Potts Point, New South Wales, Australia (photo by Clayton©)
Saskia Havekes is celebrated for being one of Australia's most creative florists. Everyday her Grandiflora flower shop, which she opened in Sydney over 20 years ago, radiates with vibrant seasonal flowers and wild foliage. Saskia is also a successful author of books and a creative director for Grandiflora fragrances and her latest perfume is Boronia.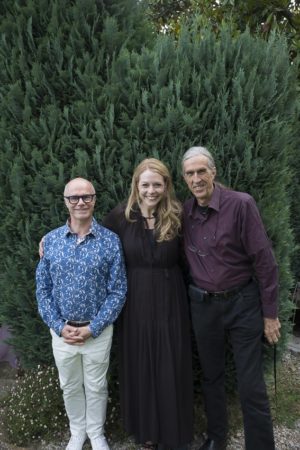 Bertrand Duchaufour with Saskia Havekes and Michel Roudnitska in Cabris Grasse at the launch of Queen of The Night
Çafleurebon has reviewed all Grandiflora fragrances since the launch of Sandrine and Michel in 2014, two fragrances about the Magnolia grandiflora flower, which Saskia created with perfumers Michel Roudnitska and the late Sandrine Videault.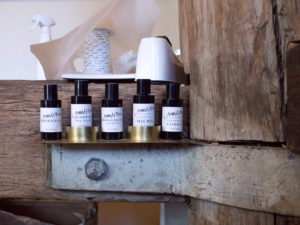 Grandiflora fragrances: Grandiflora Sandrine, Grandiflora Michel, Madagascar Jasmine, Queen of the Night and Boronia
Although dedicated Çafleurebon readers may have read reviews of Grandiflora's fragrances before, the collection was a real head-turner for visitors to September's Pitti Fragranze in Florence, where many visitors to the event were discovering Grandiflora Fragrances for the first time.
Grandiflora at Pitti September 2017
In addition to being the first presentation of Grandiflora Fragrances at Pitti Fragranze, the event also marked the launch of a new fragrance called Boronia, which Saskia created with perfumer Bertrand Duchaufour. Grandiflora never does anything by halves and Saskia had a truckload of flowers travel 17-hours from The Netherlands so she could create the look and feel of her flower shop at Pitti Fragranze.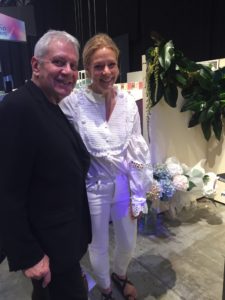 Michael Edwards of Fragrances of The World© with Saskia Havekes at Pitti Fragranze 2017
The Grandiflora team presented the collection and gave out samples of their fragrances bundled with flowers from their elaborate display. Saskia felt joy seeing her flowers being carried by someone in the street one evening after a long day of presentations at Pitti Fragranze.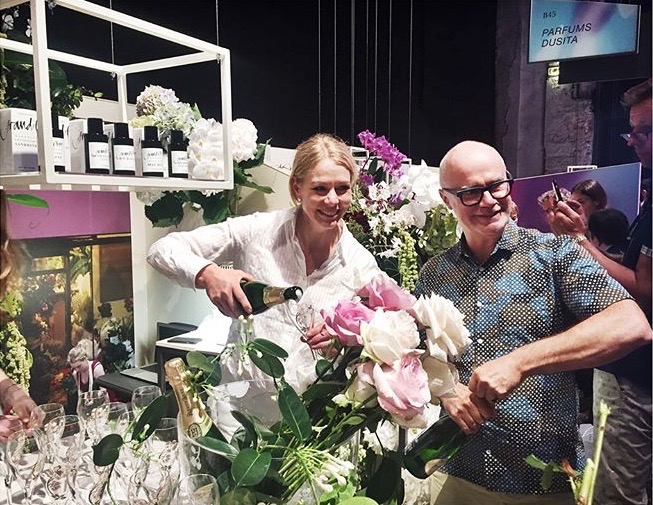 Saskia and Bertrand Duchaufour at Pitti Fragranze 2017
Bertrand was there for two days as well to help with presentations and greeting fans, which added to the theatre of it all. Bertrand was adamant that Saskia's flowers were all appreciated. "I cleaned up some of the tuberose, taking off some of the older flowers and Bertrand was coming along behind me gathering them up and he was trying to find a little pot to put them in," recalled Saskia. "You're not going to throw those out are you?" Bertrand asked. "He loves his flowers so much. All of the photos on his phone are of flowers. Especially aging tulips and things that have unusual shapes. He said that is what he finds most inspiring."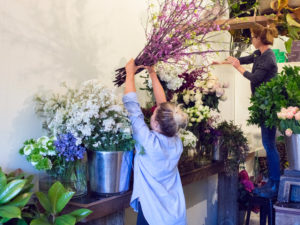 At Grandiflora in Sydney (photo by Clayton)
With the euphoria of Pitti Fragranze behind her, I met Saskia the following week back at her shop in Sydney. We sat amongst the blooming pink and white flowers, jasmine, orchids and tulips and we talked about her new Boronia perfume. Saskia had been inspired by the native Australian botanical Boronia megastigma and she even had pots of flowering boronia for me to smell. It is an unassuming petite flower, much more meek compared to the grandiose flowers like rose, jasmine and tuberose that are common headliners in fragrances. Saskia and I talked about how this humble but expensive flower (the absolute costs around AU$15000/kg) became the centerpiece of her latest fragrance.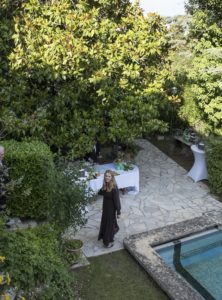 Saskia in the Roudnitska gardens
Saskia recalled how the flower boronia came onto her radar. "Last year we did the launch of Queen of the Night in the beautiful garden of the Roudnitska family and Bertrand mentioned boronia. I think he came here to Tasmania and they showed him the boronia, and so I heard him speak about that there. Then when I went to Paris I met with Isabelle Doyen, because she knew Sandrine and she said, 'Have you heard about this boronia?' This is the second person to mention Boronia and they are world-renowned perfumers so there must be something that they are both very curious about it." While boronia is a rare and exotic ingredient in fragrances, the native plant is common in many parts of the Australia. Saskia knew it well. "I grew up with Boronia. I grew up in Kenthurst, on a valley and literally the whole of the valley was filled with boronia.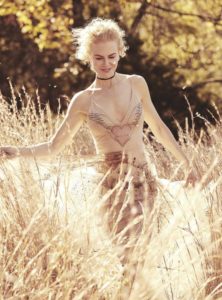 Nicole Kidman Vogue Australia January 2017
Not the brown boronia, although there was a bit of that growing there, but mostly the lighter pink boronia and eriostemon. I remember it as a child, walking through to the boronia and the type of soil it grows in. We had a creek down the bottom and I spent a lot of time down there as a child. We used to boil the billy and do all that kind of stuff without any shoes on. It was all very natural. There was lots of moss and sandstone rockery through the water. I have lots of beautiful memories from that."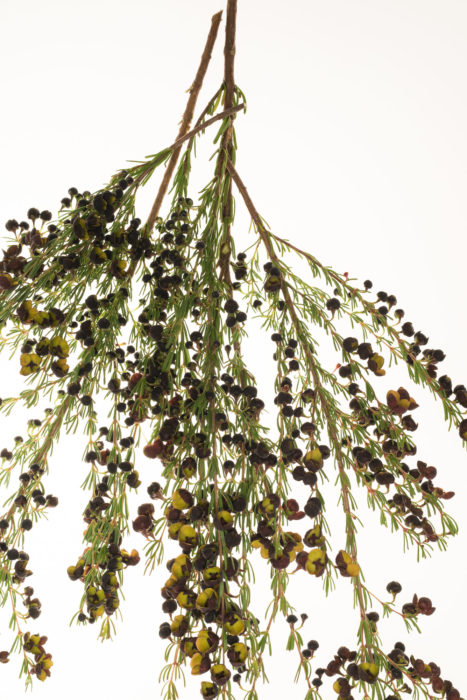 Boronia flowers
In the same way that Saskia developed her Queen of the Night fragrance with Bertrand living on the other side of the world in France, the pair began a string of emails comparing notes and impressions. "I gave him some ideas about my time with it as a child and what I thought about it. It is quite a determined, little scraggly plant. I liked the fact that it wasn't a big glamorous flower like we had done previously and I really liked the fact that it was Australian because I thought we should bring something Australian into our gallery of fragrances." For Saskia the surrounding environment where boronia grows needed to be a reference in the fragrance. Bertrand replied to Saskia's email, "We need to do an adequate and sophisticated note around its own presence… green, spicy, resinous, herbal hay like, aqueous, floral, fruity and so on!" Bertrand pointed out his experience with boronia, "Fact is that for the moment I never finalized a fragrance with it but I want to do so… So I feel ready!"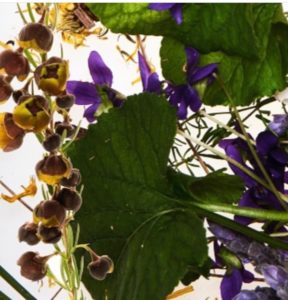 Boronia with verdant florals via @grandiflora_fragrances
The result is a fragrance that smells floral but there is so much earthiness and greenery surrounding the boronia. It's a very different style of perfumery compared to the other four fragrances in the Grandiflora collection, which are all delicate and radiant florals.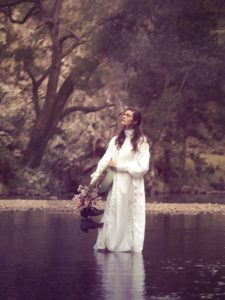 Teresa Palmer & Phoebe Tonkin – Vogue Magazine (Australia) March 2015
Boronia has a dark appeal with a modern chypre nomenclature owing to the dry woods and lichen references Bertrand worked into the fragrance's base. The floral element of Boronia is rich and fruity. It makes me think of dark plums or red wine. Around this sits black tea and tobacco, which promotes a warm, hay-like note in the fragrance. This leads to notes of suede and a contrasting hint of caramel. The fragrance has ruggedness to it, which will appeal to men as well as women, no doubt Bertrand's ode to Saskia's childhood memories of the rugged Australian countryside and the wild nature she grew up around. Boronia's notes also offer warmth, which makes it perfect for the fall and winter season ahead.
Notes: Boronia megastigma, cognac, verdant florals, black tea, warm resins, tobacco, suede, caramel and dry woods.
Disclaimer: Many thanks to Saskia Havekes and Grandiflora Fragrances for the personal introduction to Boronia and the bottle provided for this review. The opinions expressed are my own.
–Clayton Ilolahia, Guest Contributor and Editor of What Men Should Smell Like
All Art was supplied by Clayton and Grandiflora unless otherwise noted. Contributor Ermano Picco awarded Boronia and Grandiflora's booth Best of Show-Pitti 2017. –Michelyn Camen, Editor-in-Chief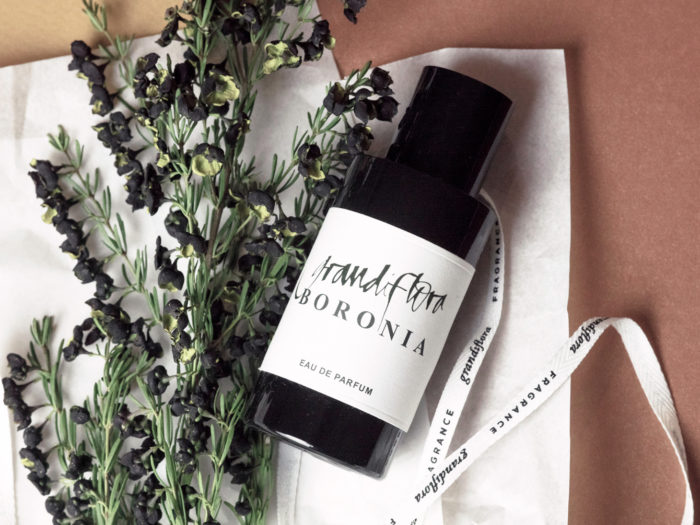 Grandiflora Boronia by Clayton Ilolahia
Thanks to Grandiflora we have an avant premier 50 ml bottle of Boronia for a registered reader anywhere in the world. To be eligible please leave a comment with what you enjoyed about Clayton's review, quotes you will remember from Saskia Havekes, your own childhood memories of flowers, where you live and if you have a favorite Grandiflora perfume. Draw closes 10/12/2017
Please follow us on Instagram @cafleurebon @clayton_wmssl and @grandiflora_fragrance
We announce the winners only on our site and on our Facebook page, so like Cafleurebon and use our RSS feed…or your dream prize will be just spilled perfume.