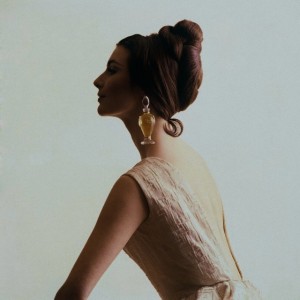 1964, Profile view of a model wearing a bottle of Diorissimo by Dior perfume bottle as an earring.
We crave glamour. In this era of reality TV and instagram, little is left to the imagination. We don't wonder, 'who is that woman", we already know because she has 15,000 followers on twitter and buys likes on Facebook. Glamour is so rare these days that when we see the real thing, it draws us in like a magnet. We search pinterest and tumblr for photos of Old Hollywood stars and vintage Vogue ads. Glamour used to be accessible to regular women. Not too long ago a woman would make an effort to look her best in public, her hair was perfectly coiffed and she paid attention to every detail of her attire…including her scent. Things have devolved so far that yoga pants and pony tails are considered acceptable dinner attire, and Notre Dame University has a course about reviving this lost art called "A Nation of Slobs."
Far from being frivolous, being glamorous communicates intelligence, confidence, substance, and yes, sex appeal. If we put away the glorified pajamas and the clean fresh scents, it's surprisingly easy to take our own image up a notch and channel the allure of glamorous women from the past into our daily lives.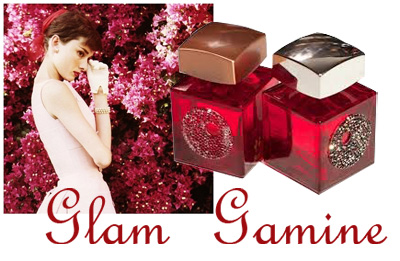 (Audrey Hepburn/M Micallef Rouge No 1)
Glam Gamine: Audrey Hepburn managed to combine the innocence of the ingenue with the head-turning capacity of the movie star, a feat immortalized on screen in the movie Sabrina, when she returns from Paris in a Dior gown, transcendent with elegance, and makes the jaded Hamptonites gasp. You say you don't have Edith Head on your payroll? Try M. Micallef Rouge No 1, composed by Jean-Claude Astier, with girlish fresh top notes of peach and tangerine that warm up into a ladylike, mellifluous, musky floral.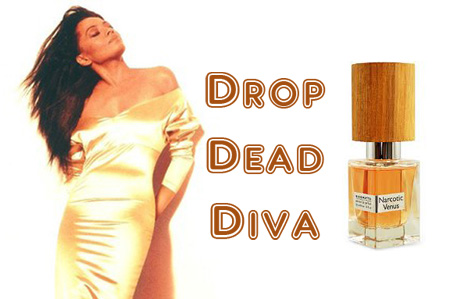 (Diana Ross/Nasomatto Narcotic Venus)
Drop Dead Diva: Miss Ross. So regal and perfect that no one dare call her by her first name. She still is the one person who could be in a room filled with superstars and have all eyes following only her. To emulate Diana Ross you need to go all out. Put on the sparkle, blow out the hair, and bathe in Nasomatto Narcotic Venus by Alessandro Gualtieri, a rich, dramatic tuberose that is reminiscent of the heady bouquets in a star's dressing room. It muscles out all pretenders, sticking in the memory of your audience long after the last note of the erotic spices have faded and the closing credits have rolled.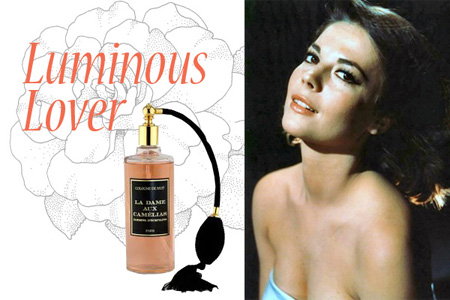 (Natalie Wood/Jardin d'Ecrivains La Dame Aux Camelias)
Luminous Lover: She was a timeless beauty with creamy skin and sad eyes that seemed to have foreknowledge of the tragic end to which she would come. As the romantic lead in memorable Hollywood movies (West Side Story, Splendor in the Grass, Rebel Without A Cause, and Marjorie Morningstar), she brought heartfelt passion to stories of star-crossed lovers. Her characters jumped headfirst into romances that could not possibly end happily, just for the experience, not unlike her real life. Natalie Wood is said to have adored CREED Jasmal and Jungle Gardenia. To evoke her love for florals, try Jardin d'Ecrivains La Dame Aux Camelias created by Anais Biguine as an homage to Marie Duplessis whose dramatic life and many lovers inspired Alexandre Dumas and Verdi's La Traviata, La Dame aux Camelias opens with the hopeful citrus note of bergamot, spiced with cardamom like anticipation. When warmed by the skin, it unfurls into a sexy floral like a woman blossoming under her lover's touch, with notes of violet, rose, camellia and orange blossom. Finally, it finishes in a sweet, sexy musk that is like the afterglow of a night of passion cut too short by the dawn.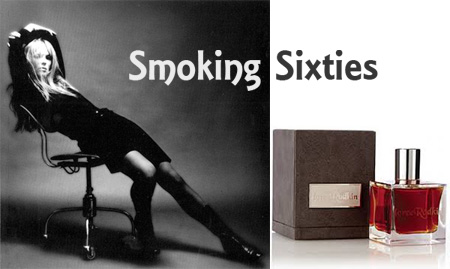 (Nico/Loree Rodkin Gothic I Perfume)
Smoking Sixties: Nico was emblematic of the sixties, the decade's smoky, fuzzy, hazy esthetic personified in her whiskey voice and heavy eyeliner. While her look was similar to other women of her time, her accent and air of mystery made her stand out from the sea of starlets who took turns swapping band member boyfriends. You may only sing with the Velvet Underground when they come on shuffle, but in the time it takes for the song to finish you can put on a tight black top, line your eyes in kohl and spray Loree Rodkin Gothic I, a vanilla patchouli with boozy depth that haunts like Nico's voice.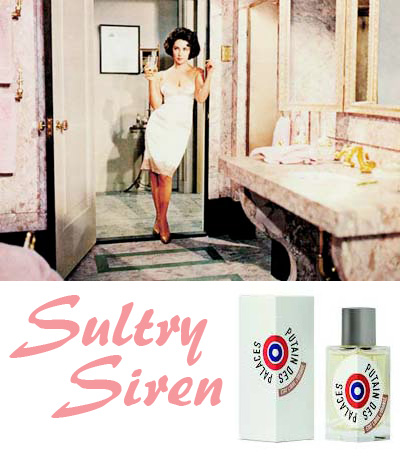 (Elizabeth Taylor/Putain des Palaces)
Sultry Siren: Forget Julia Roberts in Pretty Woman– there is only one person in the world who could make prostitution glamorous, and that is Elizabeth Taylor, who could stand around in a slip looking sultry and make the ice cubes in her scotch melt in seconds. Turn up the heat by donning your sexiest lingerie and go on the prowl wearing Etat Libre D'Orange's Putain des Palaces (created by Nathalie Feisthauer) winks at La Liz's role in Butterfield 8 by mixing the scents of the vintage dressing table (powder and lipstick) with animalistic notes like one night stands of the memorable kind.
While these women came from wildly disparate backgrounds and had very different senses of style, they all were clued in to one eternal truth: glamour is power. To quote Dita Von Teese, one of the few modern standard bearers, "I advocate glamour. Every minute, every day." Now you can too.
–Nancy Knows, Contributor
We announce the winners only on site and on our Facebook page, so Like Cafleurebon and use our RSS option…or your dream prize will be just spilled perfume