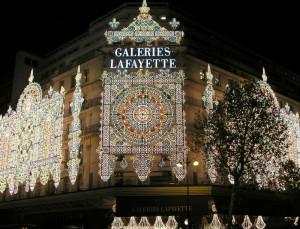 In addition to my freelance projects, I have taken a part time job as a perfume saleswoman! It was behind the counter of a famous French niche brand, at the Galeries Lafayette Haussmann (one of the most popular department stores in Paris), that I discovered there are deep rooted prejudices amongst many of my customers who will not wear a fragrance that isn't marketed to their gender.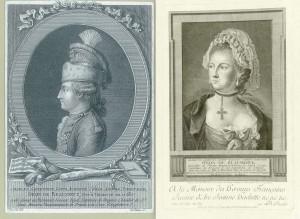 Chevalier d'Eon as a man and a woman

The prejudice comes often from advertising, a classification in a store,a raw material or worse, a saleswoman with an automated speech " rose is for women", and vetiver is for gentlemen, you understand?" Very funny to hear when you know that the legend of "Jicky" (created in 1889 by Aimé Guerlain), was so appreciated by men that in 1904 the House, (to avoid any confusion or embarrassment over the name), Guerlain decided to market its virtual twin; basically the same fragrance but named "Mouchoir de Monsieur"… selling a man's scent not a shared one!

H

owever, I am meeting many new people as a perfume saleswoman, who are not like us. We are perfumistas and we wear what 'sent bon'. I am surprised and shocked by the reality that most people are not like us; they are fearful of trying a scent that is supposedly meant for 'the other sex'.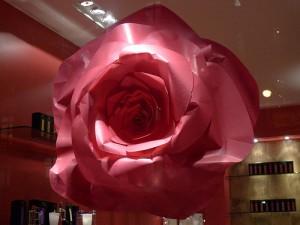 For example, a client came to find a new perfume for her husband. After the usual questions: what is his dressing style, is he a bon vivant, is he traditional or the classic ' what fragrance does he wear'. I gently guided her by starting with a woody scent , then a fresh one and lastly one that was a spicy/ gourmand. After three tries, she liked a rose-patchouli which seemed obvious, but still she was holding back. "Tell me, is this a fragrance for men?" I replied that for this brand, perfumes were unisex, and that the rose was also very worn by men for many years and was thought of an aphrodisiac. My pitch worked, but I could see in her eyes the flicker of fear that this may be too daring; but she broke through the stereotypes and I made a sale. I do not know if this man will love his new fragrance, but I found it wonderful that this woman went beyond the conventional, and imagined her man in a almost erotic wake… What a beautiful expression of love!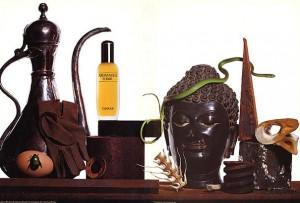 Personally, I made up my mind a few years ago that this form of primary sexism forces us to limit ourselves to the whims of marketers. I must say that I had good teachers: my father, a discreet and yet very traditional man, borrowed one day the scent of my mother, the famous "Aromatics Elixir" by Clinique, which he wore until the end of his life. I do not need to tell you my mother's reaction, she was furious at him for stealing HER perfume. But the funny story is that my father strongly believed that Aromatics elixer was a man's scent, which my mother, in error found misplaced in the ladies section. It took me a while to convince him otherwise(actually the day when, as a Christmas gift, I gave him a beautiful box set dedicated to his perfume, a 50ml perfume bottle, a shower gel and… a body milk!)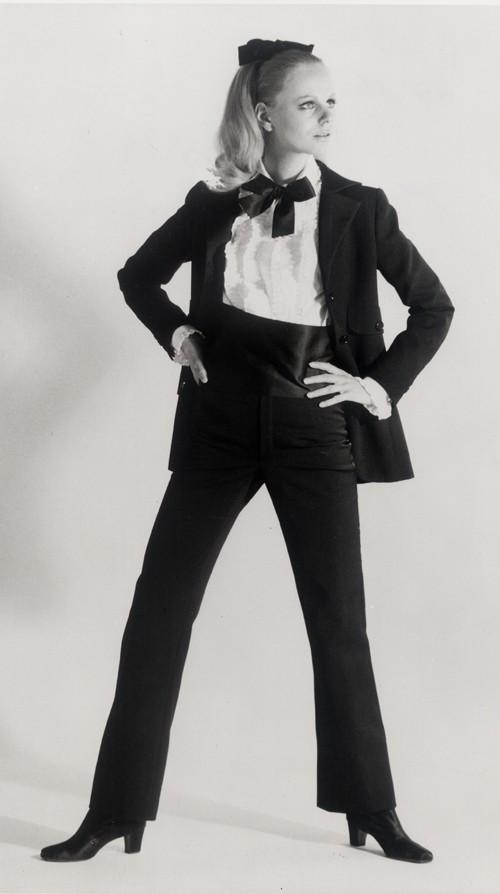 This family episode erased any of my value judgments about gender and perfumes allowing me to adopt at 20 the sublime "Obsession for Men "by Calvin Klein. I confess that the first time I wore it, I felt I was breaking a taboo, especially because at the time, the Parisian girls were all wearing "Angel" by Thierry Mugler. The key to fragrance fashion then? Very rigid: sweet for the girls but no spicy-woody scents ever.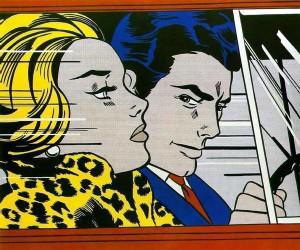 Turning my nose up at convention, I later went on to wear more gentlemen's fragrances, discovering Eau Noire by Dior. This lavender-vanilla, more 'manly' than Pour un Homme by Caron, (that I had adored on a boyfriend), was a flash of lightning! It was in 2004, at Colette, the ultra-trendy boutique on Rue Saint Honore, that the salesperson nearly gagged when I proudly announced that this was the perfume for me! Two years later, Encre Noire by Lalique, a vétiver-musk acclaimed by all the critics, won my vote and definitely marked my cutting the cord against marketed to gender.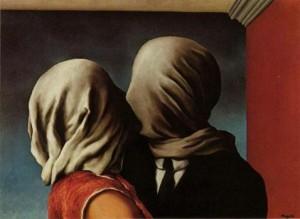 Thank you to the world of niche brands. In the beginning, many of these 'maisons' had the ambition to offer original and sometimes risky creations (although unfortunately it is less and less the case, with too many brands on the shelves). Salespeople were trained to break taboos, but also to keep skittish customers from walking away. Now, they say perfume is to be 'shared'. These knights of niche will never prevent you from smelling, spritizing, and give you the opportunity to try on any perfume or cologne. However, sadly, there is still the politics of perfume (all the magazine ads featuring male or female models), but there is no more of that tired speech (No this is not for you) that tries to restrict your olfactory impulses.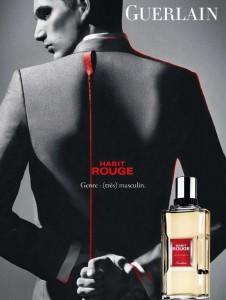 I always get surprised réactions when I talk about my current favorite, one might even say it was "love at first sniff". I was looking for a fresh but oriental scent, with a strong character and an impeccable signature; I succombed to Guerlain's Habit Rouge which wafts seductive leather and spices. What drew me to it…memorires long buried of an ex lover's L'Eau de Toilette.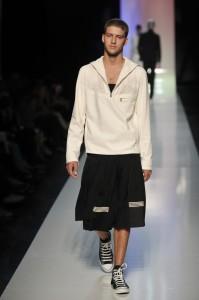 Gender bias in fragrance exists indeed, but, should we be locked into a battle of the sexes… even in fashion? Should we refrain from borrowing a fiancé's sweater on the pretext that he bought it in the men's section? Should we prevent girls from wearing trousers or short hair? Should we laugh at a fashion show when Jean-Paul Gaultier's models show off their muscled and hairy gams under a skirt?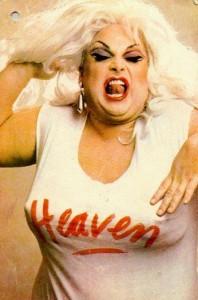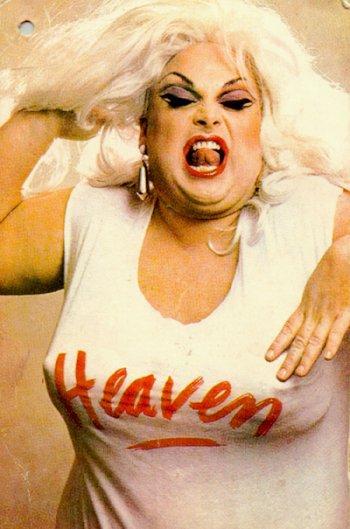 Everybody should do as they please. But it would be such a shame to miss a great connection between yourself and your perfume. So for those who dare not, here is a partial list of perfumes that I wear… As for gentlemen, do not hesitate to share with us your "It list" of ladies fragrances that make you feel so manly! And for the ladies please do the same by leaving a comment.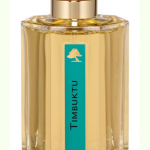 L'Eau du Navigateur (L'Artisan Parfumeur)
Timbuktu (L'Artisan Parfumeur) -by Bertrand Duchaufour
Burberry London Men (Burberry)
Obsession for Men (Calvin Klein)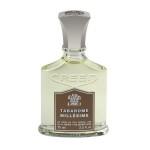 Tabarome Millesime (Creed)
Eau Noire (Dior)
Vierge et Toreros (Etat Libre d'Orange)
Gomma (Etro)
Habit Rouge (Guerlain)
Cuiron (Helmut Lang)
Encre Noir (Lalique)
Espelette (Christian Louis)
Oud Cuir d'Arabie (Montale)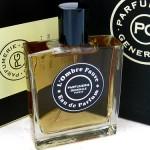 L'Ombre Fauve (Parfumerie Générale) by Pierre Guillaume
Sartorial (Penhaligon's)
Noir (Réminiscence)
Patchouli pour Homme (Réminiscence)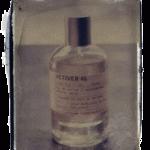 Vetiver Oriental (Serge Lutens)
M7 (Yves Saint-Laurent)
– Emmanuelle Varron, Contributor
(Editor's Note: I took certain liberties with the English version)
Pictures :
Chevalier d'Eon as a man and a woman
Clinique ad by Irving Penn
Roy Lichenstein In the Car 1963
Magritte Les Amants
Divine
Le Smoking for women, by Yves Saint-Laurent
A very « viril » Habit Rouge advertiment
Jean-Paul Gaultier summer 2010 men fashion show
L'Ombre Fauve (Parfumerie Générale) by Pierre Guillaume
Timbuktu (L'artisan Parfumeur) by Bertrand Duchaufour
Tabarome Millesime (CREED)
*********************************************************************************************************************************************************************************************************
La lutte des sexes version parfums
Ce mois de décembre aura été l'occasion d'exercer une nouvelle activité, un genre de job d'hiver qui m'aura permis, en plus de mon activité free-lance, de baigner dans un univers qui nous est à tous très cher : vendeuse de parfums ! C'est derrière le comptoir d'une célèbre marque de niche française, aux Galeries Lafayette Haussmann (l'un des grands magasins les plus populaires de Paris), que j'ai découvert à quel point, parfois, il existait quelques vieux principes bien ancrés dans les traditions, comme celui de donner un sexe à un parfum.
« Mais où veut-elle en venir », me direz vous ? Simplement au fait que parfois, pour des préjugés ancrés depuis de trop longues années, certaines créations appréciées et désirées par des femmes ou des hommes n'ont pas été adoptées pour une histoire de « mais ce n'est pas un parfum pour moi » !
Le blocage peut venir d'une publicité, d'une classification dans un magasin, d'une matière première ou pire, d'une vendeuse au discours automatisé « ça c'est de la rose, c'est pour les femmes, et le vétiver, c'est pour les messieurs, vous comprenez ? » Très drôle à entendre quand on sait que la légende raconte que « Jicky », créé en 1889 par Aimé Guerlain, plaisait tellement aux hommes que la Maison, afin d'éviter toute confusion ou gêne par rapport au nom, décida de créer son quasi jumeau en 1904, cette fois-ci nommé « Mouchoir de Monsieur»… une virilisation par le nom, en quelque sorte ! Pour ceux qui aiment et connaissent les parfums, le problème ne se pose pas, mais mon expérience actuelle m'a très rapidement démontré que bon nombre de personnes n'osaient franchir le pas, de peur de mal faire et de transgresser un interdit totalement imaginaire.
Je songe ainsi à cette cliente venue trouver un nouveau parfum à son mari. Après les questions classiques « quel est son style vestimentaire, est-ce un bon vivant, quelqu'un de traditionnel, plutôt boisé, fleuri, classique, original ? », je l'ai guidée en démarrant tout doucement par une création boisée et fraiche, pour ensuite m'enhardir sur un plus épicé, puis un gourmand. Au bout de ces trois essais, elle a finalement craqué sur un rose-patchouli qui lui paraissait évident, mais en se retenant toutefois : « mais, dîtes-moi, c'est un parfum pour homme ? » Je lui ai donc répondu que dans cette maison, les parfums étaient unisexes, et que la rose était également très portée par les hommes, et ce depuis de nombreuses années, parce qu'ils aimaient son pouvoir aphrodisiaque. Mon discours l'a comme soulagée, mais on sentait dans son regard tout le poids des « on-dit » et de cette habitude qu'ont les êtres humains de tout vouloir ranger dans des cases. Je ne sais pas si ce monsieur aimera son nouveau parfum, mais j'ai trouvé magnifique que cette femme aille plus loin que les conventions, et imagine son homme dans un sillage quasi érotique… Quelle belle preuve d'amour !
Personnellement, voilà quelques années que j'ai fait mon deuil de ce sexisme primaire qui nous obligerait à nous limiter au bon vouloir des marketeurs. Il faut dire que j'ai été à bonne école : mon père, homme pourtant très discret et traditionnel, a un jour emprunté le parfum de ma mère, le fameux « Aromatics Elixir » de Clinique. Et l'a carrément adopté, pour ne plus le quitter jusqu'à la fin de sa vie. Je n'ai pas besoin de vous raconter la réaction de ma mère, furieuse d'avoir été ainsi « volée ». Mais le plus drôle dans l'histoire, c'est que mon père croyait fermement que son nouveau sillage était en fait un parfum pour homme, que ma mère, cette « originale », avait trouvé dans le mauvais rayon. Il m'a fallu du temps pour le convaincre du contraire, en fait le jour où, comme cadeau de Noël, je lui ai offert un magnifique coffret dédié à son parfum, où le flacon de 50ml côtoyait un gel douche et… un lait pour le corps !
Cet épisode familial a ainsi débloqué tout jugement de valeurs sur la sexualité des parfums, me permettant ainsi d'adopter à 20 ans celui qui me faisait chavirer, le sublime « Obsession for Men » de Calvin Klein. J'avoue que la première fois que je l'ai porté, j'avais l'impression de transgresser un tabou, d'autant qu'à l'époque, les parisiennes portaient toutes « Angel » de Thierry Mugler. Le truc à la mode, c'était le sucré pour les filles… certainement pas l'épicé-boisé qui ravissait mes narines. J'ai un peu plus tard de nouveau pioché chez ces messieurs en découvrant « Eau Noire » de Dior. Cette lavande vanillée, encore plus virile que celle que j'avais pourtant adulée sur un fiancé dans « Pour un Homme » de Caron, fut un coup de foudre ! Nous avions beau être en 2004, chez Colette, la boutique ultra-tendance de la rue Saint-Honoré, le vendeur m'a semblé avaler de travers quand j'ai fièrement annoncé que ce cadeau était en fait pour moi ! Deux ans plus tard, c'est « Encre Noire » de Lalique, ce vétiver-musc salué par tous les critiques, qui a remporté mes suffrages et qui a définitivement marqué mon coupage de cordon envers les parfums sexués.
Si mon goût et mon jugement se sont aussi facilement mûs, c'est bien sûr la maturité aidant, mais également grâce au développement des marques de niche. Dans ces maisons qui ont pour ambition de proposer des créations originales et parfois risquées (même si hélas c'est de moins en moins le cas, marché concurrentiel aidant en 2010), on vous susurre très légèrement à l'oreille que ledit parfum est « plutôt » un masculin. Mais jamais on ne vous empêchera de le sentir, puis de l'essayer sur vous, ni même de l'adopter, bien au contraire. Il existe toujours ce discours de communicant, histoire de cibler les magazines qui « vendront » la nouveauté, mais il n'y a plus ce discours de vendeur à acheteur qui vous oblige à restreindre vos élans olfactifs.
Je surprends toujours un peu quand je parle de mon dernier coup de cœur, on peut même dire coup de foudre… A la recherche d'un sillage frais mais orientalisant, au caractère affirmé et à la signature impeccable, j'ai succombé à « Habit Rouge ». Tout d'abord en m'offrant (quel beau cadeau personnel, en effet !) l'Elixir, tout en cuir et épices, puis en me souvenant qu'un de mes anciens amoureux portait fort bien l'Eau de Toilette. J'ai littéralement chaviré, avec cette impression d'avoir trouvé une partie de moi-même dans ce classique de Guerlain tellement marqué au masculin. Si on me pardonne d'emprunter des créations dîtes masculines chez les créateurs de niche, je sens encore de la gêne face à certains interlocuteurs qui semblent me reprocher d'être allée me servir dans l'héritage olfactif traditionnel, d'être allée féminiser un parfum toujours plus virilisé à chaque campagne de publicité.
Le sexisme envers les parfums existe bel et bien, mais peut-on pour autant les enfermer dans une guerre des sexes ? Doit-on s'interdire d'emprunter le pull de son fiancé sous prétexte qu'il l'a acheté au rayon homme ? Doit-on empêcher les petites filles de porter des pantalons ou les cheveux courts ? Doit-on rire lors d'un défilé Jean-Paul Gaultier quand ses mannequins musclés et poilus montrent leurs gambettes sous une jupe ?
A chacun de faire comme il lui plait. Mais il serait tellement dommage de passer à côté d'une future belle histoire entre soi et un parfum. Alors, pour celles qui n'osent pas encore, voici une liste non-exhaustive des parfums que je porte… Quant aux messieurs, qu'ils n'hésitent pas à partager avec nous leur « it list » de parfums pour dames qui rendent leur sillage si viril !

L'Eau du Navigateur (Artisan Parfumeur)
Timbuktu (Artisan Parfumeur)
Burberry London Men (Burberry)
Obsession for Men (Calvin Klein)
Tabarome Millesime (Creed)
Eau Noire (Dior)
Vierge et Toreros (Etat Libre d'Orange)
Gomma (Etro)
Habit Rouge (Guerlain)
Cuiron (Helmut Lang)
Encre Noir (Lalique)
Espelette (Christian Louis)
Oud Cuir d'Arabie (Montale)
L'Ombre Fauve (Parfumerie Générale)
Sartorial (Penhaligon's)
Noir (Réminiscence)
Patchouli pour Homme (Réminiscence)
Vetiver Oriental (Serge Lutens)
M7 (Yves Saint-Laurent)