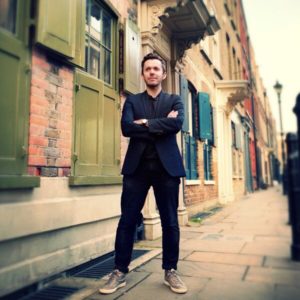 Nick Steward of Gallivant
Last year, Michelyn Camen, Cafleurebon EIC asked me if I would review a new London-based indie line called Gallivant, created by Nick Steward, former Product and Creative Director at L'Artisan Parfumeur. With twenty years of detailed experience in the perfume and luxury sectors, Nick wanted to do something openly differently with Gallivant, top class materials, subtly crafted elegance, easy to wear, discreet and sensual olfaction, honest, alluring minimalism but at affordable prices and housed in convenient bottles.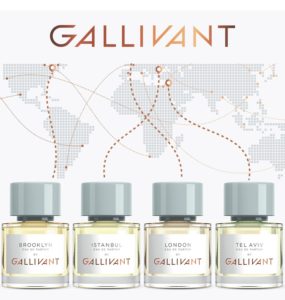 The Original Four Cities Brooklyn, Tel Aviv, London and Istanbul
Nick is a gadfly traveler, zipping about the globe, always stylish and compactly chic. Gallivant reflects him and also his desire to play against the worrying rise of prices and genre confusion within the increasingly crowded niche market. In this clamorous market place, Gallivant offers 30ml sized nomad flacons of low-key but addictively wearable work that since the original quartet of Brooklyn, Tel Aviv, London and Istanbul launched in Spring this year have been acclaimed by press and buyers alike.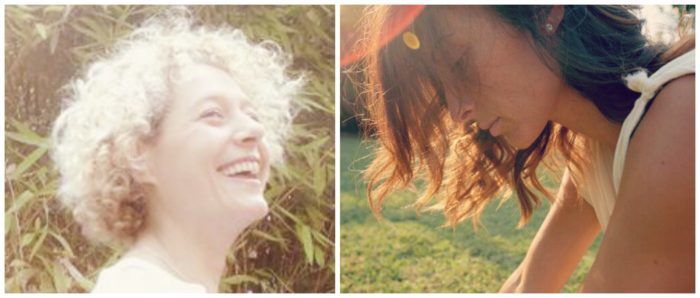 Karine Chevallier and Giorgia Navvara
I said yes to Michelyn and while I stopped regularly writing for Cafleurebon kept my promise to review Gallivant. Time flies and here we are stopping off in Amsterdam and Berlin for the second leg of Nick's gallivanting. As with the first four, the perfumers are the same, Venice-based Giorgia Navarra signing off Amsterdam and the Parisian Karine Chevallier creating Berlin. This is an intriguing duo and feels a little more offbeat and abstract from the first four.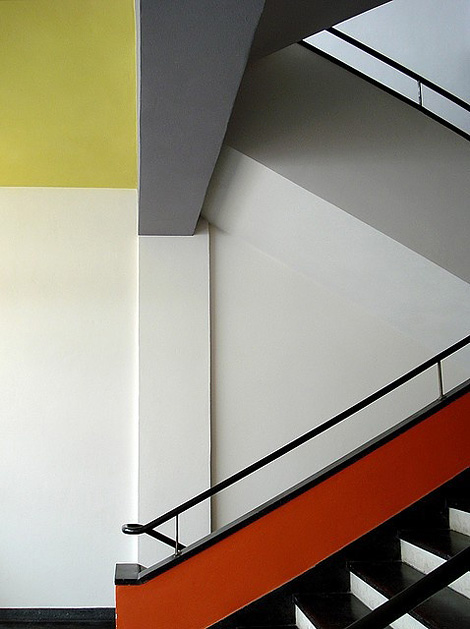 Walter Gropius staircase at the Bauhaus Dessau
Berlin is an interesting mix of contrasts, Bauhaus chill, concrete glint. Drinking black tea and lemon in a white apartment with one noir leather wall and sunlight pouring through a huge sparkling window.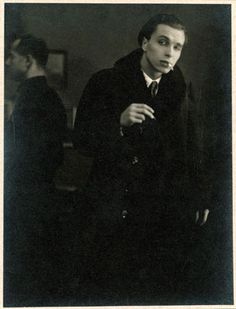 Marianne Breslauer, Walter Menzel with Cigarette, Berlin c.1927
Yet on a black shelf, old books, spines rubbed and creased, a pack of crumpled cigarettes and a battered zippo; sentimental notes that belie the careful control of monochromatic surround. Berlin has a slight whiff of peppered gasoline over its sanitized patchouli base that I like a lot; it could be lighter fuel fumes from that rubbed and handled zippo…but it mixes perfectly with the bouncy citrus notes above.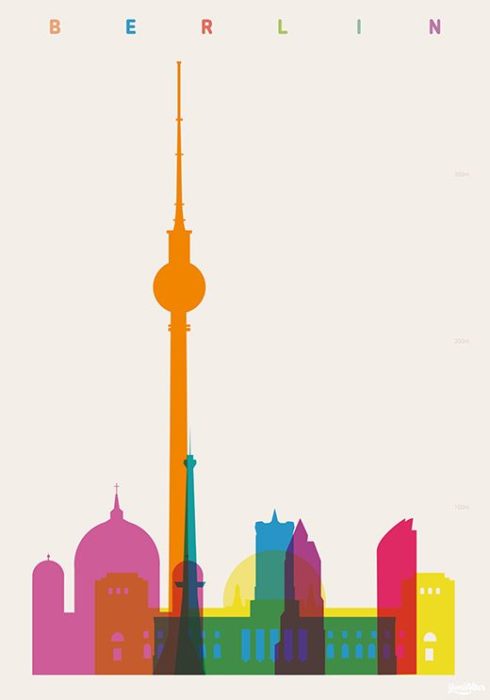 Berlin Yonni Alter©
As it settles down, the combination of pink pepper, grapefruit and the Comme des Garçons industrial- style sandalwood make Berlin feel hazy and oddly sterile in a wincing medical way, which I really like. Whether or not any of this strikes Berlin inhabitants, gallivantors and regular visitors as the odour of the city is entirely up the individual. Nick is an obsessive traveler and chronicler of detail, olfactive or otherwise, I don't think much escapes him. His Berlin visits and subsequent consultations with Karine will have been inherently idiosyncratic and personal whilst ultimately Berlin has been rendered in a beautifully clean and malleable way with a lip-smacking clementine and pithy white grapefruit opening duo that's smells fantastic!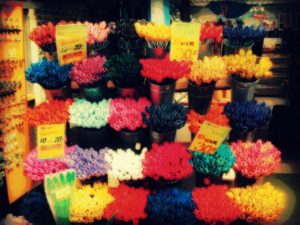 Digital art by MC-Amsterdam Flower Market
The other new release Amsterdam is wonderful. Elemi and saffron cradle torn roses and Giorgia's black tulip accord. Beautiful and quite bonkers. This turned out to be my favourite Gallivant of all. I adore the snapped wet steminess you only get with certain squeaky green blooms. Especially tulips on flower stalls or in big shouty markets on early mornings when it's rained or the pavements have been sluiced with cold water.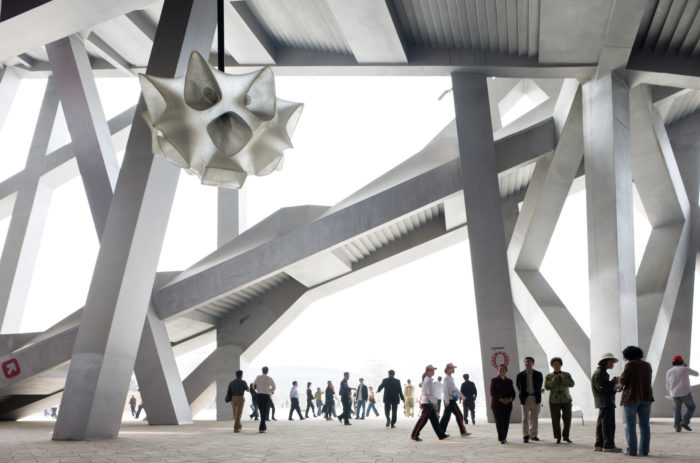 Iwan Baan Herzog & de Meuron's National Stadium©
I loved Amsterdam the city, I went for a longish city break, self-catering during a warm summer. My partner and I wandered canals, streets and parks, ate alfresco in warm shadowed squares and delighted in the myriad of low-key details and antique meandering that makes the city so beautiful. Make no mistake though, it buzzes with life, bike bells, trams and endless streams of tourists. The vibe is vivid and eclectic, not quite as carefree as it seems, as in many European cities there are increasingly potent flickers of far right tension bubbling under the once lauded Dutch liberal attitudes. And there is always something unsettling to me in cities on water, the buildings and inhabitants constantly reflected back at themselves. The ever-present waters become a disturbing mirror on the histories and deeds of a settlement.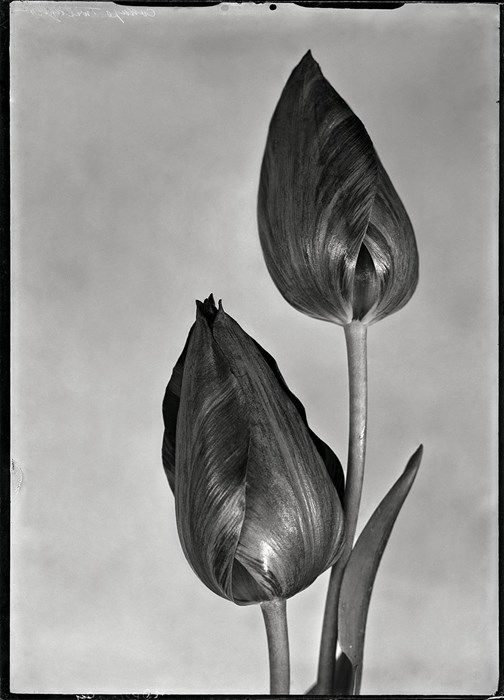 'Tulipa, La Tulipe Noire' by Leenderk Blok
Giorgia Navarra's Amsterdam composition has an imagined black tulip accord at its heart, a symbol both of Amsterdam and its autumnal/hibernal beauty when the city becomes brittle, harrowed and perhaps more elusive. Like the odd cellophane-clad rose in Gallivant's London, the black tulip has a gentle sweet demise in its fade, watched over by the saffron/elemi duet. The creamy resinous effect of those two materials is lovely.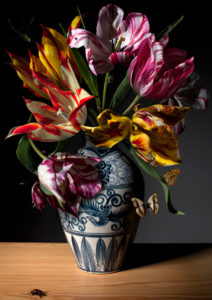 Bas Meeuws ©
I write less these days for many reasons, all of which are my own business and I look for different things in the perfumes I now write about. In Amsterdam I find comfort, something solacing. My sample didn't last long and satiated my now constant craving for flowers around me. As is drifts on skin there is the suggestion of being in a well-appointed room with tapestries and porcelain, tulips of every hues studded and swaying in a Delftware pyramid vase, heads bowed, petals dropping to a tiled floor. There is just a suggestion of decay, blooms turning in the still air, they breathe, you breathe.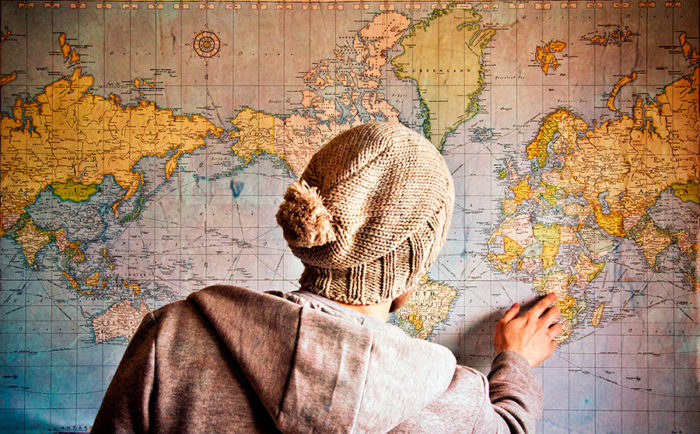 Photo: Connor Bleakley@
The original quartet has been very successful since their March launch with great feedback from perfume fans. I am so happy for Nick Steward, what he has achieved is remarkable; he has worked very hard and with such single-mindedness to realise his dream. Gallivant just works; an accessible, high quality line and simple concept. The niche market is at saturation point and a brand like Gallivant, offering an elegant mix of straightforward olfactive tropes and attractive signatures is a blessing. I still adore London, that blend of plasticised rose, magazine pages and rain is a joy from beginning to end. But Berlin and Amsterdam are strong and unique destinations on Nick Steward's journey of olfactory discovery. I look forward to the geographic expansion of Gallivant to see where Nick & Co take us next. In the meantime. Happy gallivanting.
Guest Contributor, The Silver Fox and author of The Silver Fox
Art Direction: Michelyn Camen, Editor-in-Chief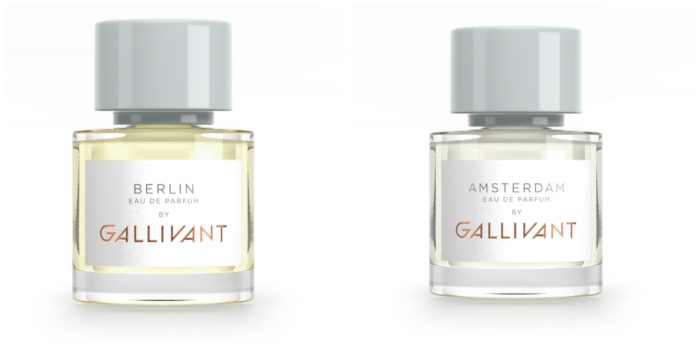 Thanks to the generosity of Nick Steward of Gallivant we have an Avant Premier USA, EU or Canadian registered readers' choice draw for a 30 ml GALLIVANT of either Amsterdam or Berlin.

Want to travel the world? Nick is also offering a sample set 6x 2ML as an option. Please leave the name of the fragrance (or travel set) that you hope to win in your comment, what you enjoyed about The Silver Fox's reviews, where you live and if you have a favorite Gallivant Perfume. Draw closes 9/10/2017. What city would you like Nick to Gallivant next year?
Editor's Note: Available October 2017 at Select Stockists and in the USA they include: Twisted Lily, Merz Apothecary (smallflower.com), Indigo Perfumery, Uncommon Finds and Luckyscent.
Like Gallivant on Facebook and your entry will count twice
We announce the winners only on site and on our Facebook page, so Like Cafleurebon and use our RSS FEED … or your dream prize will be just spilled perfume.