Still from Bad Moms 2016
"We all need something to help us unwind at the end of the day. You might have a glass of wine, or a joint… there has to be some form of punctuation, or life just seems utterly relentless." – Russell Brand
Many years ago the first day of school was an occasion for neighborhood celebrations! Many of my friends were homemakers or mothers with small in-home businesses. Our lives were constantly focused on children, housekeeping, working at home and helping our dear husbands. But on that first day after summer "vacation", when the kids were safely on the school buses, we would take a much needed respite from our responsibilities and meet together for a few hours of relaxation, laughter and conversation. During our "back to school" fêtes my neighbors and I would munch on salads, sandwiches and snacks, accompanied by an early afternoon glass of wine.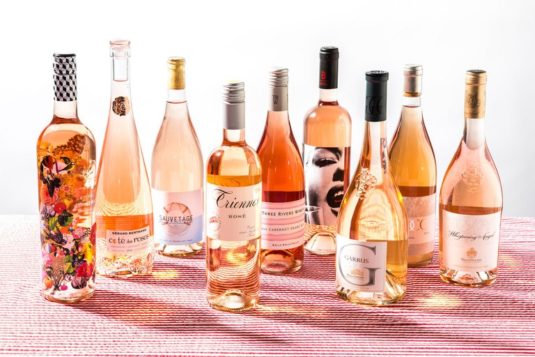 Rosé from Vogue©
At that time of day, Rosé was favored, just enough to take the edge off of what we knew would probably be another frazzling evening. After all – for us the world looked much better and seemed easier to deal with, somehow, when viewed through rosé colored glasses.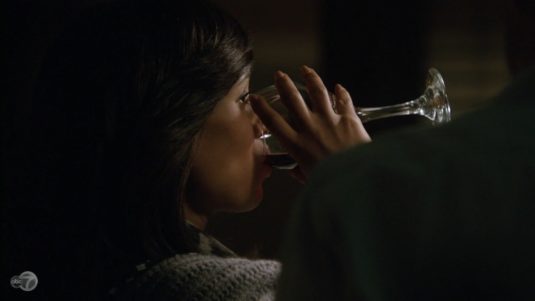 Olivia Pope aka Kerry Washington after a long day of being a "Gladiator" (2012)
Times have changed and most mothers (and fathers) are now working full time outside the home, as well as tending to their children in the evenings. I can only imagine the stress, but I know for a fact that a few moments out of every day must be dedicated to relaxation. There are more and more women, single or otherwise, in the media, movies, television and talks shows "wine-down". Many of us, for one reason or another, do not (or do no longer) imbibe. So where do we turn for that necessary daily respite? As most wine lovers know, "where there is a will there is a rosé"- and who better than one of our favorite indie perfumers, Daniel Gallagher, to come to the rescue with his ever so intoxicating and comforting new unisex EDP Gallagher Fragrances Rosé All Daé.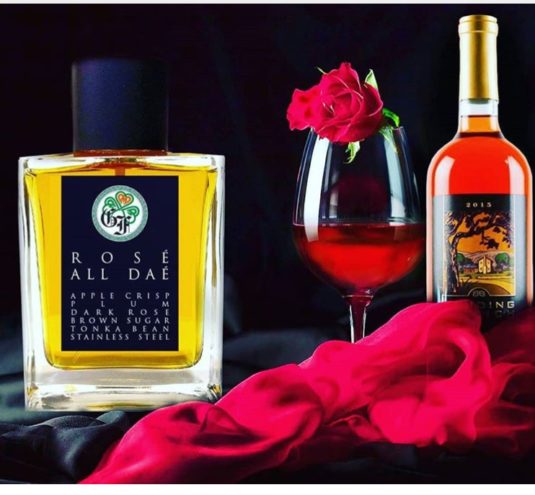 Gallagher Fragrances Rosé All Daé© Wine bottle contained within the above graphic is the 2015 High Plains Rosé by Bending Branch Winery, located in Comfort, TX. Tableau created by Lathesh Suryakantha (@webonautics).
"Rosé All Daé was originally inspired by an exceptionally aromatic Cinsault rosé [wine]…from the Texas High Plains. Of course, this inspiration only served as a starting point, because what came to be was something that even the perfectionist in me was completely smitten by." – Daniel Gallagher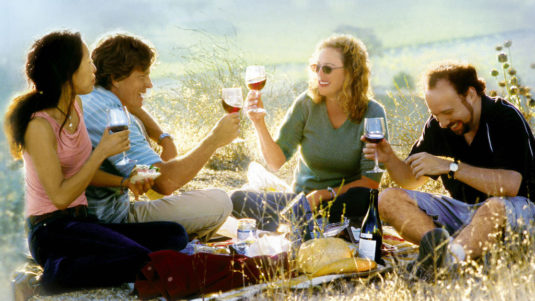 Wine Tasting from Sideways (2004) Sandra Oh,Thomas Haden Church, Virginia Madsen, and Paul Giamatti
And indeed, Gallagher Fragrances Rosé All Daé is fragrant perfection, one of Daniel Gallagher's most polished perfumes to date. (If you are familiar with Gallagher Fragrances you know what a wonderful perfume this one must be!) With Rosé All Daé, Daniel Gallagher has created a scent that is at once complex and elegant.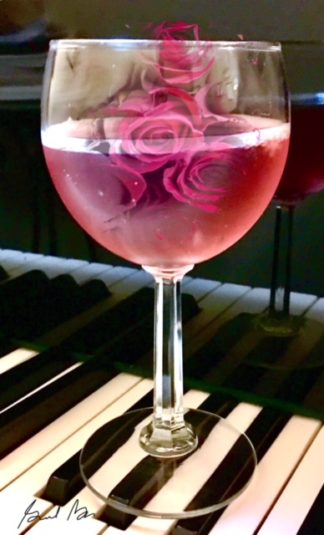 Rosé and roses II by Gail©
Gallagher Fragrances Rosé All Daé opens with the crisp sweetness of green apple and a hint of tart cherry, a note often found in rosé wines, coupled and reinforced with the edgy, earthy mineral nuance of Australian sandalwood. As Gallagher Fragrances Rosé All Daé matures on my skin, the green apple evolves into the warm comforting scent of freshly baked apple crisp! The dessert is flavored with boozy notes of dark brown sugar (trying to become rum) and a taste of thick golden honey. Aromas of plum, patchouli and that peculiar cognac-like aspect of ambrette or white musk combine to make Gallagher Fragrances Rosé All Daé every bit as intoxicating and relaxing as a glass of fine wine. The caramel and soft tobacco facets of Tonka bean add a lavish density to the blend. But with a name like Rosé All Daé my nose keeps searching for the flower! Can I find a garden rose, a rose that smells just as sweet as this intoxicating rosé brew?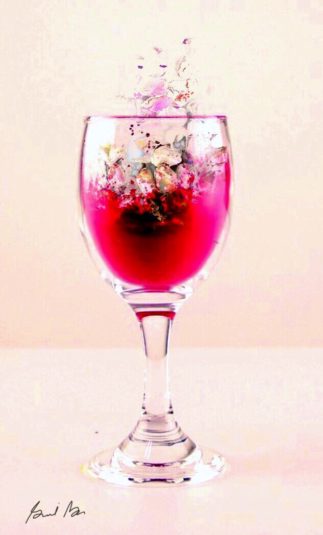 Rosé and Roses by Gail©
About an hour after the initial spritz of Gallagher Fragrances Rosé All Daé, the dark warmth begins to part, revealing a glimpse of spiced, slightly peppered blossoms, velvety petals graced with dew – subtle, cool and ever so slightly green. For five hours and more the scent of bright pink and crimson hued Turkish roses floats over a suggestion of vanilla, the roses playing hide and seek in the leathery, smoky depths of labdanum, melding with the wine and the powdered sweetness of Tonka bean.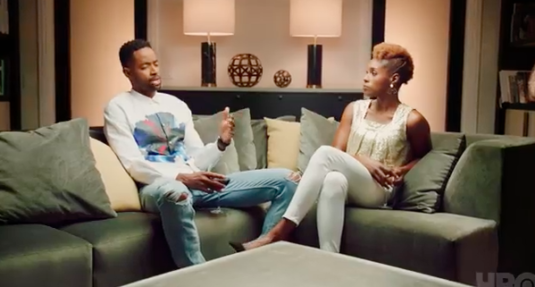 Issa Rae and Jay Ellis Wine Down after an episode of Insecure
Gallagher Fragrances Rosé All Daé, begins as a sip of rosé, followed by a brief nod to the gourmand and then several hours of boozy pleasure.The last breathy moments of this taste of wine and roses recall the tart, crisp opening, now aged and finished in bright stainless steel, suffused with the metallic, rooty undertones of Australian sandalwood. Notes: Apple crisp, plum, Turkish rose absolute, brown sugar, golden honey, Tonka bean absolute, labdanum, vanilla, Australian sandalwood, patchouli, white musk, and stainless steel.
I would like to thank Daniel Gallagher for the opportunity to relax and enjoy his beautiful Gallagher Fragrances Rosé All Daé. My opinions are my own.
Gail Gross – Senior Editor
Art Direction – Michelyn Camen, Editor in Chief (Gail's great art + Wine/ Rosé pop culture)
Rosé All Daé is available online at gallagherfragrances.com
Follow us on Instagram: @cafleurebon, @azarsmith7 and @gallagherfragrances.