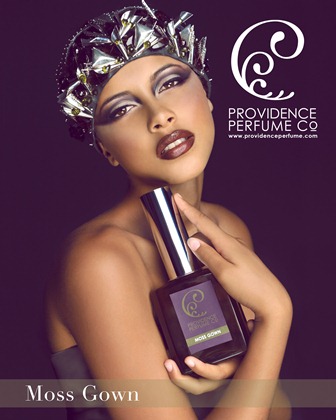 Charna Ethier, the Perfumer and owner of the All Natural perfume brand Providence Perfume Co. invites us to fall under the spell of Moss Gown, a green floral with a delightful story behind it and a bewitching ad campaign to support the launch.
"Once upon a time a faithful daughter, banished by her gullible father and evil sisters, fell asleep on a bed of moss and was awakened by a witchy woman who befriends her and teaches her the charmed spell that will turn her mossy rags into a magical gown.
The children's story Moss Gown, set in the Deep South was written by William H. Hooks and is the inspiration behind Providence Perfume Co.'s newest botanical scent. "While reading this tale of courage, love and magic to my daughter I was intrigued by the supernatural aura and the vivid setting of the bayou to create a scent that evokes the enchanting gown," says Charna Ethier, "Like the pages of a book, Moss Gown perfume unfolds in a unique manner that tells a story on the skin".
Moss Gown is a swirl of green moss, the rustle of bright taffeta petals, and a frisson of creamy sandalwood. Specially designed accords capture the smell of languid green rivers with earthy moss growing wild along their banks and exotic flowers seldom used in perfumery.
Top Notes: sunflower essence, mimosa, South African chamomile
Middle Notes: Tasmanian Boronia, rose, coffee flower, narcissus, lilac, violet leaf
Base Notes: French cedar moss, sandalwood, white cedar wood
Moss Gown is available in 6 ml. – 1 oz. atomizers priced from $36-$140.00 at www.beautyhabit.com and www.providenceperfume.com
via press release