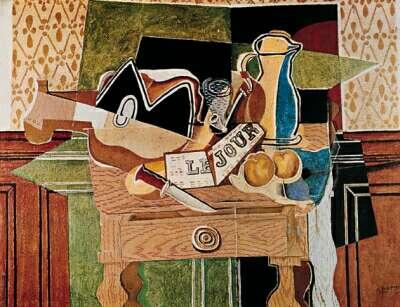 Painting: Georges Braques 'Le Jour'
Gastronomy and perfumery are two worlds both deep-rooted in our daily lives, and inherent to our culture.There exists in both perfumery and gastronomy both the mediocre and the sublime, the most daring innovation and the most uncomplicated, where the most traditional recipes coexist with the most original creations.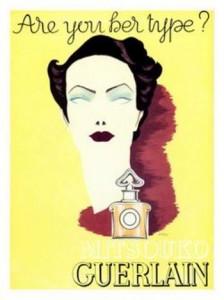 In France, food is sacred; it has even been declared a World Heritage Site by UNESCO. Fragrance is equally revered by my countrymen. We are as proud of the reputation and olfactive tradition of great Houses like Guerlain, Dior, Caron and Chanel, and for perfumistas, 'les nez' who have helped shaped modern perfumery, as well as the fine niche perfumeries such as L'Artisan Parfumeur, Annick Goutal, Serge Lutens, Frederic Malle, Maison Francis Kurkdjian, Parfumerie Generale, and Histoires de Parfums, to name but a few.
In fragrance, as in cuisine, we all have our preferences and our dislikes. Just look at those of us who rush to buy a perfume whose main ingredients are what we usually choose, (for example, if we love chypres, any new chypre is on our to buy list). We react to what is familiar as one would welcome mom's pot-au-feu, the one she served every Saturday since our childhood.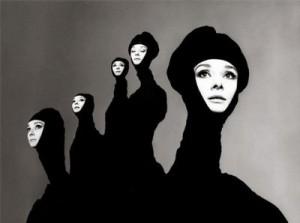 There are the adventurous perfumistas; those who are attracted by the unknown or eager to explore a new fragrance, totally unique to their taste or to theri favorites. These same people often do not hesitate to choose a dish never tasted before, (MC: although the French regualrly dine on snails and frog legs) the combination of original flavors, ever uncertain.
However, there are still some debate about combining food and perfumes. For example when Thierry Mugler launched « Womanity, » and put forward its caviar note, many noses were closed to such originality. I had the opportunity to stop by the Etat Libre d'Orange shop, and smelled the not yet released "Archives 69". When the young woman asked me what the scent reminded me of, I took a few minutes for the words to translate from my nostrils to to my brain. I could not help but tell the truth. It a food that I enjoy, (maybe some Americans will not), but I love this smell.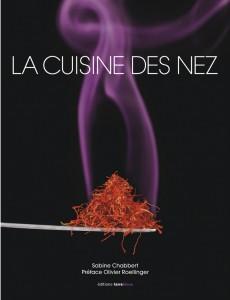 Sometimes these two worlds meet, like Jean-Michel Duriez, artistic director of Patou and Rochas, who, during a television report almost ten years ago, made his scented organ available to Pierre Hermé, the "Picasso of Pastry". They have become friends, ever since and have repeatedly joined their talents, such as in the creation of a macaroon for the « Enjoy » launching.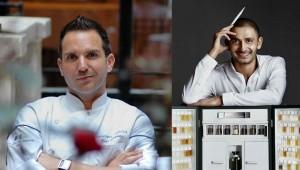 Just as Francis Kurkdjian and Christophe Michalak, pastry chef at the Plaza-Athénée in Paris (and World champion of desserts in 2005) joined forces in the Summer 2006 to create a dessert made of strawberry sorbet, banana and orange blossom. Recently, the beauty journalist Sabine Chabbert had the idea to ask the big names in perfumery to share their « cult » recipe, showing that Céline and Jean-Claude Ellena, Olivier Polge, or Patricia de Nicolai were also gourmands.
In the world of perfumery, there is an artist who can boast great expertise in both perfumery and the culinary arts— Gérald Ghislain, founder of Histoires de Parfums.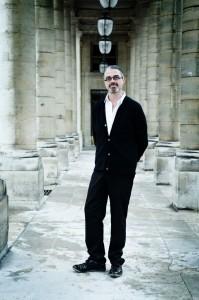 Gérald started his career at age 13 at the Ecole Hôtelière of Toulouse. Falling in love with perfume to the point of calling into question his entire life and training to ISIPCA, this "creator of pleasures", as he likes to define himself,"finds similarities but also significant differences between gastronomy and perfumery". He says, "One like the other can be analyzed from two angles, one of the art and one of pleasure. Then there are the changes in fashion or style, those are intrinsic to human beings and what differentiates us from the animals, who are not creative in this manner.
This creativity can be seen in perfumery (with the return to true natural notes, soliflores, and leather). "In the kitchen, at least in France, "Bistronomie" takes you back to basics while also revisiting some recipes to make them less caloric. In both cases, a return to simplicity. But for me the big difference between the two is that the pleasure of food is fast, fleeting. A scent remains for several hours on you, with you. In cooking, we make a dish from different foods, adding different techniques and cooking methods. In perfumery, only the assembly of raw materials allows you to create a perfume. I would go further: Food for me is synonymous with "memory of happiness " and the perfume of "emotional memories", Ghislain concludes.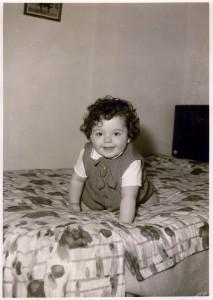 Courtesy of M. Ghislain:Young Gérald age 3
Gérald Ghislain grew up in two cultures, one of Southern France and one of Morocco; his mother's cooking also gave him a taste for spices, in the kitchen … and in perfumery. "I was influenced in my childhood by the smell of amber, thyme, lavender and laurel. I pay tribute today through my creations, with cumin and cinnamon in "1876", cardamom and cloves in "1969".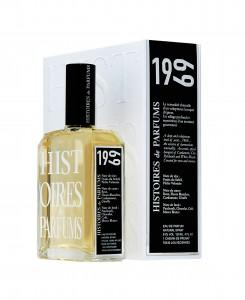 He continues, "So, fragrance and cuisine meet in 1969 which reminds of my recipe for Chocolate Espresso Trifle, (four people):
Ingredients – One little chocolate sponge cake or 4 chocolate muffins, 75g of coffee bean chocolate, 50cl of fresh whipping cream, 2 espresso coffee cups, 4 tablespoons of Tia Maria (coffee liqueur), 4 tablespoons of mascarpone cheese, 2 dessert spoons of sugar. In a saucepan heat the whipping cream to boil.
Put the hot whipping cream out from fire, than put the chocolate inside and make it melt down while stir it until the mixture is smooth and homogeneous. Let this mixture cool down a little. Prepare the espresso coffee and let it cool down. Put the chocolate sponge cake or muffins in the bottom of the bowl. Sprinkle with coffee and coffee liquor. Spread on a layer of chocolate cream. Whisk the rest of the whipping cream into Chantilly cream with the mascarpone cheese and sugar, and then pour it on the chocolate. Let it rest during 4 to 5 hours in the fridge.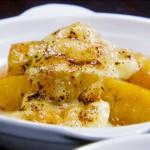 (Gérald Ghislain also could have told you the recipe of pineapple heart roasted with caramel and creme brulee to accompany HdP "1804" fragrance, or a lemon meringue pie recipe to tie into his HdP fragrance "1873"!").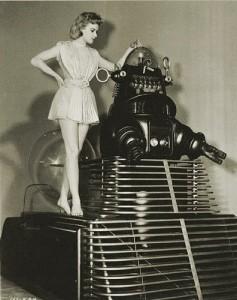 Like any modern artist, Gérald Ghislain is full of ideas and projects for the upcoming months: "I am working on the scent of the future, and 100% hypoallergenic synthetic perfume that will be the symbol of a new and more optimistic era looking towards the year 3000." Also, he is working on new 60ml bottles, an « extrait » version of his whole collection of perfumes, working on fresh water, and a new brand "The Scent of Departure", or the idea of capturing the essence of a city (Budapest, Istanbul, Munich, Frankfurt and Vienna will be unveiled first) at a low price (Editor's Note: I previewed the concept/art boards, and they look fanatastic -MC).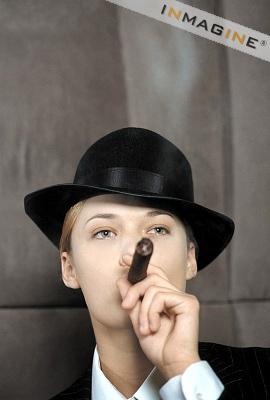 Cuisine and perfumery are not one, although gourmands are often lovers of fine fragrances. Their techniques are different but not lesser or greater. As a perfumista, we are still likely to wince when the scent of our dreams exceeds a certain price, a sum that we pay (without raising an eyebrow) for a good meal at a restaurant. Yet a flacon of perfume stays with us for many months; it only took a few hours to digest our fabulous feast.
Many of us feel guilty when we exceed spending 100 Euros/ $130 on our perfume. But my Punch Punch cigar? I'll smoke it in less than an hour (20 Euros/26 USD) Luckily, pleasure is priceless!
– Emmanuelle Varron, Contributor
Editor's Note: I last saw Gerald in the summer of 2009 when he joined me for a meal in an Algerian/French restaurant in NYC. I told him it was good bistro food, but not to order the Couscous, as it can never be as good as his mother's. As always there will be some inconsistencies between my English version and Emmanuelle's, but the spirit is there EAT, Spritz and Enjoy!-MC
Share with us your memories related to cooking odors, perfumes that you would love to eat, raw materials you love both in cooking and perfumery … and the dishes that your dream to wear on your skin.
Anyone who posts a comment will be sent an exclusive recipe, the famous 'couscous' cooked by the mother of Gérald Ghislain. MC will give your email adresses to Emmanuelle,(with your permission) who will send you the recipe. Specify permission and French or English, please.
And as CaFleureBon loves to spoil you, a comment will be drawn to win a 120ml bottle of "1969" by Histoires de Parfums. Draw ends Friday january 28, 2010
**********************************************************************************
Gastronomie et parfumerie : plaisirs communs, péchés inégaux… avec la participation de Gérald Ghislain (Histoires de Parfums) + tirage au sort pour le parfum 1969
En parfumerie, comme en gastronomie, nous avons tous nos préférences et nos dégoûts. Il n'y a qu'à voir certaines clientes se précipiter vers un parfum dont la note principale correspond à ce qu'elles aiment habituellement, comme l'on irait déguster chez sa maman un bon pot-au-feu, celui qu'elle nous concocte tous les samedis depuis notre plus tendre enfance.
Il y a également les perfumistas aventureux(ses), celles et ceux que l'inconnu attire, prêts à se parer d'une nouvelle senteur, totalement inédite dans leur collection. Ceux-là, souvent, n'hésitent pas à choisir un plat jamais goûté auparavant, à l'alliance de saveurs originale, voire risquée.
ll existe toutefois encore quelques réserves quant à allier gastronomie et parfumerie : quand, par exemple, Thierry Mugler lance Womanity, et met en avant sa note caviar, les nez, souvent, se referment devant une telle originalité. On peut parfois même choquer une vendeuse, comme j'ai eu l'occasion de le faire il y a quelques semaines chez Etat Libre d'Orange, en découvrant une version pas encore aboutie d' « Archives 69 ». Quand la jeune femme me demanda ce que m'évoquait ma découverte, j'ai mis quelques minutes à donner des mots à ce que mes narines racontaient à mon cerveau. Mais je n'ai pu faire autrement que de dire la vérité : cela ressemblait à un plat dont je suis friande, un plat pas unanimement apprécié, il est vrai, mais j'adorais cette odeur !
Parfois, ces deux mondes se rencontrent, à l'image de Jean-Michel Duriez, directeur artistique de Patou et Rochas, qui, à l'occasion d'un reportage télé il y a presque dix ans, fit découvrir son orgue à Pierre Hermé, le « Picasso de la pâtisserie ». Ils sont depuis devenus amis, et ont à plusieurs reprises mis leur talent en commun, comme par exemple pour la création d'un macaron sur-mesure pour le lancement d'Enjoy.
Tout comme Francis Kurkdjian et Christophe Michalak, chef pâtissier du Plaza-Athénée à Paris (et champion du monde des desserts en 2005) qui se sont associés à l'été 2006 dans la création d'un dessert composé de sorbets fraise, banane et fleur d'oranger. Dernièrement, la journaliste beauté Sabine Chabbert a eu l'idée de demander à de grands noms de la parfumerie de partager leur recette de cuisine « culte », démontrant que Jean Claude et Céline Ellena, Olivier Polge, ou encore Patricia de Nicolaï avaient certes, le goût des pipettes, mais également celui des fourneaux.
Dans le monde de la parfumerie, il existe un créateur qui peut se targuer d'une belle expertise dans ces deux domaines : Gérald Ghislain, fondateur d'Histoires de Parfums.
Gérald a démarré sa vie professionnelle dès 13 ans à l'Ecole Hôtelière de Toulouse. Tombé amoureux du parfum au point de remettre toute sa vie en cause et de suivre une formation à l'ISIPCA, ce « créateur de plaisirs », comme il aime se définir, trouve des similitudes, mais aussi de grandes différences entre gastronomie et parfumerie. « L'une comme l'autre peuvent être analysée sous deux angles, celui de la technique et celui du plaisir. Il existe ensuite les modes, celles que définissent l'être humain et qui le différencient de l'animal. On peut constater en parfumerie le retour à des notes vraies, des soliflores, des cuirs. En cuisine, en tout cas en France, la « Bistronomie » permet de revenir également aux basiques tout en revisitant certaines recettes, pour les rendre moins lourdes. Dans les deux cas, c'est un retour à la simplicité. Mais pour moi, la grande différence entre les deux est que le plaisir de la nourriture reste rapide, furtif ».
Un parfum, lui, reste plusieurs heures sur vous, il vous accompagne. On compose un plat à partir de différents aliments, en y ajoutant différents tours de main et modes de cuisson. En parfumerie, seul l'assemblage de matières premières vous permet de créer un parfum. J'irai même plus loin : la gastronomie est pour moi synonyme de « mémoire plaisir », et la parfumerie de « mémoire émotion ».
Son enfance méditerranéenne, entre sud de la France et Maroc, et la cuisine de sa maman lui ont d'ailleurs donné le goût des épices, à la fois pour la cuisine… et la parfumerie. « J'ai été porté dans mon enfance par les odeurs d'ambre, de thym, de lavande et de laurier. Je leur rend aujourd'hui hommage par le biais de mes créations : du cumin et de la cannelle dans « 1876 », de la cardamome et du clou de girofle dans « 1969 ».
Il va plus loin : « Le parfum et la gastronomie se rencontrent dans 1969, qui me rappelle ma recette de Trifle Chocolat Espresso (pour 4 personnes) :
Ingrédients : un petit gâteau de Savoie au chocolat ou 4 muffins au chocolat, 75 grammes de grains de café chocolatés, 50 cl de crème fouettée maison, 2 tasses à café d'espresso, 4 cuillères à soupe de Tia Maria (liqueur de café), 4 cuillères à soupe de mascarpone et 2 cuillères à café de sucre. Dans une casserole, faire chauffer la crème fouettée à ébullition.
Porter la crème chaude hors du feu, puis lui ajouter le chocolat et le faire fondre tout en tournant jusqu'à ce que le mélange soit lisse et homogène. Laisser ce mélange refroidir un peu. Préparer l'espresso et le laisser refroidir. Puis mettre le gâteau de Savoie (ou les muffins) au fond du bol. L'arroser avec le café et la liqueur de café. Etendre une couche de crème au chocolat. Fouetter le reste de la crème… fouettée avec la crème Chantilly avec le mascarpone et le sucre, puis mettre le tout sur le chocolat. Laisser reposer 4 à 5 heures au réfrigérateur avant de déguster ! »
(Gérald Ghislain aurait également pu partager avec vous sa recette de cœur d'ananas rôti au caramel et crème brulée pour évoquer HdP « 1804 », ou encore celle de sa tarte au citron meringuée pour HdP « 1873 » !) ».
Comme tout chef moderne et désireux de faire évoluer son art, Gérald Ghislain fourmille d'idées et de projets pour les prochains mois : « je travaille sur le parfum du futur, hypoallergénique et 100% synthétique, un parfum qui sera le symbole d'une nouvelle ère plus optimiste, regardant vers l'an 3000 ». Dans les cartons, également, de nouvelles bouteilles de 60ml, les versions « extraits » de sa collection de parfums, un travail sur des eaux fraiches, et une nouvelle marque « The Scent of Departure », ou l'idée de capturer l'essence d'une ville (Budapest, Istanbul, Munich, Francfort et Vienne seront les premières créations dévoilées) à un prix modique.
Gastronomie et parfumerie ne font pas qu'un, même si les gourmands des papilles sont très souvent amoureux des beaux parfums. Leurs techniques sont différentes mais surtout, nous n'avons pas la même approche « commerciale » de leur beauté. Nous sommes encore nombreux à grimacer quand le parfum de nos rêves dépasse une certaine somme, somme que nous déboursons presque sans sourciller pour nous offrir un bon restaurant. Pourtant, ce fameux flacon de parfum si onéreux nous accompagnera de longs mois… alors qu'il n'aura fallu que quelques heures pour digérer notre fabuleux festin.
Beaucoup d'entre nous sommes parfois montrés du doigt quand nous craquons sur une, voire plusieurs créations dépassant les 100 Euros. Mais mon cigare Punch Punch, que je fumerai en moins d'une heure m'aura lui coûté 20 Euros… Heureusement que le plaisir, lui, n'a pas de prix !
– Emmanuelle Varron, Chroniqueuse
http://www.histoiresdeparfums.com/10-6317-TUB-MR.php
Et comme CaFleureBon aime vous gâter, l'un des commentaires tiré au sort remportera un flacon de 120ml de « 1969 » d'Histoires de Parfums
Le débat entre gastronomie et parfumerie est lancé, alors n'hésitez-pas à nous faire partager vos souvenirs olfactifs liés à la cuisine, aux parfums qui selon vous auraient plus leur place sur une carte de restaurant, aux matières premières que vous aimez à la fois en cuisine et en parfumerie… et les plats que vous rêveriez porter sur votre peau.
Tous ceux qui posteront un commentaire se verront envoyer une recette inédite, celle du couscous cuisiné par la mère de Gérald Ghislain.