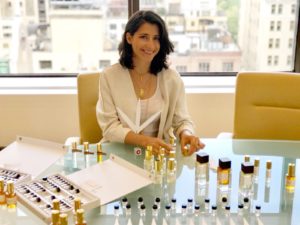 Natalia Outeda Founder Frassai
ÇaFleureBon announced Frassaï Perfumes, the brainchild of Buenos Aires designer Natalia Outeda, will launch November 1, 2017. The fact that Frassaï engaged much-loved master perfumers Rodrigo Flores-Roux, Yann Vasnier and Olivier Gillotin only sweetened the pot.

Rodrigo Flores-Roux, Yann Vasnier amd Olivier Gillotin
I can honestly tell you that I had no idea how deeply I was going to be enamored of each Frassaï perfume – until the samples arrived and I dared to commit them to the flesh. Trying to choose a favorite has been agonizing, much like being asked to choose a favorite child. I adore each and every one; that alone might suggest just how unique and marvelous they are.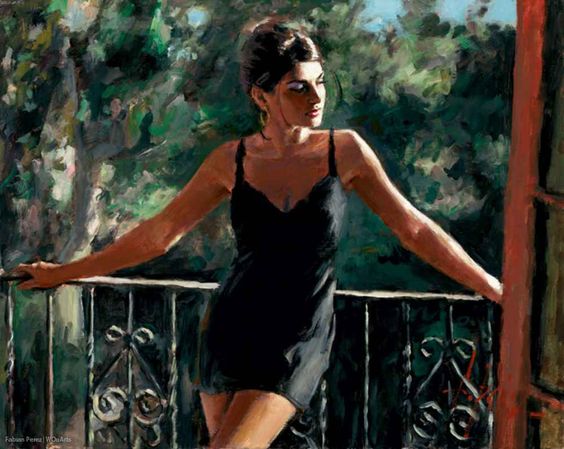 Fabien Perez ©
Verano Porteño (Buenos Aires Summer): This is simply delicious; étincelant solar rays bask upon sun-warmed citrus skin drenched in blossoms. One cools one's heels in shadow graciously provided by grassy vetyver, cool silvery musky ambrette and astringently verdant maté. Cardamom smells green and restorative, as the prospect of lazy limbs succumbing to languor murmurs expectantly in quiet courtyards. If every fruity floral smelled this fine, there would be a revolucíon.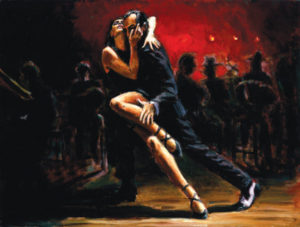 Fabien Perez ©
Solar fragrances abound, but Verano Porteño is among the rarified ones: sleek, contemporary and classically mesmerizing. It's slyly predatory, with that feral jasmine and ambrette alliance causing drops of perspiration to trickle down the neck in anticipation (perhaps one might tempt Maître Flores-Roux into a tango at dusk…)?
Notes: Calabrian bergamot, cardamom, clementine essence, Sicilian cedrat, southern magnolia, imperial jasmine, alhelí (wallflower), vetyver, ambrette seed, Argentine maté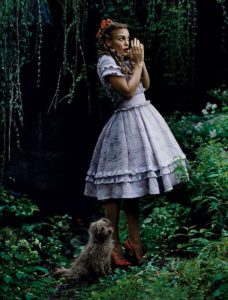 Keira Knightley by Annie Leibovitz©
Blondine (A French Fairytale): Yann Vasnier has created a perfume that is coquettish, mouthwateringly limpid and utterly provocative. If petite Blondine becomes lost among the lilies after an idyllic childhood, and the forests grow dark with menace – well, she's a plucky little thing with more smarts than Papa attributed to her. Pampered she may have been, but that doesn't substitute for a mother's love. One is forced to reinvent oneself out of sheer necessity. Sweet and savory don't play to type, thank heavens. If there be beasts, Blondine has already enchanted them: they lie companionably upon her lap as night's dusky cloak descends. We smell the detritus of the day – morning confiserie and cocoa mingle with magnificent flowers and discreet (and less-than-discreet) leathery animalics.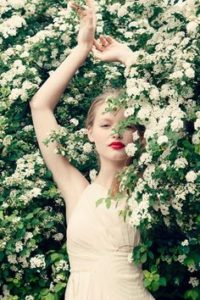 Keira Knightley by Annie Leibovitz ©
Blondine will emerge victorious, harbor no doubts – for she is her own knight in shining armor come to her own emotional rescue. And damn, she's one classy gal. Blondine is a woman after my own heart.
Notes: green mandarin, watery pear leaves, salted butter caramel, tiger lily, Ashok flower, cocoa, tonka beans, castoreum, blond musks, suede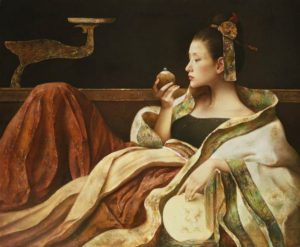 Tang Wei Min
Tian Di: (Chinese Mythology): I sprayed this stunning scent, and was smitten with incalculable desire. What a masterly hand, to take so divergent materials and weave a gauzy beauty such as this. All elements balance expertly as if angels upon the head of a pin, without a single roughened edge or tenuous tonality. We are witness to 'orientalism', if you will – presented as serenity sans overdose. The peachiness is luscious, reminiscent of a fine oolong tea; skillful marriage of potent spices, sleight-of-hand prescription-like measurement of galbanum, olibanum, Tonkin musk – a formidable feat, indeed. It is far more common to encounter a ham-fisted handling of these powerful substances in current-day perfumery: leaden, ponderous, morose, even. What a joy to wear something so delicate and tenderly contemplative which has amazing longevity as well.
Maître Gillotin, I bow. This is Meisterparfum.
Notes: ginger, galbanum, star anise, Chinese incense, peach elixir, red chrysanthemum, orris, sandalwood, olibanum, Tonkin musk
Samples provided by Frassaï , with many thanks! My nose is my own…
~ Ida Meister, Senior Editor
~ Art Direction: Michelyn Camen, Editor-in-Chief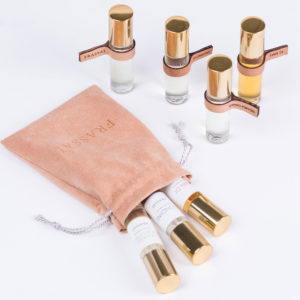 Thanks to the largesse of Frassaï, we have a draw for two discovery sets 10 ml of each three fragrances for two registered readers anywhere in the U.S. Please be sure to register. To be eligible please let us know what appeals to you about Ida's reviews, and which fragrance sings to you in particular. Draw closes November 7, 2017
We announce the winners only on our site and on our Facebook page, so like Cafleurebon and use our RSS feed…or your dream prize will be just spilled perfume.