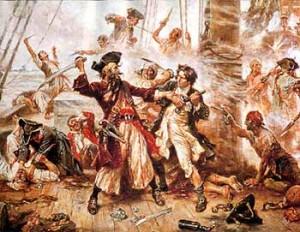 Blackbeard by Jean Leone Jerome Ferris (Blackbeard is perhaps the most notorious pirate in history)
If you spend time talking about perfume for any significant period of time there are a number of questions you get over and over. One of these questions is a variation on this: "If you were stranded on a desert island what one bottle would you want with you?" For many this is an annoying question because if you love any artistic endeavor being asked to live with just one piece of it is akin to a diet of bread and water. Nevertheless I actually have an answer for this question every time I am asked it, Frapin Caravelle Epicee. I was introduced to this fragrance three years ago by a friend on Basenotes and it has never failed to please me. What appeals to me is it feels just like the hold of an old West Indies Trading Co. ship which has unloaded its cargo of spices. Bertrand Duchaufour, in his first fragrance for Frapin, starts 1697 with that same cargo hold feeling but then in an almost typical Duchaufour-ian twist turns the later stages into something entirely different and equally memorable.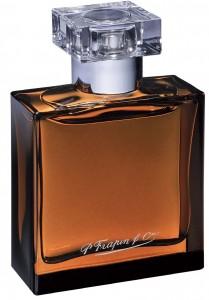 Bertrand Duchaufour is beginning to feel like the Stephen King of the niche perfume world as it seems he is on pace to have one new release every month in 2011. If it was someone less talented there would be cause for concern but the versatility on display starting with Marc Atlan Le Petit Mort and Parfums MDCI La Belle Helene I just don't feel like M. Duchaufour is forever re-mining the same inspirations. With Frapin 1697 he has crafted a boozy spicy opening which turns into a dirty floral before finishing in vanilla woody territory somewhat familiar to those who have enjoyed M. Duchaufour's L'Artisan Havana Vanille.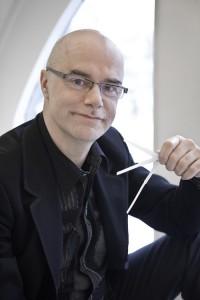 Bertrand Duchaufour
The initial experience of Frapin 1697 is like Caravelle Epicee but with rum added. My figurative ship this time might be captained by the pirate version of M. Duchaufour.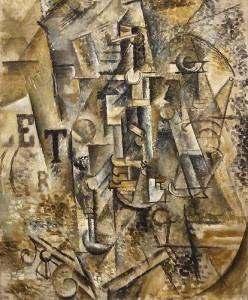 Picasso: Still Life with Rum Bottle
The rum accord is the first to be detected; it is surrounded by exotic woody notes of cabreuva and davana. The smell of the spices also in this pirate ship are present in a hot cinnamon and intense clove. There is also a sweet almost dried apricot accord which appears and leads 1697 into its first transition. Hawthorn picks up the tune and adds jasmine along with ylang-ylang before rose also joins the work gang. 1697 throughout the middle part of the development turns into an intensely floral experience without entirely leaving behind the spiciness. The clove in particular enhances the spicy facets of the rose and the cinnamon ramps up the jasmine in a similar way. Another transition occurs as cistus bridges the floral heart to a base of tonka and vanilla. For those of you who enjoyed Havana Vanille, 1697 feels similar to the closing of that fragrance. Tonka and vanilla are natural partners and with ambergris, musk and a bit of patchouli it allows them to flourish with a lively synergy. 1697 has three distinct stanzas and each of them add up to a satisfying whole.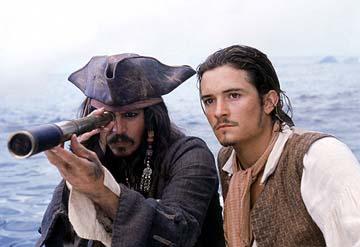 Johnny Depp and Orlando Bloom Pirates of the Caribbean
Frapin 1697 has above average longevity and average sillage.
M. Duchaufour should perhaps be flying a Jolly Roger over his atelier because with each new, seemingly monthly, release he seems determined to plunder niche perfumery and claim it for himself. Frapin 1697 is the best of his 2011 releases but that seems like it almost has to be transitory praise because I know, from up in the crow's nest, that there are at least two more releases, Eau D'Italie Jardin du Poete and his first The Different Company, on the horizon. I wonder if he's singing "Yo Ho, Yo Ho, A Perfumer's Life for me!"
Disclosure: This review was based on samples provided by First In Fragrance/ Aus Liebe zum Duft
From our friends at First In Fragrance and Aus Liebe zum Duft we have two samples of Frapin 1697 to giveaway. Leave a comment telling us who your favorite pirate is AND your favorite Bertrand Duchaufour entry on CaFleurbon to be eligible. Draw ends March 22, 2011 at Noon EST .
If you are in the USA. MC will send another winner a sample, but of course she is our Pirate Captain, and makes you swab the deck: Name as many fragrances by Bertrand Duchaufour as you can and answer this which Jo malone fragrance(s) did he create.
–Mark Behnke, Managing Editor
Editor's Note: I had the pleasure of testing Frapin 1697, (formerly known as "wings of desire") and for me this Piccasso painting 'smells' like Frapin 1697, and Piccasso represents both the genius and prolific nature of Bertrand Duchaufour 's body of work . Of course Johnny Depp is 2 die for, but Blackbeard is from the late1600s and is perhaps the most famous historical pirate of all time.